"An MBA on Steroids!" 
- Robert Brown, PhD, Distinguished Professor & Serial Entrepreneur
We are looking for unique people who...
want to solve real-world problems
love innovation
are looking for a program with a flexible curriculum
Paid Internship ➜ Master's Thesis
One-third of the 4-semester Physics Entrepreneurship Program (PEP) is experiential learning. You are expected to work as a paid intern or employee in an existing company or as an entrepreneur with your own venture. This experience will serve as the basis for your master's thesis.
About CWRU Physics
Our department is home to world-renowned research in the areas of quantum devices, spintronics, nanoscale materials, biophysics, medical imaging physics, medical devices, industrial physics, liquid crystals, polymers, and particle/astrophysics. We were the first physics department in the US to receive the Nobel Prize in Physics, and the department now counts four Nobel laureates among its alumni and former faculty.
Why Physics I&E?
First, Innovation & Entrepreneurship (I&E) are baked into our campus culture (see think[box] video below and the Veale Institute for Entrepreneurship). Second, physicists are exceptional problem solvers. The result: our Physics Entrepreneurship Program has been going strong for over 23 years.
Tuition & Fellowships
Tuition is approximately $66,000 US. We offer a limited number of fellowships that range from 33% tuition waiver with no stipend to full tuition waiver with stipend. This may be combined with other funding such as CWRU's Graduate Student North Star Award. To be considered for a fellowship, a completed application must be received by May 15. Fellowship award decisions are made by May 30. Please contact the program director Edward Caner (emc15@cwru.edu) for more details.
Mentorship & Network
Mentorship and personal development is fundamental to PEP. You will have at least one faculty mentor who has vast knowledge of I&E, and we will help you find the right industrial or entrepreneurial mentor outside of academia.
Our annual cohorts are typically 2 to 4 students. This means that you will receive significant personal attention to help you formulate and achieve your goals, while building a network of peers, alumni, faculty, and industry connections that will last a lifetime.
All are welcome here! 
The Physics Entrepreneurship Program happily invites anyone to apply regardless of race, nationality, gender, and sexuality. Our physics department is an active member of the APS Inclusion, Diversity, and Equity Alliance (APS-IDEA) and the APS Bridge Program. We also have an active and supportive Physics Under-Represented Minority Students (PURMS) group. Please contact the PEP program director if you would like to speak to a current student or alum about our graduate student community.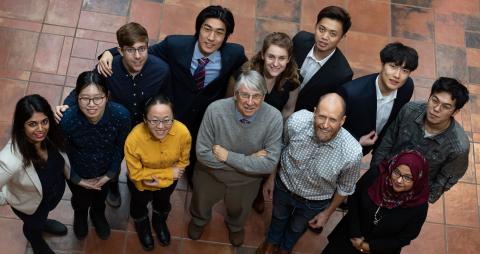 Careers
PEP graduates currently work in high-profile positions for companies ranging from startups to Fortune 100 in industries such as energy, healthcare, manufacturing, IT, entertainment, aerospace, and consulting. Alumni job titles are diverse, including CEO, COO, CTO, VP of Sales, Director of Product Development, Program Manager, Project Manager, Chief Scientist/Engineer, Chief Technologist, Director of Professional Services, Integrated Services Engineer, Project Coordinator, Business Development Associate, Technology Management Associate, and Executive Director.
Eligibility
You must have the equivalent of a four-year bachelor's degree in physics or an engineering degree with a strong background in physics. GRE is not required. TOEFL is required for international students who studying in a country where English is not the primary language of instruction. The admissions committee considers the quality of your previous education, grades, recommendation letters, personal statement, and passion for innovation/entrepreneurship.