lens
Achieving Together
The first CWRU students in a renowned college-access program became family and came into their own
Phuong Nguyen prepared to graduate in May knowing this bedrock truth:
"I definitely wouldn't have gone to Case [Western Reserve University] if not for the Posse Foundation," she said. "But I definitely wouldn't have stayed if it wasn't for my Posse."
The Posse Foundation launched in 1989 after founder and president Deborah Bial, EdD, heard a student say, "I never would've dropped out of college if I'd had my posse with me." That became her inspiration for a program to send groups of students from the same urban area to college together to be there for each other. Since then, more than 10,000 scholars have been selected to attend 63 partner colleges and universities with full-tuition scholarships.

And that's precisely the point of the foundation's work with colleges and universities.
Nguyen and nine other undergraduates from New Orleans arrived in 2017 as the university's first Posse scholars—a diverse group selected by the nationally acclaimed foundation and the university for their talent and academic and leadership potential.
Since then, CWRU has welcomed new Posse scholars each fall. Before arriving, students spend months in bonding and preparatory sessions, and then meet regularly with their on-campus faculty mentor, who for Nguyen's cohort is Barbara Kuemerle, PhD, a senior instructor in biology. Edwin Mayes, director of first-year experience and family programs at the university, plays a key role working with students and planning Posse events.
And an entire network of faculty, staff and administrators is at the ready—a welcome experience, especially for students from under-resourced backgrounds who may have previously lacked such support.
While the students benefit, so does the university, as Posse scholars become organization leaders or make their mark in many other ways.
"They're a highly visible group of students," said Rick Bischoff, vice president for enrollment management, who works with Mayes and others to select the university's Posse scholars.
And as commencement neared for members of the inaugural group, Bischoff anticipated the future.
41 students have come to the university through the Posse program since 2017.
"It's what they're going to do out there in the world that's going to be powerful," he said.
Think spoke with seven of the university's first Posse scholars. Their stories follow.
Photographs by Roger Mastroianni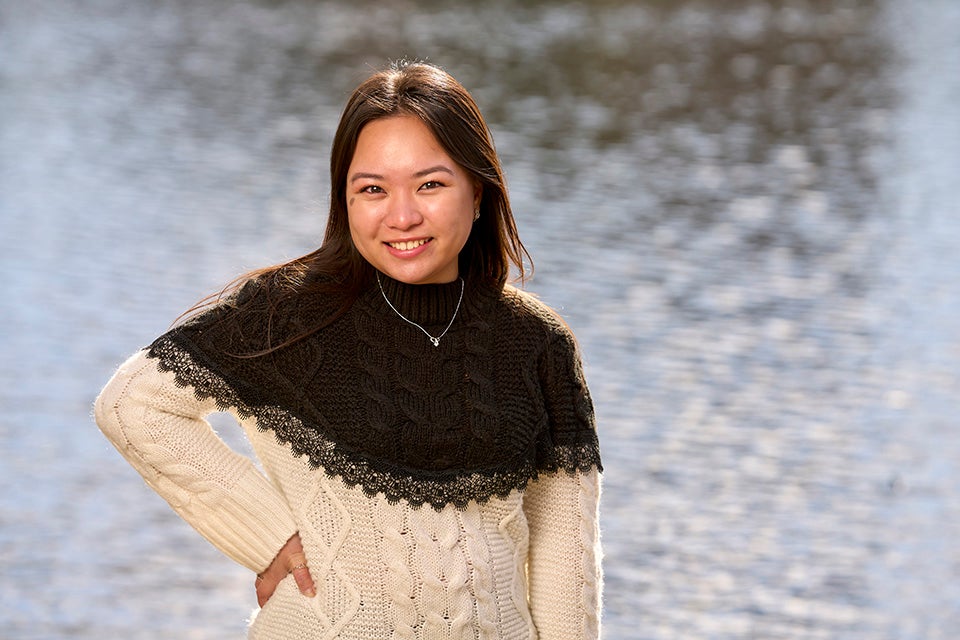 Phuong Nguyen, is graduating with a bachelor's degree in nursing and hopes to provide in-patient care for adults. She works in a hospital as a nursing assistant and mentors others, including younger Posse students in nursing. Nguyen came into her own during her four years at the university—but remembers well the early challenges of being in an environment so different from what she knew. Her Posse was a constant.
"They keep me accountable for my actions. They also inspire me to do better. I know someone has my back and is there to support me and love me in a way that just helps me thrive throughout my years, and definitely that first semester. It is a huge difference to have people who share your similar background so you don't feel like you're against the world by yourself. We're Posse. We have each other for life. I will still connect with them and check in on them for sure."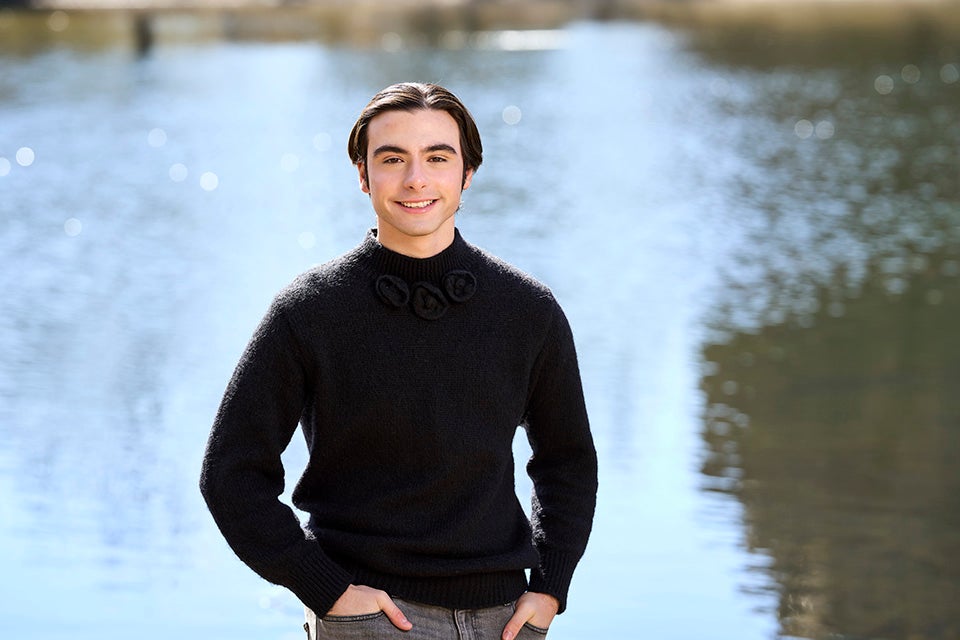 Fernando Rivera, is graduating with a bachelor's degree and majors in theater and communication sciences. He's played various roles in the student-run Players' Theater Group productions, has been involved with the Sigma Nu fraternity and worked at the student call center to help raise funds for the university. He aims to earn a Master of Fine Arts degree and become a professional actor.
"Being at the university has opened up a lot of doors I wouldn't have had otherwise. Just being in that environment kind of elevates your goals and ambitions. I think Case [Western Reserve] has been the best path for me because I did not just learn about theater things. Communication sciences has been in a lot of ways [unexpected]. I liked taking those classes and enjoyed the professors. And I felt the other students were really good people. Being open to all kinds of learning has been huge."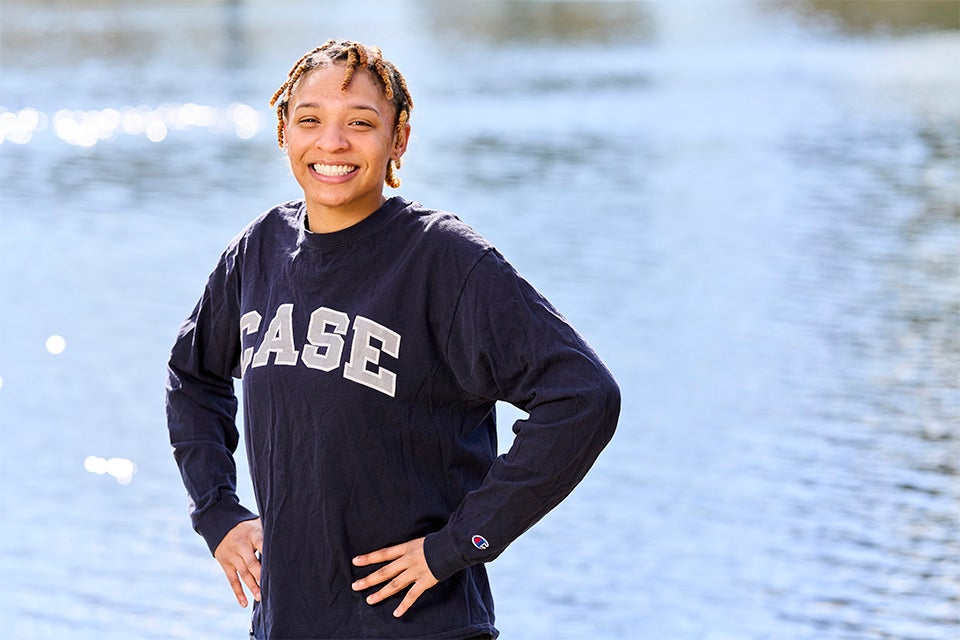 Hailey Marshall expects to earn her bachelor's degree after the fall 2021 semester, with majors in sociology and economics. She hopes to become a community organizer and attend either medical or law school.
"Posse and CWRU presented this opportunity to us, and I realized I had to not only be a leader but take nothing for granted and go for every opportunity that's presented. Being here taught me that new settings could be new opportunities to grow and to learn. It had always been a mission of mine to study abroad. I finally got the chance. I went to Botswana, Africa. That was in the spring of 2020—and then COVID hit. I had taken the opportunity—and it had a ripple effect. Classes stopped and weren't resuming until months later. I chose to go home to New Orleans because that was the most feasible option. The experience also taught me you can never control a situation; you can only control what you do."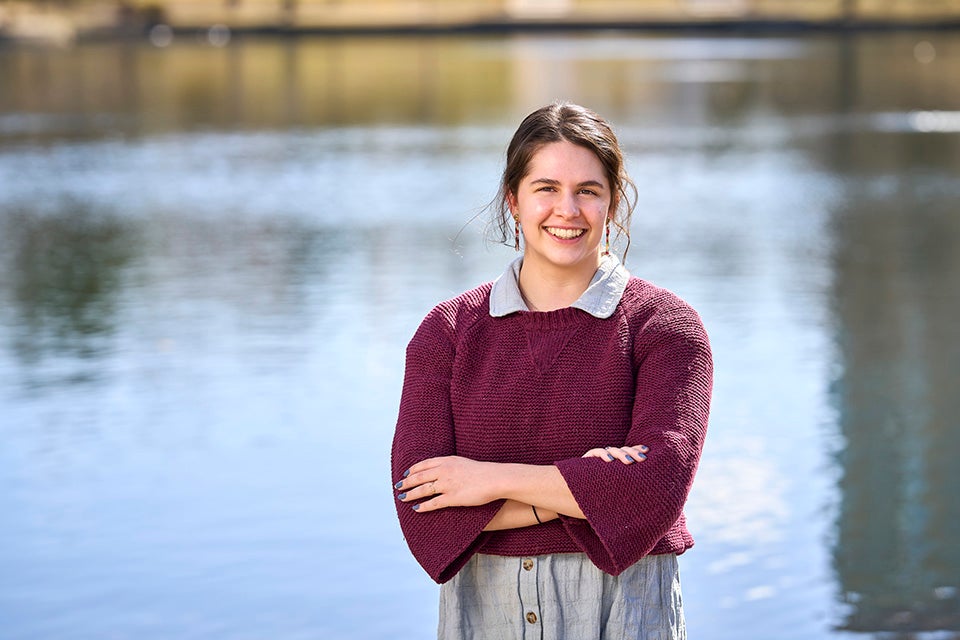 Isabella Beninate is graduating with a bachelor's in communication sciences and psychology, and a minor in public health. She's earned campus honors for her auditory and linguistics research and was a leader in CWRU's chapter of the National Student Speech Language Hearing Association. She plans to earn a master's degree and become a speech-language pathologist.
"I definitely would not have gone for these leadership positions or as much involvement as I have if not for the training that I've gotten with Posse. I would not be as immersed in the campus experience if not for the organization and my Posse helping me feel comfortable doing that. We're bringing our best 'Posse selves' to our different campus organizations. We're able to maybe diversify what leadership on this campus looks like a bit, bring in some of our new ideas."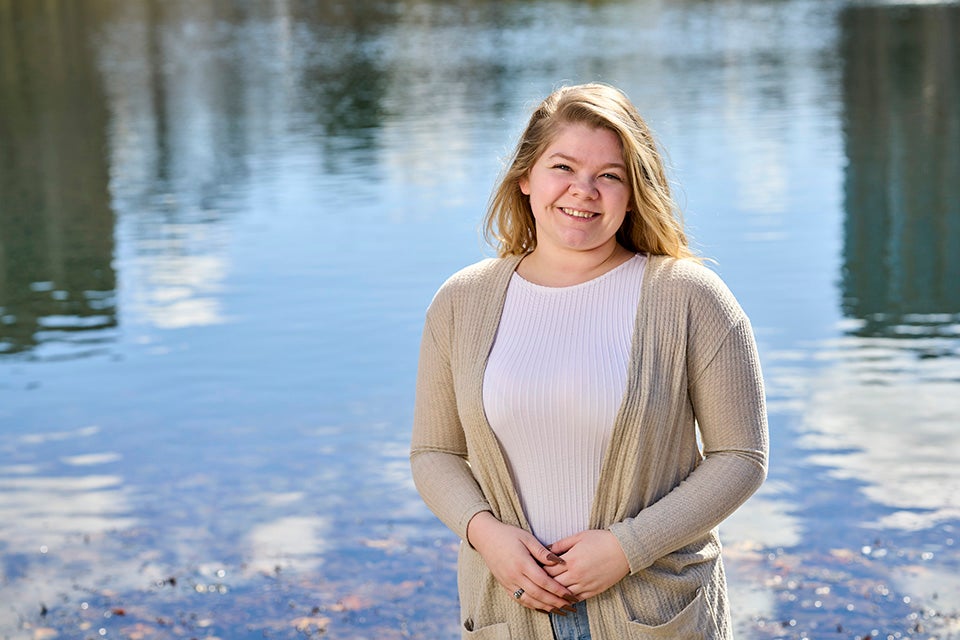 Olivia Hughes expects to earn her bachelor's degree in psychology after the summer 2021 semester. She said that even though attending the university is the hardest thing she's ever done, it's also the most rewarding. Hughes wants to eventually earn a graduate degree and pursue a career in marriage and                     family counseling.
"If [I hadn't been selected for Posse], I would be on a completely different path. Not to say that it would be the worst thing, but it would be a lot harder to reach the same level of success, to reach that same degree of growth and comfort. I'm still struggling [as a university student], but I know I would be so much worse off without Posse. It will be really awesome to be able to say 'I have a bachelor's degree.' I made it through this. I know that I can keep going and doing more."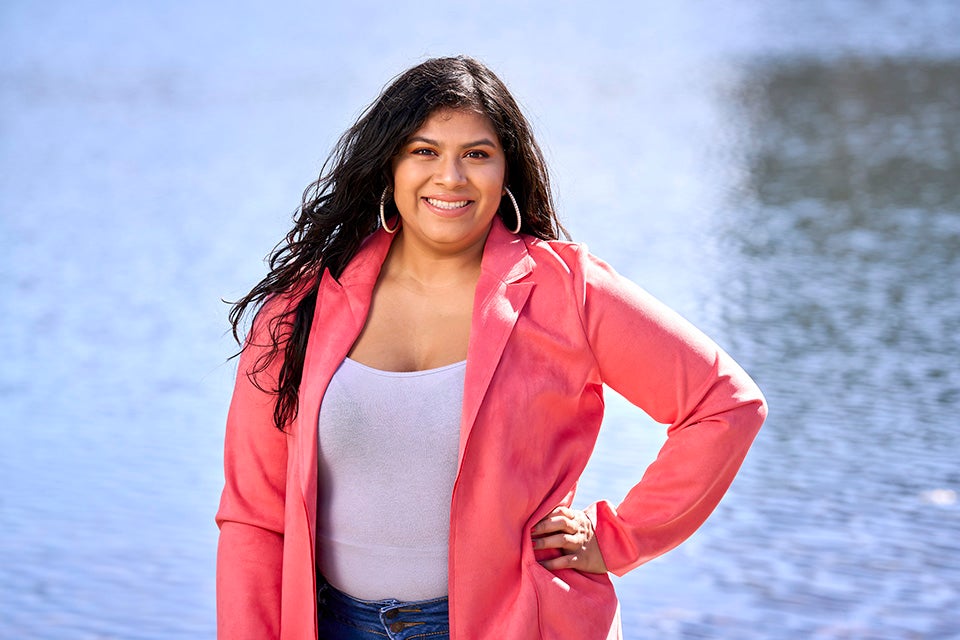 Fatima Rahman is graduating with a bachelor's degree in international studies and a master's degree in nonprofit management. She was a lead creator of First CWRU, a student group supporting first-generation students, and a university lending library to provide laptops and other technology to students who can't afford them.
"I didn't want people coming after me facing the same struggles I did. I wanted to make this place better—that's something Posse also inspires. I've become more of a change agent when it comes to social—justice issues. I definitely had those sentiments and desires prior to Posse and prior to coming to Case [Western Reserve]. But they've become so much of a calling—and almost like a responsibility—to fight for these issues and use the platforms I've gained through Posse and being on campus. This is my path; it's what I want to do in life and where I want to take my career."
Anthony Nunnery is graduating with a bachelor's degree in psychology and sociology. He led The International and Multicultural Exchange, a student group hosting cultural events, has been a resident assistant and served as an undergraduate researcher with the Center on Trauma and Adversity at the Jack, Joseph and Morton Mandel School of Applied Social Sciences. He wants to be a clinical psychologist helping marginalized communities.
"If I wasn't part of Posse, I would have likely dropped out or transferred. My Posse-mates were my first meaningful connections on campus and have a place in my heart that can't be replaced by anyone else. I definitely feel I can count on my Posse in times of need and that they can count on me to do the same. CWRU was definitely an adjustment from prior learning environments and was, at a point, debilitating. I stuck with it, though, because I didn't want to fail the team. We made a promise to start and finish together."