lens
Care that Delivers
Dental school treats children in underserved families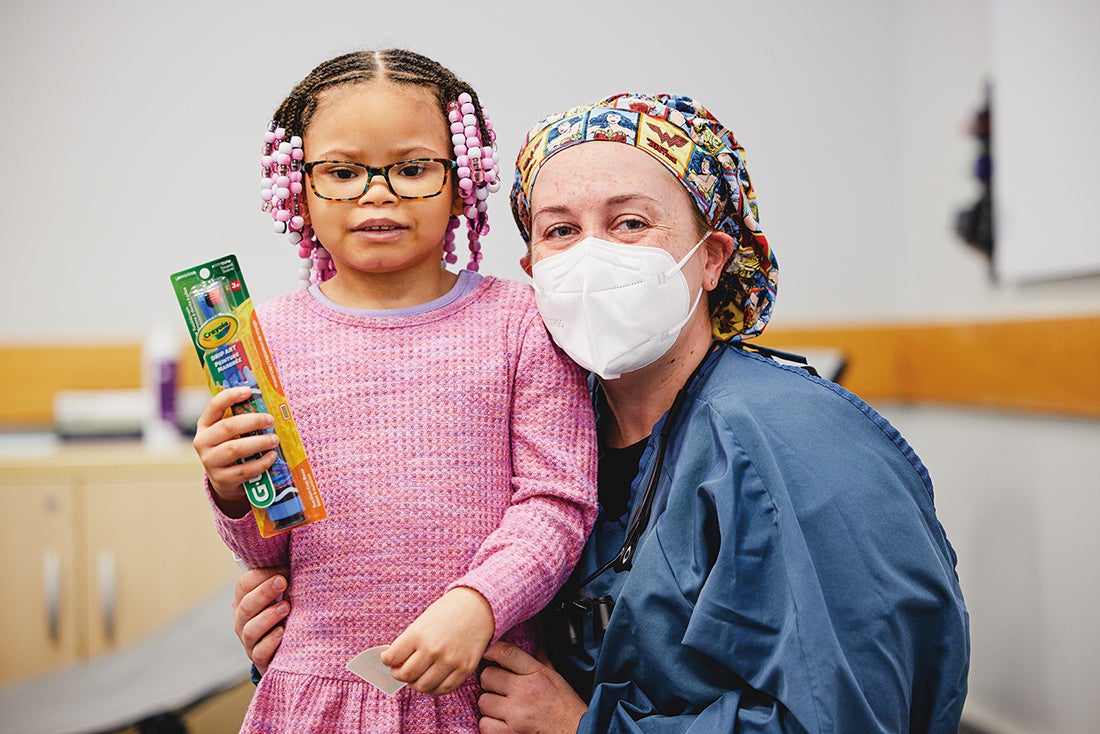 Photo: Angelo Merendino
On a recent Monday morning, 4-year-old Kennedy Donald walked into a conference room at the Cleveland child-care center she attends, sat down and happily faced a moment of truth.
"I brush my teeth all morning!" she proudly declared to Emily Steiner, DMD, the friendly pediatric dental resident from Case Western Reserve's School of Dental Medicine, who asked about her oral-hygiene practices before conducting an exam.
Kennedy is among an estimated 4,000 children in federally funded Head Start child-care centers across Northeast Ohio receiving care annually from the dental school's Department of Pediatric Dentistry.
"Our mission is to reach at-risk individuals, vulnerable children in the community and individuals below the poverty line because of the impact dental healthcare and dental education have on those individuals and the overall health of a community," said Gerald Ferretti, DDS, a professor and department chair.
During the worst of the pandemic, Ferretti and his team reexamined how and where they offered dental care. Yet even as they put some programs on hold—such as house calls to families with low incomes and facing certain language or disability barriers—they launched or expanded others.
The team, for example, began a new collaboration last summer with the MetroHealth System that expanded pediatric care at one of its dental clinics.
Such programs, Ferretti said, have helped improve the dental health of Cleveland's children.
In 2007, when the school began its pediatric outreach programs, 40% of low-income children it screened had tooth decay—roughly 15 percentage points higher than the national average for all children, Ferretti said.
After 15 years of educating children, parents and teachers, as well as providing much-needed dental healthcare, the team is seeing about half the volume of decay in low-income children, a level that Ferretti said is now only slightly higher than the overall national average.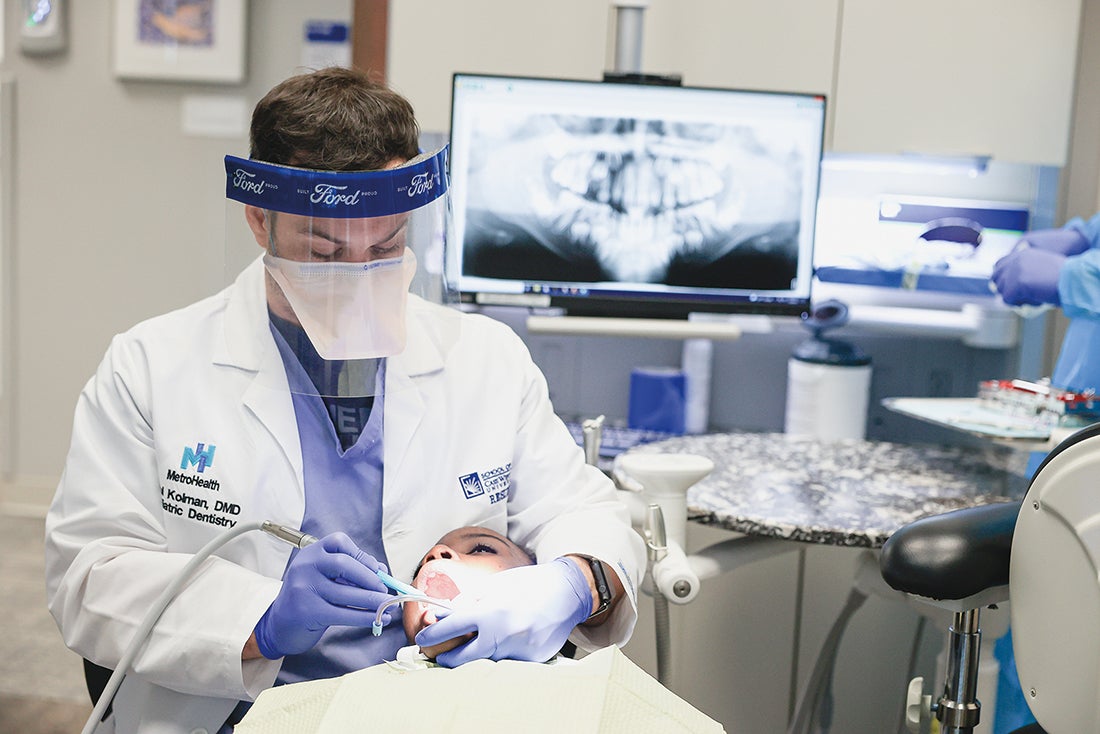 Photo: Nicholas McLaughlin
The education has been critical for Tamara Boswell, whose three young children have received dental care for several years through the dental school's work in Head Start programs.
"I love the dental health report card that is sent home with my kids," Boswell said. "I keep all their papers in my files, and it helps us with our dental hygiene routine at home. And the kids are so happy when they leave after an exam. They always say, 'Look at my teeth!' "
Separately, the MetroHealth partnership expanded patient care and the total number of pediatric residents.
Last July, MetroHealth's Ohio City Family Dentistry added two pediatric dental residents, allowing for an additional 3,500 patient visits a year, said Greg Heintschel, DDS, chair of the Department of Dental Medicine at MetroHealth. And this July, two more residents will join the clinic.
The dental school also is nurturing enthusiasm in kids for healthy habits and home routines.
When Kennedy Donald's dental exam ended at her Head Start center, she held up a new acquisition: an electric toothbrush.
"I love this!" she exclaimed, then marched out the door.