ief of the Division of Geriatrics.
Martin Deetz, BA '96, is working in Spring House, PA as an applications development leader for Dow Water & Process Solutions. He is helping to provide clean and sustainable water across the globe.
Virginia Amelia Mramor Erdy, BA '59, is retired. Formerly a chemist for Sohio and a high school chemistry and physics teacher, she also tutored community college students.
Brian P. Gersh, BA '76, visited our department in October. He is a principal consultant for Charles River Associates in Boston, and expressed an interest in talking with students who might consider a career in consulting.
Michael Guttman, MS '68, retired after 38 years of teaching chemistry at Miami-Dade College.
Meredith Earl (Hampton), BS '05, finished her PhD from the Inorganic Division at the University of North Carolina. She accepted a position at Liquidia Technologies working on vaccines research.
James A. Hathaway, BA '55, is retired. He enjoys traveling, and spends part of his winters in Costa Rica. He plays tennis, reads, and tutors students in math and chemistry.
Joseph A. Helpern, BA '77, holds an endowed chair in brain imaging at the Medical University of South Carolina, where he is a Professor of Radiology and Neuroscience, Vice Chairman for Radiology Research, and Director of the Center for Biomedical Imaging. He currently has two NIH grants focused on using MRI to study the biophysics of brain disease, including Alzheimer's Disease and ADHD.
Scott A. Iliff, BA '89, has a dental practice in Amherst, Ohio.
Marjorie Oberlin Kniola, BA '61, retired as Vice President in Information Technology from a large insurance company.
Christ A. Koconis, BS '58, is retired. He plays golf, travels, and volunteers for his local Habitat for Humanity.
Fred J. Kohl, BS '63 (CIT), PhD '68 (CWRU), now serves as NASA Project Manager for the International Space Station (ISS) Life and Physical Sciences research project.
Sarah Langhorst, BA '07, earned her DDS from the University of Michigan School of Dentistry, and has started a residency in general dentistry in Ann Arbor.
Marianne Lalonde, BS '09, is co-advised by Joe Hupp and Karl Scheidt at the Northwestern University Department of Chemistry. She is studying applications and synthesis of porous materials. Fellow Case alums in her PhD program include Brian Jones, BS '08, Eliza ielazinski, BS '07, Jennifer Clay, BA '10, and Steve Wobser, BS '07.
Syed Mahmood, BS '04, BA '04, MPH '07, MD '10, is now in Internal Medicine at Harvard Medical School's Massachusetts General Hospital. Syed is enjoying Boston but still misses Cleveland.
Tony Masri, BA '03, returned to Cleveland for an internship in internal medicine at Metro Health Center, then joined the University Hospitals neurology residency program. He was the chief neurology resident until June. In July he began a sleep medicine fellowship at Stanford.
John A. Miceli, BA '64, MA '67, PhD '70, retired after 20 years of chemical regulatory responsibility, involving EPA, OSHA, DOT, NRC, and FDA guidelines.
David Mog, BS '64, thoroughly enjoyed his first year of retirement with trips to China, Tibet, New Zealand, and Hawaii. He volunteers as a tour guide for an environmentally-friendly school building. He is looking forward to seeing many classmates at his 50th reunion in 2014.
Amish Pandya, BA '97, recently moved to the Greater Chicago area, where he has a practice in general dentistry.
Philip E. Rakita, BS '66, was recently elected to the Board of Directors of the Fulbright Academy of Science & Technology. He continues as Managing Director of Armour Associates, Ltd., and divides his time between western North Carolina and Paris, France.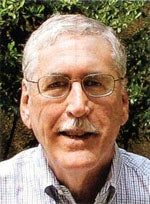 Arnold Rheingold
Source: C&EN
Arnold L. Rheingold, BS '62, MS '63, won the 2012 ACS Award for Distinguished Service in the Advancement of Inorganic Chemistry. Arnold has published an astonishing 2,100 papers on the structures of compounds. Overall he has published papers with 4,200 different coauthors including Nobel Laureates Roald Hoffmann, Richard Schrock and Richard Heck. A faculty member at the University of California, San Diego, Arnold has served as chair of the ACS Division of Inorganic Chemistry, on the editorial advisory boards of Inorganic Chemistry and Organometallic Chemistry and on the ACS Joint Board-Council Committee on Chemical Abstracts Service.
Emanuel M. Schreiber, BS '76, works in the Genomics and Proteomics Core Laboratories at the University of Pittsburgh, performing protein identifications using nanospray LC/MS.
Joseph T. Snodgrass, BS '80, is an Analytical Development Scientist at Vertex Pharmaceuticals. He works to deliver significant treatment advances to hepatitis C and cystic fibrosis patients.
Henry C. Stevens, MS '50, PhD '51, is chairing the Akron ACS Award and John Crano (PhD '62) Memorial Award committees. He also teaches basic chemistry courses at the University of Akron.
Richard Wanderman, BA '65, has a medical practice and is President of DCT Enterprises. He has also published a book of poetry.
Stephen G. Weber, BA '70, is a Professor of Chemistry and Clinical Translational Science at the University of Pittsburgh. He carries out research with graduates, undergraduates, and postdocs in bioanalytical and materials chemistry. He also spends time playing folk/blues on acoustic guitar and upright bass.
In Memoriam
Charles H. Springer MS '50, PhD '56
Birgit Jacobson MS '58
Support the Chemistry Department
You can contribute to our success by making a gift to the department. Your gift will allow us to continue to offer opportunities for our students to excel academically and to conduct cutting-edge research. Please return your gift in the enclosed envelope or give online at giving.case.edu. Thank you.
---
We want to hear from you!
We are proud of the accomplishments of our faculty, students and alumni. Let us know about job changes, awards, honors and life events. Please email your news and contact information updates to contact-cas@cwru.edu.
Alternatively, you may mail your updates on a letter or postcard. We ask that you please include your name, today's date, your CWRU degree(s) and year(s) (e.g. BS '78), address (city, state), employer, position or title, and the news about yourself.

ATTN: James D. Burgess
Department of Chemistry
Case Western Reserve University
10900 Euclid Avenue
Cleveland, OH  44106-7078
---
---
WINTER 2010-2011 | ISSUE 104
Department Chair
Mary D. Barkley

Associate Chair
John D. Protasiewicz

Managing Editor
James D. Burgess

Production Editor
Brian W. Brauchler
Winter 2010-2011
Adobe Acrobat software is required. The newsletter is designed for print as a 5.5"x8.5" booklet.
Related Web Links




From the Corner Office

New Faces

Faculty Highlight

Faculty Awards

Department Support