CONNECT Venture
Creating Community
Specialty Camps Where Kids Feel at Home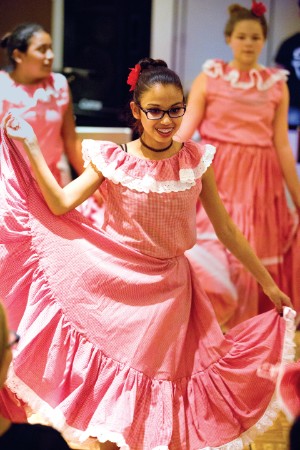 PHOTO: JOE NOWAK
Children who feel different—perhaps because of skin color or chronic illness—can find refuge at two summer camps that Case Western Reserve alumni organized or helped preserve. While the purposes are different, the underlying goal is the same: to help kids make lifelong friends and, as one camper said, feel "normal."
Mi Pueblo
As adoptive parents of two children from Latin America, Bill Gruber, JD (LAW '82), and his wife, Lynn Gruber, JD (LAW '82), wanted to give their children something special: a sense of community—a place to meet others like them while learning about their native culture.
In 1993, they joined several other parents—including Rick Horvath, JD (LAW '77)—to launch Mi Pueblo, a weeklong summer camp for children adopted from Latin America. The Grubers' children, John and Liz—then 3½ and 1½, respectively—started out in the camp day care. Since then, more than 400 children from several states have attended the Cleveland Heights camp.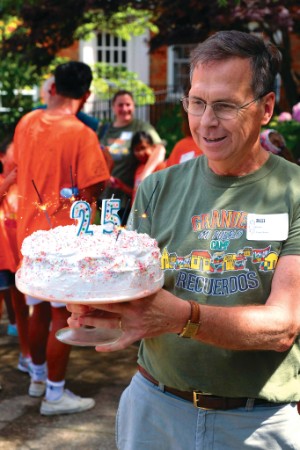 PHOTO: JOE NOWAK
"We have a number of former campers in their 30s who have returned as teachers, and some are bringing their own children,"said Bill Gruber, who has been camp director from the start.
The campers soak up the music, dance, language and art, and feel a sense of family with their compatriots.
"It makes me feel like I'm home," said Coby Wertz, 10, who has traveled from Wisconsin to the camp for the last eight summers with his family. His parents volunteer, while his two older sisters also attend.
"It's different than school," he added. "At Mi Pueblo, everyone is the same. There's no such thing as popular or not popular, and there's no such thing as third class or first class. Everybody's first class here."
The Grubers' children returned to camp in June to celebrate Mi Pueblo's 25th year—and their parents' legacy.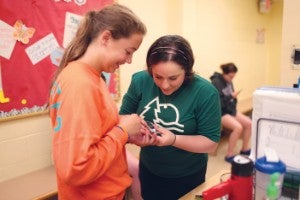 PHOTO: MICHAEL F. MCELROY
Camp Ho Mita Koda
Julia Blanchette (CWR '14) couldn't believe the news this past spring: Camp Ho Mita Koda, the nation's oldest summer camp for children with type 1 diabetes, was slated to close due to financial troubles.
This was personal. Not only had Blanchette worked at the camp for two years, but she also has type 1 diabetes. Diagnosed at age 7, Blanchette had tried to hide her condition until she attended a New England camp for children with diabetes, where she'd found friendship, gained support and felt called to nursing.
Blanchette, who now is working toward her PhD at Frances Payne Bolton School of Nursing, played a key role in saving the Newbury, Ohio, camp, which was founded in 1929. Blanchette rounded up health care volunteers for the camp and secured more than $50,000 of donated medical and diabetes supplies working with two diabetes nonprofits, Beyond Type 1 and Lyfebulb.
"Saving this camp was my way to be a nurse advocate for people with type 1 diabetes," said Blanchette, who serves as the camp's health care chair and a member of its advisory board.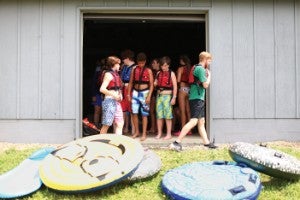 PHOTO: MICHAEL F. MCELROY
Camp Ho Mita Koda—which means "welcome my friend" in the Sioux language—reopened in July.
"It's a really welcoming environment," said Caroline Rusinoff, 13, of Stow, Ohio, who has attended since age 8 and whose father, Ted, was part of the campaign to save the camp. "It's like we all come together and say, 'I'm not in this battle alone.' I feel like a normal kid doing normal stuff, hanging out with friends."
Writer Erin MacLellan's son has attended Mi Pueblo for four years and she volunteers with her husband at the camp. Photographer Joe Nowak's son and daughter also attend the camp, and Nowak and his wife have volunteered for five years.