CONECT Reflect
Our Own Late Show
A Campus Tradition to Fill the Belly and Calm the Nerves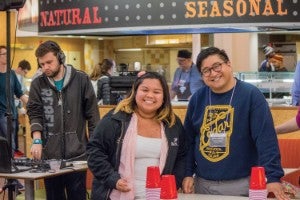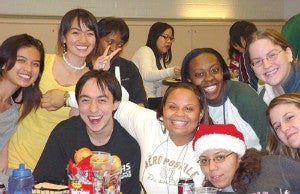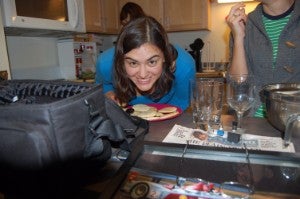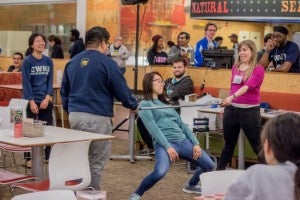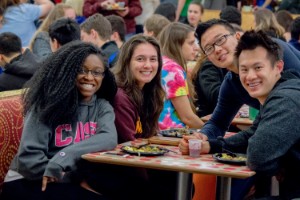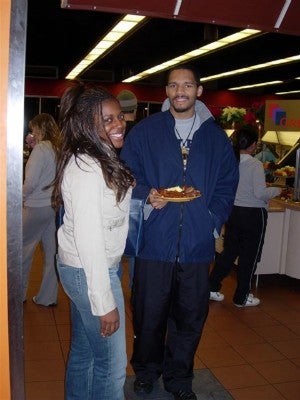 In 1988, Case Western Reserve launched a tradition born of comfort food and frivolity. Almost 30 years later, Late Night Breakfast remains a much anticipated stress-reliever held during finals each semester at both Fribley and Leutner commons.
The event draws 1,200 to 1,500 students each semester, and about 30 staff, faculty and administrators volunteer on the serving lines.
Students devour breakfast fare of eggs, pancakes, bacon, pastries, smoothies, fresh fruit—and massive amounts of candy.
The entertainment runs the gamut, from talent shows and musical chairs to limbo contests, cup stacking, trivia, scavenger hunts and Frisbee flings.
Once, a Frisbee shortage at Leutner inspired a student to think beyond … well, you know, and use pancakes as a substitute. Soon, pancakes and Frisbees were flying across the dining hall.
And, several years ago, a male streaker—wearing the mask of a different U.S. president each semester—was a Late Night Breakfast regular. "He always took the same path through the dining hall," said Skip Begley, interim co-director of Residence Life, "so after the fourth or fifth time, we were able to catch the fellow. Ironically, it was [Richard] Nixon who got caught."
Photos courtesy of the Office of Residence Life and Randy Blackford.