Meet the President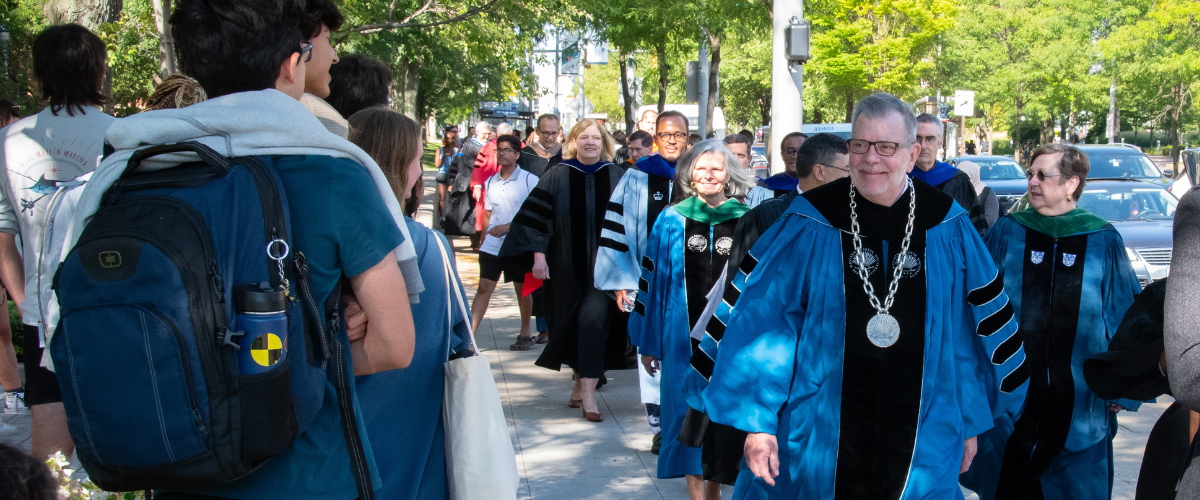 About President Kaler
Eric W. Kaler became the 11th president of Case Western Reserve University on July 1, 2021. He joined Case Western Reserve from the University of Minnesota, where he served as president from 2011-2019 and professor of chemical engineering and materials science from 2011-2021. 
An accomplished chemical engineer and visionary university leader, Kaler's career in higher education spans more than 40 years and includes leadership and faculty roles at premier public research universities. He is a member of the National Academy of Engineering and was elected as a fellow of the American Academy of Arts and Sciences for both his leadership in engineering and in higher education.
Kaler has significant expertise in elevating research, expanding fundraising, forming collaborative partnerships, encouraging entrepreneurship and advocating for diversity, equity and inclusion. 
University Priorities
Case Western Reserve embraces and promotes a diverse and inclusive campus community and embeds these values in all aspects of its work. These values also inform Kaler's priorities—to elevate academic excellence, expand research expenditures and enhance community engagement. 
Kaler and the Case Western Reserve leadership team have committed to: 
Grow undergraduate enrollment modestly by 2024. For the 2022-23 academic year, the university enrolled 1,550 first-year students and 65 transfer students from a pool of more than 38,000 applicants. The Class of 2026 is highly diverse, with a record 25% identifying as underrepresented minorities and an additional 24% identifying as Asian American. 
Increase research expenditures from $400 million to $600 million in the next decade. Critical to this effort is the leadership of the university's inaugural Senior Vice President of Research and Technology Management and construction of the new Interdisciplinary Science and Engineering Building. Announced in June 2022, this $300 million facility will be dedicated to interdisciplinary research efforts. The building is expected to be completed in 2026, in time for the bicentennial celebration of the founding of Western Reserve University. 
Enhance community engagement and impact. Since Kaler's arrival at Case Western Reserve, the university has convened a Neighborhood Advisory Council, formed a Community Engagement and Impact Task Force, launched the Cleveland Population and Urban Health Initiative and continued to support COVID vaccine clinics for the broader community. Moving forward, the university will seek additional opportunities to improve the lives of its Cleveland neighbors and advance partnerships with Cleveland institutions.
Experience, Memberships and Education
Kaler began his career in higher education as a research and teaching assistant at the University of Minnesota, where he earned his PhD in chemical engineering in 1982. He then joined the faculty at the University of Washington, where he was an assistant professor and associate professor of chemical engineering from 1982-1989. 
His first leadership positions followed at the University of Delaware, which he joined as an associate professor in 1991. While there he served as the chair of chemical engineering from 1996-2000 and dean of the College of Engineering from 2000-2007. He joined Stony Brook University in 2007 as provost and senior vice president for academic affairs and professor of engineering and chemistry. He also served as the university's vice president for Brookhaven Affairs from 2008-2011.
Kaler holds 10 patents and has published more than 200 peer-reviewed papers. Currently, he serves as a member of the National Institute of Standards and Technology's Visiting Committee on Advanced Technology. He serves on the Board of Directors of the Greater Cleveland Partnership, where he also co-chairs the Innovation and Growth Committee. 
In addition to election to the National Academy of Engineering and the American Academy of Arts and Sciences, Kaler is a fellow of the American Association for the Advancement of Science, the American Chemical Society, the Neutron Scattering Society of America, and he was a member of the inaugural class of the National Academy of Inventors. 
Kaler earned his bachelor's degree in chemical engineering in 1978 from the California Institute of Technology. 
Family
Born in Vermont, Kaler is a first-generation college graduate. He credits his wife, Karen, as a major contributor to his success. Karen, a Tennessee native, is well known for her warmth, enthusiasm, and advocacy. The couple have been married since 1979 and have two adult sons, Charlie and Sam, daughters-in-law Lisa and Lizzy, granddaughter Ophelia, and a very large dog named Adelbert.