CONNECT Spotlight
Extreme Pursuits
Uncovering the Secrets Behind Narwhal Tusks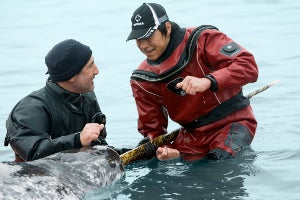 Gretchen Freund
Since he was a child, Martin Nweeia, DMD (DEN '84), has been fascinated with teeth—from the human variety to the 9-foot spear-shaped tusk that grows out of the head of the narwhal, an Arctic whale.
Today, he's a dental surgeon in Sharon, Connecticut, and quite possibly the world's foremost expert on the narwhal tusk—which, yes, is technically a tooth and is more typically expressed in males.
The tusk "defies about every principle and property of evolution that I ever learned in dental school—almost nothing about it makes sense," said Nweeia, who earlier this year became a clinical assistant professor at Case Western Reserve School of Dental Medicine and will work part-time on innovation-related projects. He also is a part-time lecturer at the Harvard School of Dental Medicine and a member of the Department of Vertebrate Zoology at the Smithsonian Institution, where he focuses on human teeth and the narwhal tusk.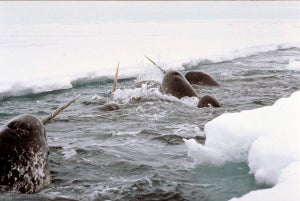 PHOTO: Glenn Williams
Not only is the tusk the stuff of legend, giving rise to the myth of the unicorn, but it also "was the perfect candidate to figure out, after all, why would nature evolve such an odd characteristic and expression of a tooth," Nweeia said.
His quest began 17 years ago and has taken him on more than a dozen summertime research trips to inlets in the Arctic waters of Canada's Northwest Territories.
Nweeia collaborates closely with Inuit elders and hunters, whose deep, traditional knowledge informs his research, as well as with researchers from Fisheries and Oceans Canada, who tag and study the whales for conservation purposes. During their two-week August expeditions, Nweeia and his team camp out on the shores of ice-free inlets, where the researchers know they will encounter narwhals.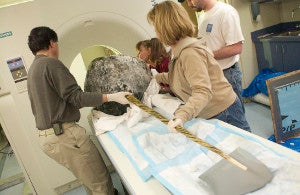 PHOTO: Joseph Meehan
They cast nets a couple hundred feet from shore, haul the animals into study and release them within 30 minutes. "It's very difficult working on a 1,500- to 1,700-pound marine mammal in the middle of the Arctic Ocean," he said.
In 2014, Nweeia and his team published what he calls their "astounding" discovery: The narwhal tusk is a sensory organ that can detect subtle changes in the concentration of salt in the surrounding seawater, helping the animal find mates and possibly forage.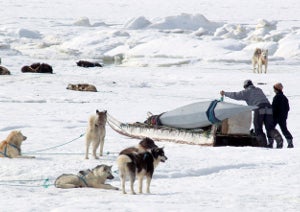 PHOTO: Joseph Meehan
"This tusk is exposed to frigid arctic water and air, and yet devotes 9 million tiny sensory connections" to constantly monitoring the external environment, he said. "It's both a wonder and a curiosity."
Nweeia's interest in teeth and dental health deepened as a 14-year-old who read a Time Life book on health care that focused on Case Western Reserve's model of forging a new pathway in medical education. The commitment to innovation made a lasting impression, he said.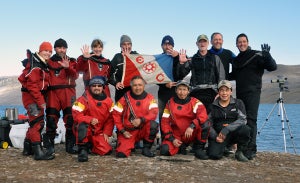 PHOTO: Isabelle Croc
Some 16 years later, Nweeia received his dental degree at Case Western Reserve—and now has returned to the university. He also is co-curating an exhibit that opens in August at the Smithsonian Institution's National Museum of Natural History on the narwhal, a project he and others have been working on for five years.
"I am fascinated by teeth, all their myriad forms in nature," he said. "What better way to learn about teeth than to better understand the one that questions all you've learned."