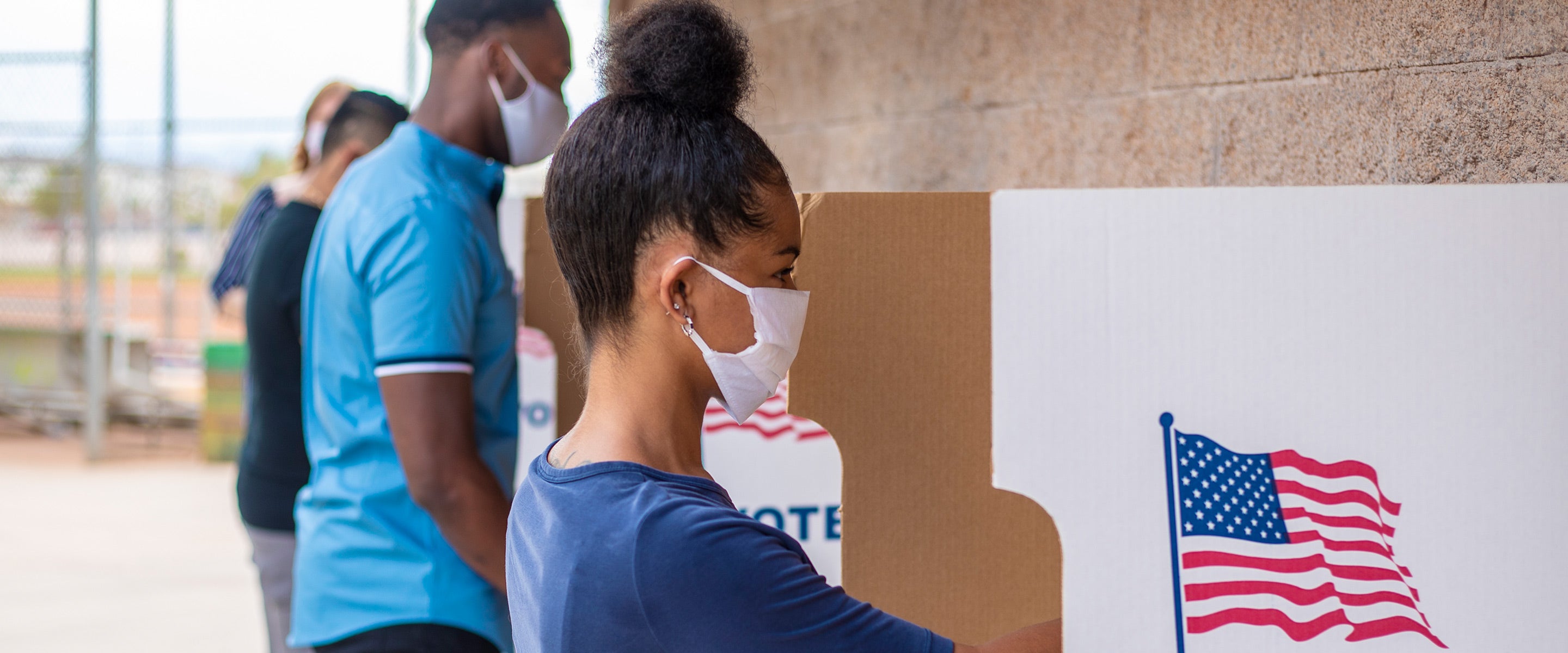 Voter Information
On Election Day (Tuesday, Nov. 3), Ohio polls are open from 6:30 a.m. to 7:30 p.m. You are encouraged to find your polling place online.
Individuals registered to vote in Cuyahoga County also can vote early or drop off mail-in ballots at the Board of Elections (2925 Euclid Ave., Cleveland) through Monday, Nov. 2.
The Center for Civic Engagement and Learning (CCEL) will host a number of "Early Voting Excursions," through which university escorts will accompany voters on the RTA HealthLine to vote early at the Cuyahoga County Board of Elections. Sign up through CampusGroups.
On Election Day, Case Western Reserve University will provide shuttles from 9 a.m. to 6 p.m. to nearby polling stations where students registered with their on-campus address will vote:
Mary M. Bethune School: Pick-up at the Tinkham Veale University Center (Bellflower Road)
St. Paul's Episcopal Church: Pick-up at One to One Fitness
Shuttle monitors will be available to answer questions and check in riders at the shuttle stops.
To ride a shuttle, students must sign up in advance through CampusGroups.
Face coverings and appropriate physical distancing are required on shuttles.
Campus Events
Students, faculty and staff are invited to take part in a variety of election-related events and programming leading up to Nov. 3—and beyond. In addition to these events, the campus community is encouraged to watch out for special election-related issues or broadcasts by members of the University Media Board including The Observer, WRUW 91.1FM and Studio 300.
Virtual Voting and Election Q&A Sessions
Friday, Oct. 23, and Friday, Oct. 30, 3:15–4 p.m.
Learn how to make your voice heard in the political process. Students are invited to join CCEL and the CWRU Vote Everywhere Ambassadors for nonpartisan Q&A sessions on Zoom leading up to the election.
Register for a Q&A Session
---
Social Justice Institute 10th Anniversary
Friday, Oct. 23-Saturday, Oct. 24
Join Case Western Reserve's Social Justice Institute for a series of virtual events marking its 10th anniversary, including inspiring speakers who will share their insight on the issues of today and opportunities for social justice advancement going forward. These sessions will draw on themes the institute has covered over the last 10 years, while highlighting the work of faculty from across the university.
See Event Details and Register
---
The Vote Documentary
Monday, Oct. 26, 7–8:30 p.m. EDT
Join the CWRU's Vote Everywhere Ambassadors for a movie night in Strosacker Auditorium (following physical distancing and mask requirements) to commemorate the centennial of the Women's Suffrage Movement. The Vote tells the dramatic culmination story of the hard-fought campaign waged by American women for the right to vote—a transformative cultural and political movement that resulted in the largest expansion of voting rights in U.S. history.
RSVP for a Seat at the Movies
---
Judicial Appointments and Court Packing
Tuesday, Oct. 27, Noon EDT
A panel of School of Law faculty will discuss the process of appointing federal judges, including Supreme Court Justices. They will touch on the history and politics of judicial appointments and "Court-packing" proposals, and will consider how judicial appointments might proceed in the next presidential administration.
Register for the Law Event
---
Political Polarization: Finding a Path to Solve Problems Together
Wednesday, Oct. 28, Noon EDT
Every election cycle seems polarized and divisive, and 2020 is no different. However, when the election is over, no matter who is declared the winner, we as a campus community, society and country will need to work and live together. Join this moderated dialogue, sponsored by the Office of Inclusion, Diversity and Equal Opportunity and CWRU Sustained Dialogue, as we work together to address societal issues. This event will include large and small group discussions and moderated dialogue based on the national Sustained Dialogue Program methodology.
Register for "Political Polarization"
---
Preparing for the Election and Beyond
Thursday, Oct. 29, 5:30-6:45 p.m. EDT
The Office for Inclusion, Diversity and Equal Opportunity and the Diversity Leadership Council will host a panel of CWRU faculty, students and staff to discuss how our campus community can prepare for the election and beyond. Panelists are Justin Buchler, associate professor of political science; Jessie Hill, the Judge Ben C. Green Professor of Law; Hunter Stecko, president of Undergraduate Student Government; and Vishu Chandrasekhar, vice president of Undergraduate Diversity Collaborative. Robert L. Solomon, vice presideent of the Office for Inclusion, Diversity and Equal Opportunity, will moderate the panel.
Register for the Election Preparation Panel
---
Understanding Local Politics
Friday, Oct. 30, 4:45-6 p.m.
The Center for Civic Engagement & Learning (CCEL) student Executive Council will host a virtual panel discussion open to the CWRU community about how policy change is shaped at the local level and the role of local politics in our day-to-day lives. CWRU faculty and staff, representing different disciplines, will share how they've been involved in the community outside of campus, including in local politics.
Register for the Local Politics Panel
---
University Guidelines
Faculty/Staff
Supervisors are encouraged to approve vacation time in full or half-day increments for all staff seeking to vote on or around Election Day, and to allow flexibility when possible if a team member needs to adjust their starting or ending time that day to get to the polls. Similarly, supervisors are encouraged to approve full-day vacation time for staff who wish to volunteer at the polls on Election Day.
Given the high emotions that surround elections, supervisors are encouraged to allow employees to take vacation time following elections, if necessary.
Students
Classes will take place as scheduled on Election Day, though faculty and staff are encouraged to work with undergraduate students who are involved as poll workers or need to go vote in person. However, if an agreement about an appropriate accommodation cannot be reached, the undergraduate student's obligations to classes meeting on their posted schedules will take priority. Graduate/professional programs will provide guidance to students based on their needs.
All athletics practice will be canceled to ensure student-athletes can participate in the Election Day process.
On- and Off-Campus Resources
Many university offices and organizations are offering discussion groups or other opportunities to connect with others leading up to and after Election Day.
Mindfulness Matters Week
Monday, Oct. 26–Friday, Oct. 30
Faculty, staff and students are invited to join the Wellness Program for a series of presentations and interactive breakout sessions sponsored by a Nord Grant project awarded to five faculty members. Mindfulness strategies for work, class, and home environments will be a theme across all five events, designed to help participants build skills for handling emotions pre- and post-Election Day, and beyond.
Learn About Mindfulness Events
---
Election Dialogue
Oct. 27–Nov. 13, Times Vary
Presented by University Health & Counseling Services, Election Dialogue will provide individual consultation opportunities to all students.
See the Dialogue Schedule
---
Mindfulness Hour
Wednesday, Nov. 4, 1–2 p.m. EDT
Students are invited to join University Health & Counseling Services for a mindfulness hour the day following the election, involving guided mindfulness exercises designed to help individuals decompress.
Sign Up for Mindfulness Hour
---
Anxiety Toolbox
Wednesdays, Nov. 4, 11 and 18, 2-3 p.m. EDT
All students can join University Health & Counseling Services for a three-part seminar to increase knowledge and understanding of anxiety.
Register for the Seminar Series
---
Communication Strategies during Difficult Times
Friday, Nov. 6, Noon EDT
During the turbulent election season, communication skills are more important than ever. Join communication counselor Valeri Furst for a one-hour webinar designed to assist participants in the skills they need to become stronger communicators.
Register for the Communication Webinar
---
Stress Management for Turbulent Times
Tuesday, Nov. 10, 10 a.m. EDT
Suffering from chronic stress due to the political environment or ongoing pandemic? Join the Wellness Program for a workshop designed to teach the importance of self-case and lay the foundation for future healthy habits.
Register for the Stress-Management Workshop
---
Throughout the year, the university offers a number of resources that may be helpful to members of our community.
---
Have additional events or resources to share? Submit your information to The Daily for potential inclusion in the newsletter and on this website.