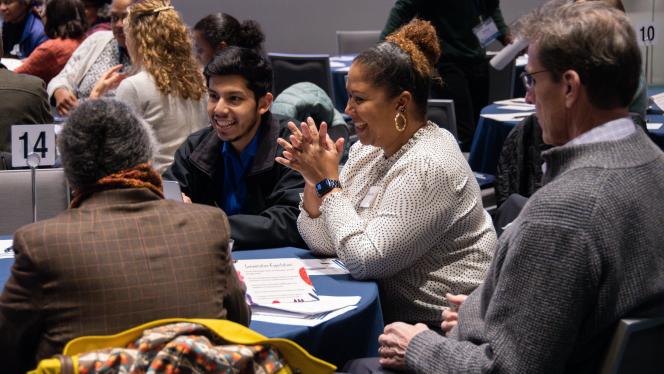 After a long, COVID-induced hiatus, the annual Community Dinner is back! 
Since the last dinner in 2019, many exciting and positive changes at CWRU included the formation of the Neighborhood Advisory Council (NAC) who have taken on the organization of this event.
The Community Dinner concept was adopted as an important aspect of CWRU's sincere desire to extend hospitality, promote fellowship, and encourage open and constructive dialogue with our neighbors. The idea of having a "place at the table" for visitors is a tradition that is rooted deeply in humanity's cultural history. Being welcomed means being warmly invited to share food and stories. Over time, the tendency has been to become more isolated and closed-off; forgetful of our need for "good neighbor" relationships. As we remember how to be in community again, it gives us great joy to spend this time together sharing experiences, ideas, and good food!
The table is a powerful metaphor for unity. Being invited to have a place at one is both an honor and a responsibility. And while we share physical space, there may not always be equity. Our goal is to not simply gather neighbors together, but to build lasting relationships that provide mutual support. CWRU is honored to be welcomed at many tables throughout our many vibrant surrounding neighborhoods as well, and we hope to continue this tradition of sharing as we build our vision of what it means to live as a good neighbor.