Cellular Therapy Integrated Services (CTIS)
CTIS Leadership
Lan Zhou, MD, PhD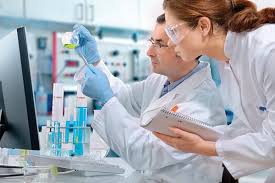 Scientific Director
lan.zhou@case.edu
216.368.1671
Jane Reese-Koc, MBA, MT
Operations Director
jane.reese@case.edu
216.368.1007
The National Center for Regenerative Medicine Cellular Therapy Integrated Service (CTIS) supports cellular therapy investigators by providing technology transfer of research based cell therapies to clinical scale products, including  IND support, technology transfer, quality oversight and GMP compliant cell manufacturing.  
Cellular therapy protocols that intend to use CTIS are reviewed by an Institutional Cellular Therapy Review and Monitoring Committee under the auspices of University Hospitals Cleveland Medical Center. View open clinical trials.
Cellular Therapy Lab
The Cellular Therapy Laboratory, located on the 6th floor of the Wolstein Research Building on the campus of Case Western Reserve University and University Hospitals Cleveland Medical Center is a 3,000-square-foot facility that includes six fully equipped ISO 7 cleanroom suites. The Lab complies with regulations promulgated by the FDA  and is accredited by the Foundation for Accreditation of Cellular Therapy (FACT). In addition to manufacturing,  the lab supports lot release testing, quality control of clinical products, lab correlates and process development. Laboratory staff have extensive GMP compliant manufacturing, quality management and  regulatory experience to ensure FDA compliance.  
CTIS Activities at a Glance
Preparation and/or processing of cell products for experimental IND-based cell therapies.
Full-spectrum service from minimally manipulated to extensively cultured cells produced in compliance with FDA mandated guidelines.
Competency in all cell manipulations including purification, culture, expansion, cell differentiation, and gene transfer.
Comprehensive support starting with IND preparation and regulatory guidance to development of Standard Operating Procedures
A defined Quality Management program, including quality assurance, quality control and  an independent Quality Oversight Committee
CTIS Staff Expertise
The Cellular Therapy Lab staff have extensive experience in handling minimal and more than minimal cellular therapy products and compliance with cGMP guidelines.  CTIS staff have the experience to assist with the following:
Pre-clinical study development
Reagent sourcing
SOP development
IND assistance
Technical Capabilities
Cell cryopreservation and storage 
Stem cell processing and infusion
Enrichment of specific cell types
Cell expansion 
Gene transfer 
Dendritic cell vaccines manufacture
CART cell manufacture
NK cell manufacture
Marrow stromal cell expansion
Viral specific T cell selection
Core Support Activities
cGMP-compliant manufacturing of clinical-grade cell and/or tissue engineering products
Quality infrastructure, including Quality Assurance activities
Project consultation for regulatory compliance and submission (IND, IRB, NIH, IBC)
Standard Operating Procedure Development 
Operations, Quality, and Materials Management 
Budget development for grant proposals
Clinical trial budget preparation
IND preparation
Equipment Management 
Document Control 
Process Development/Qualification/Validation
Want to know more about the Cellular Therapy Manufacturing Lab? Watch this video to learn more about the facility, its technology and the rigorous processes required to manufacture high-quality cellular products.