Why Do We Recycle?
Everything we need and want must be created from the resources available to us on this planet. Many of these resources are finite and cannot be replenished fast enough, if at all, to keep up with our current demand for goods. By recycling everything you can, you are helping to conserve these resources and ensure that we are making the most of the things that are already in the system.
By recycling, we are reducing the impact of waste disposal on the climate. When waste is disposed of in a landfill, it releases methane, a potent greenhouse gas and the second most prevalent greenhouse gas emitted in the U.S. from human activities. Emissions from landfills are the third largest source of methane emissions in the United States. Keeping items that are able to be recycled out of the landfills reduces unnecessary methane emissions.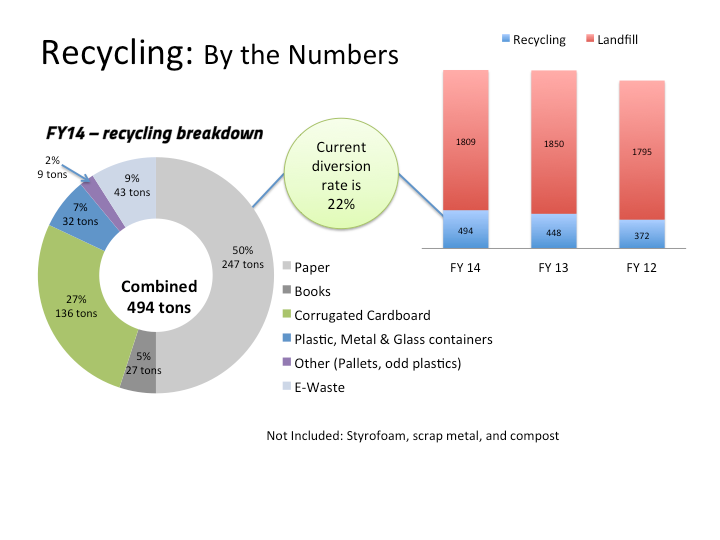 What Can I Recycle?
There is a difference between what is recyclable and what can be recycled here at CWRU. While a majority of items bound for the landfill are recyclable, or are able to be recycled, for a number of reasons including collection and availability of vendors, only certain items can be recycled on campus.
How and Where Do I Recycle?
How and where you recycle at CWRU depends on your location on campus. Whether you are in an office, a classroom, or your residence hall suite, there is a way to recycle! We can also give you advice on how to recycle if you're a student living off-campus!
RecycleMania
Each year, CWRU participates in RecycleMania, an 8-week recycling competition during February and March between colleges and universities across the U.S. and Canada. RecycleMania is an opportunity to benchmark how much our university recycles, and how much goes to the landfill. Through the competition, we hope to raise awareness on recycling practices on campus, boost excitement about recycling by engaging the campus community in a friendly rivalry, and reduce the overall climate impact of our university.
To learn more about the program and our efforts, check out the Recyclemania website and follow our Facebook and Twitter pages during Recyclemania season.