Biographical Sketch of W. A. "Bud" Baeslack III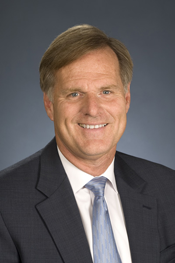 William A. "Bud" Baeslack III was appointed Provost and Executive Vice President at Case Western Reserve University on October, 1, 2008, and is responsible for all facets of the academic programs and research of the University.  He also holds an appointment as Professor of Materials Science and Engineering. 
Prior to joining CWRU, Baeslack served as the Dean of the College of Engineering and Executive Dean of the Professional Colleges at The Ohio State University.  Baeslack began his academic career as an Assistant Professor at OSU in 1982.  As an academic administrator at OSU from 1991 to 1999, he served as a Department Chair, Associate Dean for Research and College Development, Interim University Vice President for Research, and President of the OSU Research Foundation.  From 1999 to 2004, Baeslack served as Dean of the School of Engineering at Rensselaer Polytechnic Institute, during a period in which the Institute created and implemented its highly successful Rensselaer Plan.  He returned to OSU in 2004.
Baeslack is internationally recognized for his research on the materials science and engineering aspects of joining advanced aerospace materials, including titanium, aluminum and nickel-base alloys, intermetallics and metal-matrix composites.  He has received research funding from the Office of Naval Research, the Army Research Office, the Air Force Office of Scientific Research, the National Science Foundation, the Ohio Edison Program, national laboratories and industry.   Baeslack and his students have authored over one hundred and fifty journal and proceedings articles.  He has been elected a Fellow of ASM International, The Welding Institute and the American Welding Society.  In 1989/90, Baeslack spent a sabbatical leave at The Welding Institute in Cambridge, England.
Baeslack received his B.S. and M.S. degrees in Welding Engineering from The Ohio State University and his Ph.D. degree in Materials Engineering from Rensselaer Polytechnic Institute.  Following graduation from RPI, he served four years at the U.S. Air Force Materials Laboratory as a materials engineer and technical area manager.