Cleveland Chamber Symphony performs Sunday, April 7, 2019 5:00 p.m.
The Cleveland Chamber Symphony performance will include works by the Cleveland Composers Guild set for dance by Cleveland's Verb Ballets. This performance is part of the NEOSonicFest - A Northeast Ohio New Music Festival.
Ensemble Bio
Since 1980, under the founding leadership, Dr. Edwin London, the Cleveland Chamber Symphony has steadily climbed to the summit of new music's Mount Olympus.  Thanks to its unique mission and vision to commission, perform, record and promote the dissemination of musical works exclusively by composers of our time, no other institution has contributed so much to advancing the art of contemporary primarily American music.
Guests Verb Ballets performs with CCS (2012)
The musicians of the Cleveland Chamber Symphony, along with its artistic and administrative leadership, have developed an extraordinary set of skills required to meet the ever advancing evolution of musical language and challenges of institutional development in these competitive times.  The Cleveland Chamber Symphony would have been the envy of many of the "great masters" who often had difficulty in obtaining authoritative renditions and public appreciation of their "new music" in their own time!
Artistic Director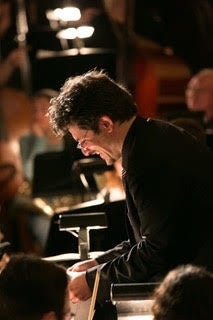 Praised as a "born conductor" by the Cleveland Plain Dealer, Domenico Boyagian, Music Director of Cleveland Opera Theater, performs his inaugural season as Music Director of the Suburban Symphony Orchestra.
Boyagian has dedicated himself to symphony music and opera, producing performances of compelling artistry and beauty. Born and raised in Bologna, Boyagian came tho the United States to further his musical studies. He holds degrees from California State University, Northridge in Piano Performance, the Cleveland Institute of Music is Conducting, and is a "Most Distinguished Artist" Grant Recipient from the Community Partnership for Arts and Culture in Cleveland, Ohio. 
He received accolades for his compact disk recording with Centaur Records, featuring pianist Antonio Pompa-Baldi: "the soloist and conductor Boyagian maintained such close contact that the score unfolded with seamless vibrancy" (Plain Dealer). He has conducted numerous operative works with companies nationally.
Program Details
Suburban Symphony Orchestra
Conducted by Music Director Domenico Boyagian
Guest Concertmaster, Rachel Stenzel
Guest Soloist, Shuai Wang
•
Bizet - Carmen Suite No.1
Chopin - Piano Concerto No.1 featuring Pianist Shuai Wang
Ravel/Mussorgsky Pictures at an Exhibition