features
Civic Engagement on Campus and Beyond
---
Legal Aid
During the last four years, students at Case Western Reserve School of Law provided more than 92,500 hours of pro bono work in service to the community—from representing Cleveland residents facing eviction to partnering with social work students to aid survivors of human trafficking. It's part of the reason why preLaw magazine ranked the school fifth in the nation for practical training and ninth for public-interest law during the last two years.
"Our students have tremendous opportunities to take what they are learning in the classroom and make a difference in the lives of clients with real-world problems," said Laura McNally, JD, director of the school's Milton and Charlotte Kramer Law Clinic, which focuses on serving low-income clients with community partners including the Legal Aid Society of Cleveland and Neighborhood Family Practice, a local community-health center.
Here's a snapshot of the School of Law's public-service work during the 2021-22 academic year: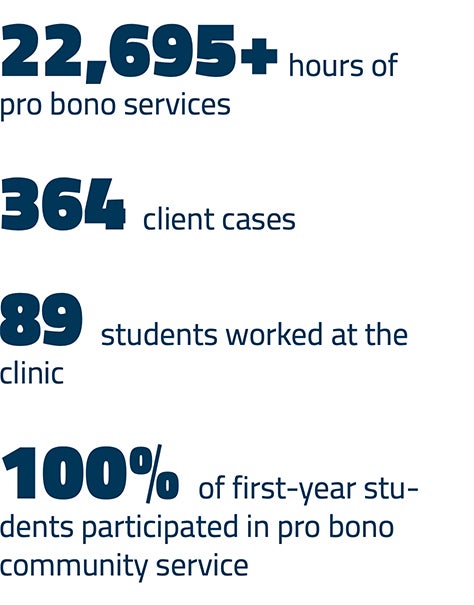 ---
Multiplying Opportunities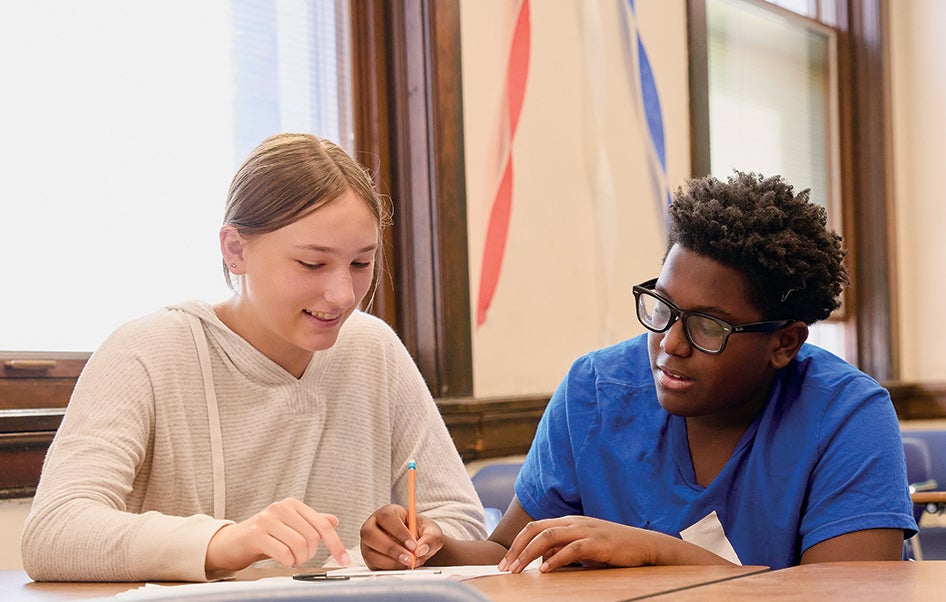 Roger Mastroianni
This past summer, Case Western Reserve welcomed the Math Movement summer program to campus for its inaugural year, providing space for 16 local middle-school students to discover the beauty in complex calculations. Campers tackled topics from fractions to calculus while receiving assistance from CWRU undergraduates and area high school students. Dionissi Aliprantis, PhD, created the program and its curriculum and led the summer session. He's also director of the Federal Reserve Bank of Cleveland's Program on Economic Inclusion. The university's partnership with the program also helped campers see a future path more clearly. "The freedom of being on campus and getting a taste of that college experience is tremendous for our kids in realizing what they can get out of their learning experiences and how much fun it can be," Aliprantis said.
---
Building Bridges
Although she was born and raised in Cleveland's Glenville neighborhood, Sandra Brinson didn't visit Case Western Reserve until she was a young teacher working at a city camp held on campus for local children.
"After all those years," she said, "I started connecting with that community."
Brinson began exploring the campus on long walks that became a cherished part of her daily routine. Now, as co-chair of the newly launched Neighborhood Advisory Council, Brinson hopes to help more of her neighbors discover the same feeling of belonging that she found.
The council, which seeks to strengthen ties between the campus and nearby communities, is composed of residents, university representatives and several partner institutions. Its outreach efforts are expected to include hosting supply drives for local schools, participating in neighborhood activities and distributing a newsletter spotlighting campus resources and events.
"Better connection, collaboration and communication are key goals," said co-chair Janice Eatman-Williams (MNO '01), a Cleveland native and director of the university's outreach programs for local schools.
---
Reaching out to K-12 Students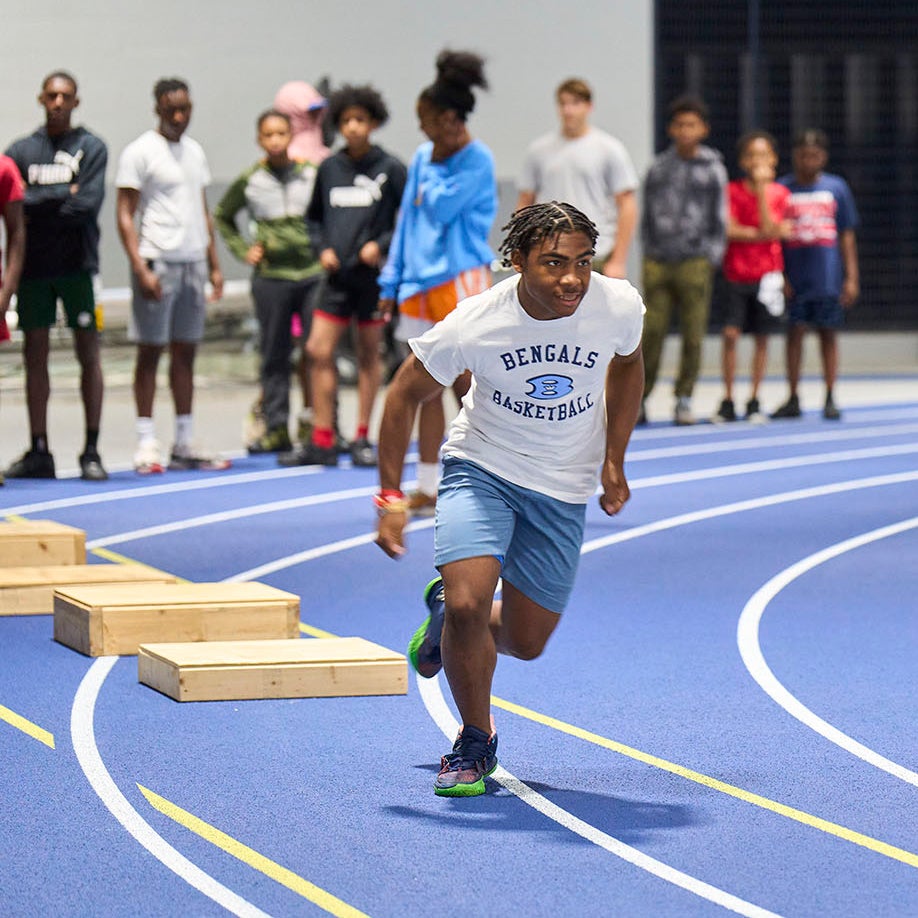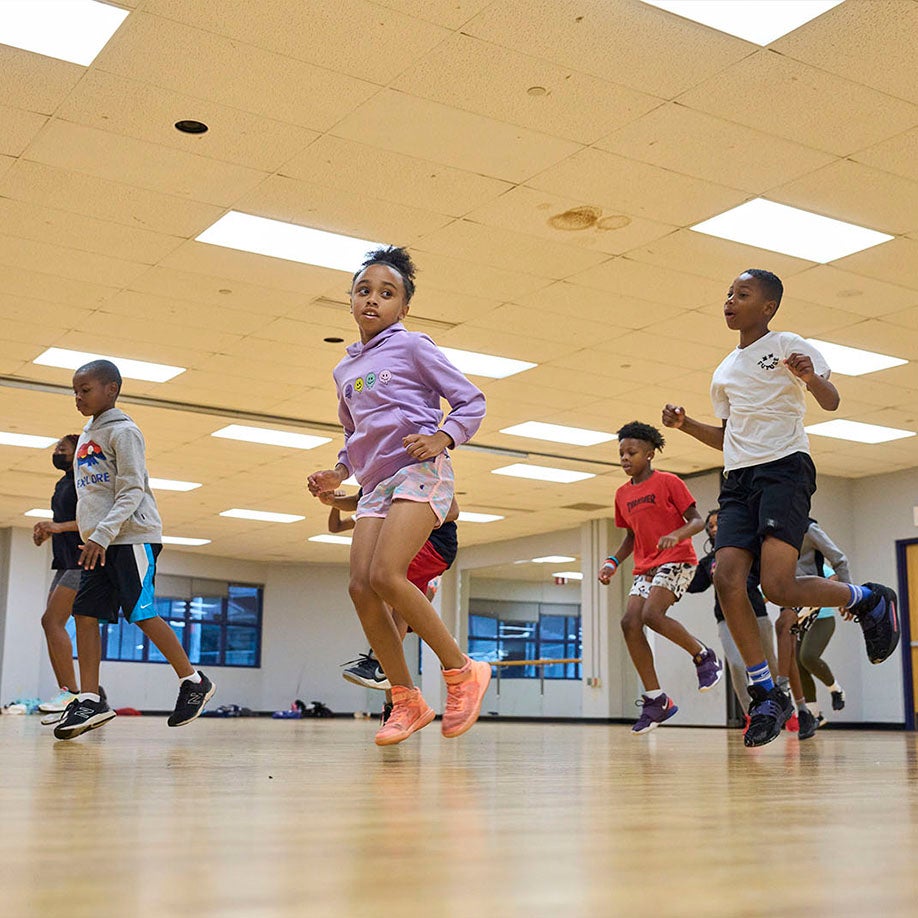 Roger Mastroianni
Whether providing college counseling to high schoolers through Upward Bound or tutoring in schools and libraries across the city, the CWRU community shares its talents with students to boost academic, sport and life skills.
The National Youth Sports Program has served 15,000 adolescents and teens since 1970. The five-week summer camp draws hundreds of children to campus for a wide range of athletic instruction and academic inspiration.
Activities include dancing, swimming, track and field sessions, softball and basketball as well as educational enrichment classes and free medical screenings.
"It gives Case [Western Reserve] a chance to reach out to the community." said Director Dennis Harris. "We prepare kids to be great citizens of America."