Bored with Your Current Workout Routine?
Reform It!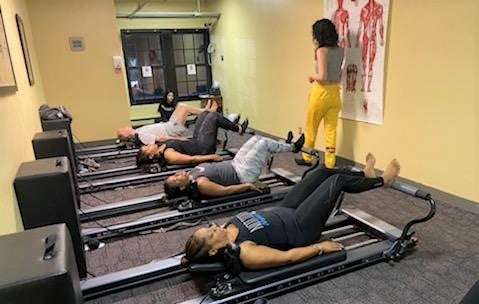 Improve flexibility
Increase strength
Stabilize low back muscles
Improve posture
Improve mind-body connection through movement
Improve sports performance
Boost brain power ("The thinking man's exercise" ~ Joseph Pilates)
Pilates Reformer machines utilize different weighted springs to change the resistance for exercises that push, pull and hold the carriage steady. Exercises are dynamic and performed in a wide variety of positions, including lying down, sitting, standing, perched on foot bar or shoulder blocks, etc.
Mastering Pilates is a journey that takes time and consistent training to achieve its rewards. Beginners to professional athletes (including LeBron James) and everyone in between will be challenged regardless of age, gender or fitness level. See what your favorite professional athletes have to say about Pilates here!
View the Reformer Schedule, Purchase & Schedule Online!
Schedule is subject to change. Members can view the real-time schedule with instructors at MYiCLUB online. Classes averaging under 3 participants may be eliminated from the schedule.
Members can view the schedule with instructors, purchase services and schedule classes online via MYiCLUB online. Register for MYiCLUB via the link above, or follow these instructions. Click on "shop" to make your purchase. This service is only available for members.  Please note that if you are purchasing the free intro session through MYiCLUB, you will need to enter a method of payment, but the cost is $0.
Pricing:
See how we compare to other local Pilates Reformer pricing in the FAQ section below!
Sessions

Member

Non-Member

FREE Intro class
FREE
Not Available

1 class

$20

$30

5 classes

$83

($16.60/session)

$124.50

($24.90/session)

10 classes

$137.80

($13.78/session)

$206.70

($20.67/session)

20 classes

$228.80

($11.44/session)

$343.00

($17.15/session)
All One to One members receive a complimentary Pilates Reformer intro class (one per person). 
Private and duet (2-person) sessions are available and perfect for those looking to get more individualized attention, expand their practice, or work on specific health/fitness/wellness needs, such as injury recovery. Contact us at 216-368-1121 or via email for more information.
Pilates Mat Classes are Free!
Did you know that we offer Pilates Mat classes free to all our members? Check out our group exercise schedule with over 50 classes per week!
FAQs
Have more questions? Check out our below frequently asked questions, email or call 216-368-1121 anytime!