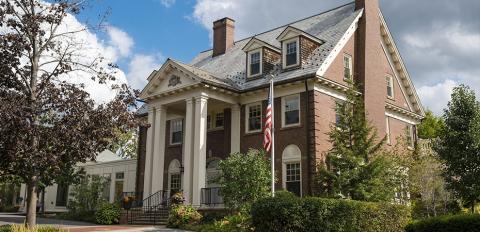 Have you recently married, changed careers, been promoted, received an award, had a baby, traveled the world, discovered a passion or have other news to share? Tell us your story.
If you are registering for CWRU Connect and require your Constituent ID, please refer to your latest issue of Alumni News or call 216.368.6280 for assistance. To honor members of the Case Western Reserve University community who have made exceptional contributions to their profession or the community, consider nominating them for our annual awards. Contact The Alumni Association with questions regarding class notes. 
---
Current Class Notes
Philmore J. Hart (ARC '48) of Beachwood, Ohio, will join surviving classmate, Robert Madison (ARC '48, HON '04), to celebrate the 70th class reunion of the School of Architecture of Western Reserve University. Hart graduated with honors from the program and studied under world-renowned architect Mies van de Rohe before joining the faculty of the School of Architecture of Western Reserve University in 1954. He was named the chair of the School of Architecture in 1968.
Robert Madison (ARC '48, HON '04) will join surviving classmate, Philmore J. Hart (ARC '48), to celebrate the 70th class reunion of the School of Architecture of Western Reserve University. Madison was personally trained by Walter Gropius, founder of the Bauhaus School in a master's program at Harvard University in the early 1950s, a program that only admitted 16 students, and received a Fulbright Scholarship to study architecture in Paris. In 1950, Madison became Ohio's first African American registered architect and, in 1954, founded Robert P Madison International, Inc., the architecture firm he still works at today. Madison designs include , whose work includes mid-century modern residential designs, A.M.E. churches, school buildings, museums, hotels and the U.S. embassy office building in Dakar, Senegal, the State of Ohio Computer Center in Columbus, an engineering and nuclear teaching facility Tuskegee University, and a building in Cleveland's Glenville neighborhood that in 1962 that was the first office in Ohio for black medical professionals and has since been remodeled and renamed The Madison in his honor. Also in Cleveland, Madison worked on the Rock and Roll Hall of Fame with legendary architect I.M. Pei, FirstEnergy Stadium (home of the Cleveland Browns) and Quicken Loans Arena (home of the Cleveland Cavaliers). He is a trustee emeritus of CWRU.
Frank Rudy (CIT '50) was posthumously inducted into the 2018 Class of the Spartan Hall of Fame as a special category inductee. Rudy studied mechanical and aeronautical engineering at the Case Institute of Technology before inventing the "Air Sole" in 1978, transforming Nike's athletic shoe into a must-have technological marvel and launching the company's growth into a $34.4 billion per year athletic apparel business. In 1999, Frank and his wife, Margaret, donated $2 million to the Case School of Engineering, creating a chair named for the Rudy Family. After Frank's death in 2014, Margaret, Rudys' daughter, Kim McMahon, and Nike orchestrated a gift of $400,000 worth of uniforms and shoes to CWRU athletics. In May 2018, McMahon donated $1,900,000 to CWRU athletics for the M. Frank Rudy and Margaret Rudy Athletic Endowment. 
John Davin (CIT '60), was posthumously inducted into the 2018 Class of the Spartan Hall of Fame as the Heritage Selection. Davin was a star basketball player and golfer for the Case Institute of Technology.
Larry Crystal (ADL '61), an attorney with the Cleveland law firm McCarthy, Lebit, Crystal & Liffman Co., LPA, was named in the 2019 edition of The Best Lawyers in America.
Clark Heckert (CIT '68; GRS '73, electrical engineering and applied physics) published his first novel, Sudden Storm (Light of the Moon, Inc.). The political thriller follows a Navy SEAL's attempts to halt a deadly international conspiracy. Now retired, Heckert spent twenty-seven years in equipment development with the DuPont Company in the Engineering Physics Laboratory, Medical Products, Electronic Imaging and Printing, and Publishing departments. He lives in Colorado with his wife, Pamela.
Garland E. Likins Jr. (CIT '71; GRS '73, civil engineering), co-founder and past president of Pile Dynamics Inc. (PDI), received the Distinguished Service Award from the Deep Foundations Institute, an international association of contractors, engineers, academics and suppliers in the deep foundations industry. Currently a principal and senior consultant for PDI, Likins is widely known for guiding the development of dynamic pile testing as an industry standard in the United States and throughout the world. 
David A. Schaefer (LAW '74), an attorney with the Cleveland law firm McCarthy, Lebit, Crystal & Liffman Co., LPA, was named in the 2019 edition of The Best Lawyers in America.
Frances Floriano Goins (LAW '77) has been recognized in Benchmark's Top 250 Women in Litigation for five years in a row. Goins is one of only five female litigators in the state of Ohio to make Benchmark's list, acknowledging female litigators from all 50 states and the District of Columbia who have participated in some of the most impactful litigation matters in recent history. Goins, a partner in the Cleveland law firm Ulmer & Berne LLP, also serves as co-chair to both Ulmer's Financial Services & Securities Litigation and Cybersecurity & Privacy Practice Groups. Additionally, Goins chairs the American Bar Association Business Law Section's Director & Officer Liability Committee and is a founding member of the Ohio Women's Bar Association. In 2018, she was recognized by the Cleveland Metropolitan Bar Association for her leadership role in founding the association's Commission on Women in Law. Goins graduated Order of the Coif from Case Western Reserve University School of Law, where she was the first female editor-in-chief of the CWRU Law Review. She earned her bachelor and master of music degrees in voice from the Cleveland Institute of Music.
Karen Golden-Biddle (MGT '81; GRS '88, management) is one of nine fellows inducted into the Academy of Management in 2018. Golden-Biddle was recognized for her teaching and mentorship. A Questrom School of Business professor of organizational behavior and a professor of management at Boston University, Golden-Biddle is the author of two books and more than 60 book chapters and articles in management journals.
Teresa Head-Gordon (CIT '83), the Chancellor's Professor of Chemistry, Biochemistry and Chemical & Biomolecular Engineering at the University of California, Berkeley, was inducted into the 2018 class of American Chemical Society Fellows, honoring distinguished chemists who have demonstrated outstanding accomplishments in the field.
Julie Hambleton (MED '86) joined the board of directors for IGM Biosciences, Inc., a privately held biotechnology company engaged in the research and development of therapeutic IgM antibodies. Currently Senior Vice President, Chief Medical Officer and Head of Development at IDEAYA Biosciences, Hambleton has broad experience across all stages of drug development and was a leader in the successful development of Avastin® and Rubraca®.
Todd Hockenberry (WRC '88) published Inbound Organization (Wiley), a look at how leaders can build their company's future around inbound principles and strengthen the structural foundations necessary to deal with the changes in buyer behavior.
Christian R. Patno (LAW '90), an attorney with the Cleveland law firm McCarthy, Lebit, Crystal & Liffman Co., LPA, was named in the 2019 edition of The Best Lawyers in America.
Rich Garcia (MGT '91) is chief financial officer for OEConnection, an automotive  technology provider for original equipment manufacturer (OEM) distribution networks. An OEM is a company that produces parts and equipment that may be marketed by another manufacturer. 
Robert T. Glickman (LAW '92), an attorney with the Cleveland law firm McCarthy, Lebit, Crystal & Liffman Co., LPA, was named in the 2019 edition of The Best Lawyers in America.
David A. Lum (LAW '94), an attorney with the Cleveland law firm McCarthy, Lebit, Crystal & Liffman Co., LPA, was named in the 2019 edition of The Best Lawyers in America.
Francine Paschall (NUR '94) is chief nurse executive for Cancer Treatment Centers of America Global, Inc., a national comprehensive cancer care network of hospitals and outpatient care centers. Paschall is based at the Boca Raton headquarters and reports directly to the president and chief executive officer.
Robert Stalder (CWR '94) is Vice Chairman of the Board for the Phi Kappa Theta Foundation. Phi Kappa Theta is a fraternity focused on the leadership, fraternal, intellectual, social and spiritual development of its members. Stalder also is board member emeritus for The Alumni Association of Case Western Reserve University.
Kristin L. Pruitt (LAW '96), executive vice president, chief administrative officer and general counsel for Lake City Bank, was named a Top General Counsel in the 2018 First Chair Awards. The annual awards program honors in‐house counsel who have made significant contributions to the legal community. Lake City Bank, a $4.8 billion bank headquartered in Warsaw, Indiana, is the fourth largest bank headquartered in the state, and the largest bank 100% invested in Indiana. The bank operates 49 branch offices in northern and central Indiana. 
Lynne Winings (MGT '96) was named president of GBX Group LLC, a Cleveland-based real estate investment company specializing in historic properties.
Gary Greenlee (LAW '97) is an associate at McConnell Wagner Sykes and Stacey in Boise, Idaho. His practice focuses on insurance and commercial litigation. 
Joshua Lamancusa (LAW '99), district attorney of Lawrence County, Pennsylvania, was the 2018 recipient of the Jack & Nancy Flannery Salute to Courage award given by the New Castle (Pennsylvania) YMCA. The award is given to those who embody the spirit of courage. Lamancusa was sworn in as the county's district attorney in January 2010 and is the head of the Lawrence County Drug Task Force, Special Investigations Unit, Criminal Investigations Unit and Sexual Assault Task Force. He previously served as in the U.S. Navy Judge Advocate General's Corps.
Frank C. Miller V (LAW '99) is a partner in the Columbus, Ohio office of the BakerHostetler legal firm. With nearly 20 years of experience, Miller brings a wealth of experience in the healthcare industry to the firm's well-established transactional and healthcare industry teams.
Eddie Taylor, Jr. (MGT '99), founder and president of Taylor Oswald, a venture he launched with Oswald Companies, one of the nation's largest independent, employee-owned insurance brokerage firms, joined the board of trustees for Ursuline College. 
Erin Spears (CWR '00) is executive vice president-acquisitions within the North American Private Real Estate Equity operations of Heitman LLC, a global real estate investment management firm.
Julie Dacar (CWR '01) and her staffing firm, #Tal-Ex in Clarksburg, Maryland, are listed as #59 in the Inc. Magazine! list of 500 fastest-growing companies, up from #143 last year.
Hongyu Chen (GRS '01, macromolecular science), a Dow Chemical fellow for research and development, is one of 51 scientists named a 2018 American Chemical Society fellow.
Beth Norwood Fischer (LAW '02, CNM '02) is vice chancellor for university advancement at University of North Carolina Greensboro.
Jeremiah Kalendae (SAS '04) is the minister of the Unitarian Universalists of Petaluma in California.
Santo Maimone (CWR '06, MED '10), a former football player and one of the most successful all-around student-athletes in the history of CWRU athletics, was inducted into the 2018 Class of the Spartan Hall of Fame.
Pat Rodjom (CWR '06, MGT '07), the only CWRU athlete in the swimming and diving program's history to be named the University Athletic Association Men's Swimmer of the Year, was inducted into the 2018 Class of the Spartan Hall of Fame. 
Dale Bazan (GRS '07) is a tenure track assistant professor of music at University of Alaska-Anchorage (UAA). Bazan will be overseeing the music teaching program, directing the UAA Wind Ensemble, and teaching saxophone. 
Aaron Johnston-Peck (CWR '07), a former top distance runners for Case Western Reserve, was inducted into the 2018 Class of the Spartan Hall of Fame.
Esther Erb Atkins (CWR '08), the most accomplished women's distance runner in the history of Case Western Reserve, was inducted into the 2018 Class of the Spartan Hall of Fame.
Lauren Preyss Erickson (CWR '08) was inducted into the 2018 Class of the Spartan Hall of Fame. Although she was on the team for just one season, she still holds school records in the 50-yard freestyle, 100-yard freestyle and 200-yard freestyle.  
James Morse (MGT '09) and Lauren Miller (CWR '11; GRS '11, communication sciences) were married on May 26, 2018, at the Free Library of Philadelphia. The couple live in Fairmount, Pennsylvania, and honeymooned in Italy. Miller is a speech therapist at the Hospital of the University of Pennsylvania. Morse is a senior sales engineer for BrandMuscle in Chicago.
Eric Webb (CWR '09, '09) married Maria Schwartzman in May 2017 in Colorado, with a public ceremony in June 2017 in Bloomington, Indiana. Webb joined the faculty of the Lindner College of Business at the University of Cincinnati in August 2018, as an assistant professor of operations and business analytics.
Carol Papp (NUR '10) is dean of the University's newly created College of Health Sciences at the University of Bridgeport (UB) in Bridgeport, Connecticut. Papp previously served as founding dean of UB School of Nursing. She is a member of the Connecticut League for Nursing, the National League for Nurse and a member of Sigma Theta Tau International Honor Society.
Mark Grogan (CWR '11) of Bay Village, Ohio, was the overall winner of the ninth annual Ritenauer's Run at the Journal Jog in Lorain, Ohio, in August 2018. Grogan, a former member of the Spartan track and field team, completed the the 5K course with a time of 15:50.3. Grogan is a material science engineer for Laird Technologies in Cleveland.
Nika Bagheri (MED '12) joined California Retina Consultants as a vitreoretinal specialist providing comprehensive medical and surgical treatment for all disorders of the retina, macula and vitreous. Bagheri completed her ophthalmology residency at the Wills Eye Hospital in Philadelphia, where she served as an editor for the best-selling ophthalmology reference, The Wills Eye Manual, and completed her fellowship training in vitreoretinal surgery at the Bascom Palmer Eye Institute.
Justin Slaby (MGT '13) is a senior tax accountant with the Ohio accounting and business consulting firm Rea & Associates. Based in Mentor, Ohio, Slaby will serve clients across the firm's Northeast Ohio Region.

Joe Duffy (MGT '14) of Cleveland is planning project manager at Union Miles Development Corp.,  a nonprofit community development corporation. Duffy also was granted certification as an Economic Development Finance Professional with the National Development Council.
Bobby Withrow (MGT '15) married Kurt Blankschaen in July 2018 in Cleveland. Withrow is a senior engineer-operations technology for ArcelorMittal Cleveland and a registered professional engineer in the State of Ohio. Blankschaen is a doctoral student at Boston University.

Amanda King (LAW '17), received the Verge Fellowship award, given to five up-and-coming artists who are on the verge of making a name for themselves. This recognition is bestowed by the Cleveland Arts Prize, an organization that, since 1960, promotes creativity in northeast Ohio by honoring artists for artistic excellence and recognizes community leaders who help regional arts flourish.
William (Bill) Kramer (ADL '50) of San Mateo, California, served as an officer in the Army Medical Service, including as a combat medic during the Korean War. Following his service, Kramer enjoyed a 35-year career as a faculty member of Notre Dame de Namur University and a middle school principal. He has been married for 64 years and has two sons and two grandchildren.
Solomon Oliver Jr. (GRS '74, political science), former chief judge of the United States District Court for the Northern District of Ohio, received the American Bar Association's 2018 Robert J. Kutak Award, presented to an individual who has made significant contributions to the collaboration of the legal academy, the bench and the bar.
Robert Polifka (LAW '78) is counsel in the litigation and corporate and securities practice at Tarter Krinsky & Drogin, a full-service, mid-size law firm.
Judy Braun (NUR '80; GRS '87, nursing) retired from her role as chief operating officer from The Kendall Corporation, a not-for-profit senior living organization, headquartered in the Philadelphia area, that provides independent living, assisted living, memory support, skilled nursing and rehabilitation care in eight states.
David T. Scadden (MED '80) published Cancerland: A Medical Memoir (Thomas Dunne Books), chronicling his personal memories of cancer, from his research to his childhood classmate who left school and never came back. Scadden is the Gerald and Darlene Jordan Professor of Medicine at Harvard University, a hematologist/oncologist and director of the Center for Regenerative Biology at Massachusetts General Hospital, co-founder of the Harvard Stem Cell Institute, and chair of the Harvard University Department of Stem Cell and Regenerative Medicine.
Michelle Hartman (NUR '83) is director for the Accelerated Bachelor of Science in Nursing program at the Duke University School of Nursing. She is also an assistant professor in the program.
Timothy Kinsella (GRS '83, American Studies), chair of the History Department of Ursuline College in Pepper Pike, Ohio, was named to Ohio Magazine's 2017 Excellence in Education list. Kinsella also has received the Teaching Excellence Award and the Facilitator of the Year Award from Ursuline College.
Jo Micon (SAS '83) is dean of the School of Public Affairs and Social Services for the Lafayette campus of Ivy Tech Community College. Micon previously served the college as department chair of public affairs and social services, and program chair and professor of human services. Her duties as dean will include overseeing seven academic programs: criminal justice, paralegal/legal studies, human services, library technical assistant, early childhood education, elementary education and secondary education. She will also continue as program chair and professor of human services.
Catherine (Cathy) M. Kilbane (WRC '84, LAW '87) joined the board of directors for Interface, Inc., a global commercial flooring company focused on sustainability. Kilbane served as the senior vice president, general counsel and secretary of The Sherwin Williams Company, a global manufacturer and retailer of paint and coatings, from January 2013 through August 2017. Prior to joining Sherwin Williams, Kilbane was the senior vice president, general counsel and secretary of American Greetings Corporation from 2003 to 2012.
Bari Oyler Stith (GRS '86, '92, American Studies), director of historic preservation of Ursuline College of Pepper Pike, Ohio, was named to Ohio Magazine's 2017 Excellence in Education list. Stith teaches at the undergraduate and graduate levels.
Laura A. Petersen (MED '88) of Houston, Texas, earned the 2017 Under Secretary's Award for Outstanding Achievement in Health Services Research, the highest honor for a Veterans Affairs health services researcher.  Her research funding includes 48 awards from VA, National Institutes of Health, Agency for Healthcare Research and Quality, American Heart Association, and the Robert Wood Johnson Foundation, including 29 as principal investigator. Her research targets rigorous evaluations of health policy interventions and how they affect patient outcomes. Improving the quality of VA care is a career-long passion for Petersen.
Randall S. Dearth (GRS '89, macromolecular science) is president and chief operating officer for GCP Applied Technologies Inc., a developer of high-performance products that advance construction technologies and simplify the complexities of construction.
Steve Yuan (SAS '93) joined Edelman as executive vice president, integrated analytics & innovation for its Chicago health practice. In his role, Yuan will commercialize new products, services and offerings in analytics and performance marketing.
Lissa C. Gipson (LAW '97) is a partner in the litigation and corporate and securities practice at Tarter Krinsky & Drogin, a full-service, mid-size law firm in New York City. Gipson practices primarily in the areas of complex commercial litigation, product liability and art law.
Wendy Lord (MGT '98) is a director for Hunt Mortgage Group, a commercial real estate financer, focusing on senior housing, Fannie Mae and Freddie Mac credit, and underwriting.
Molly Z. Brown (LAW '00) is senior vice president and general counsel for Heartland BancCorp, the parent company of Heartland Bank. Brown manages Heartland's legal affairs and leads efforts to facilitate growth through acquisitions.
Jayme L. Butcher (LAW '01), a partner with the Blank Rome law firm and vice chair of the firm's commercial litigation group, was appointed to serve on the Pennsylvania Bar Association's Large Law Firm Committee for the 2018–2019 term. Active in the Pittsburgh community, she serves on the board of directors for the Sarah Heinz House and board of trustees for the Western Pennsylvania Chapter of the Leukemia and Lymphoma Society. She is also a member of the Executive Leadership Council for the United Way of Allegheny County, as well as the National United Way Women's Leadership Council.
Matt Jameson (CWR '01) is a senior investing professional for BlueMountain Capital Management, a private diversified alternative asset management firm. In this role, Jameson sources, evaluates, and executes healthcare-related private investments.
Trevor J. Hardy (LAW '13) joined the Board of Directors of the Little Italy Redevelopment Corporation, a non-profit community development organization created to facilitate economic development, eliminate blight and deterioration, and protect the cultural essence of the community of Cleveland's Little Italy neighborhood. Hardy is an associate with Ulmer & Berne LLP.
Philipp Hensler (MGT '13) is president and COO of Epoch Investment Partners, Inc.
Ivana Mikic (CWR '14) received her associate credential in the Casualty Actuarial Society. Mikic is currently an actuary with Progressive Insurance.
Karla Wludyga (MGT '17) is a senior management consultant at PRADCO in Chagrin Falls, Ohio.
Danielle Kulpins (CWR '18), a women's cross country and track & field runner, received the NCAA Postgraduate Scholarship, which recognizes student-athletes with plans on attending graduate school for their athletic and academic achievements, along with their work in the community and demonstrated leadership. The NCAA Postgraduate Scholarship is applied toward the graduate degree program of the recipient's choice.
William Grant (ADL '41) was named Chevalier dans l'Ordre National de la Legion d'Honneur by the government of France in May 2018, for his service in France during World War II. He received the award at a ceremony in Colorado, where he is now living after having spent 69 years in New York. His two children, Jenifer and David, were in attendance.
Richard L. Pinkerton (MGT '62), of Strongsville, Ohio, was honored by the city's mayor as March 20, 2018, was declared "Dr. Dick Pinkerton Day," recognizing his 17 years on the Strongsville economic development committee and 13 years on the residential survey taskforce.
Satoru Izutsu (GRS '63) received the Order of the Rising Sun, Gold Rays with Neck Ribbon during the 2017 Autumn Conferment of Decoration on Foreign Nationals by the government of Japan recognizing his contributions to developing medical education and medical care in Japan. Izutsu recently retired from the University of Hawaii, School of Medicine, where he was vice dean and emeritus professor of public health and psychiatry.
Paul Dutton (LAW '72), a partner with the Youngstown, Ohio-based law firm Harrington, Hoppe & Mitchell, Ltd., has been named chairman of Akron Children's Hospital Foundation Board of Directors. Dutton has served on the foundation board since 2011 and on the Akron Children's Hospital Board of Directors since 2017.
Mitchell Cohen (WRC '74) received the Presidential Achievement Award for Excellence in Scholarship of Baruch College of the City University of New York for his book The Politics of Opera: A History of Monteverdi to Mozart (Princeton University Press). The book also received the Association of American Publishers Prose Award for Music & the Performing Arts and was named among the Best Books of 2017 in the London Evening Standard. Additionally, he edited a new edition of Princeton Readings in Political Thought (Princeton University Press). He writes for various publications including, recently, The New York Times Sunday Book Review. Cohen is professor of political science at Baruch College, CUNY and co-editor emeritus of Dissent magazine, a magazine published by the University of Pennsylvania Press on behalf of the Foundation for the Study of Independent Social Ideas.
Kenneth Mauritz (CIT '75), of Hattiesburg, Mississippi, received the Distinguished Alumni Award from University of Wisconsin Oshkosh's Alumni Association for his extraordinary and widely recognized accomplishments in higher education. Mauritz has professor emeritus status with the School of Polymers and High Performance Materials at the University of Southern Mississippi.
Craig Newmark (CIT '75; GRS, '77, computer science; HON '08), the Craigslist founder, is giving $20 million to the CUNY Graduate School of Journalism. As a result of the gift, the school will change its name this summer to the Craig Newmark Graduate School of Journalism at the City University of New York. The donation, to be made through Craig Newmark Philanthropies, will fund an endowment for the school.
Robert Webster (CIT '79) was named the deputy director weapons at Los Alamos National Laboratory. Webster is employed by Triad National Security, LLC, which is the Los Alamos National Laboratory's new managing and operating contractor for the National Nuclear Security Administration.
Russell Moy (CIT '81) is a fellow of the American Association for the Advancement of Science. Fellows are recognized for their scientifically or socially distinguished contributions to the advancement of science or its applications. Moy currently serves as the general counsel of the Southeastern Universities Research Association, the management and operating contractor for the Jefferson Lab, a U.S. Department of Energy National Laboratory.
Michael Fine (MED '83) will publish Health Care Revolt (PM Press) in September, 2018, an argument for rebuilding the United States health care system to make it both functional and affordable.   
Gregory I. Berk (MED '84) is president and chief medical officer for Vedantra Pharmaceuticals, Inc., an immunotherapy company focused on developing products to treat cancer and infectious disease.
Susan Strobel (WRC '84), a secondary English language arts teacher at Spring Lake High School in Spring Lake, Michigan, was appointed to the board of Reading Enables Adult Development (R.E.A.D.), a volunteer-based adult literacy program serving Northwest Ottawa County.
Richard G. Barr (MED '85) is the editor-in-chief of the Journal of Ultrasound in Medicine, a publication of the American Institute of Ultrasound in Medicine. Barr is assistant chairman of the department of radiology at Northside Medical Center, and president of Radiology Consultants Inc., both in Ohio. Additionally, Barr is a professor of radiology at Northeastern Ohio Medical University.
Ted Keen (CIT '85) is the european leader for the global transfer pricing practice of Duff & Phelps, a global valuation and corporate finance advisor.
Edward Marinstein (LAW '85) and his wife Robyn received the Albany (New York) Jewish Community Center's Pillars of the Community Award.
Matthew A. Kosior (CWR '89, MGT '04), of Sandusky, Ohio, is president of American Colors Inc., a manufacturer of high-quality liquid pigment dispersions and intermediates for the plastics, coatings, adhesive and sealants, an