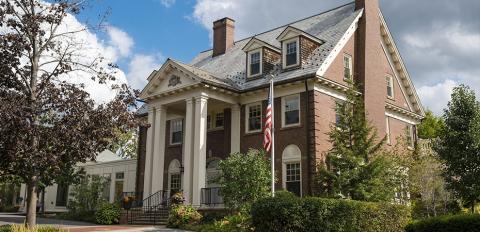 Have you recently married, changed careers, been promoted, received an award, had a baby, traveled the world, discovered a passion or have other news to share? Tell us your story.
If you are registering for CWRU Connect and require your Constituent ID, please refer to your latest issue of Alumni News or call 216.368.6280 for assistance. To honor members of the Case Western Reserve University community who have made exceptional contributions to their profession or the community, consider nominating them for our annual awards. Contact The Alumni Association with questions regarding class notes. 
---
Current Class Notes
Cloud "Bud" Cray (CIT '43) provided a $2 million gift the University of Kansas (KU) Medical Center, distributed through the Cray Medical Research Foundation of Atchison, Kansas, which he co-founded with his late wife, Sally Cray (FSM '45). The gift establishes a diabetes-focused professorship at the center. The Cray Foundation provided the resources to open the Cray Diabetes Center at KU Medical Center in 1979. Now called the Cray Diabetes Self-Management Center, it is committed to providing excellent care and education to patients with diabetes and their families. In 2007, the KU Diabetes Institute was established as the research arm of the Self-Management Center, engaging in basic science, clinical and translational research projects centering on diabetes and its complications.
Carl Yoder (DEN '53) has two children with his wife, Sue. His daughter is currently undergoing treatment after several surgeries including lung transplants. His son joined his practice, Yoder Dental & Associates.
George Pinneo (CIT '59) has published numerous science-fiction novels as part of his Planet Scout and Bergmann's Venture series (CreateSpace Independent Publishing Platform).

Madeline Nichols (NUR '64) has been a pediatric nurse practitioner since June 1967. Nichols received her education through the first nurse practitioner program at the University of Colorado, started by Dr. Loretta Ford and Henry Silver, MD.
Lucille Garber Ford (GRS '67, economics), of Ashland, Ohio, was selected as one of two 2018 inductees into The Ohio Foundation of Independent Colleges' Hall of Excellence. Ford is an emeritus trustee of Ashland University where she served the University as provost, dean and professor, and also received a degree from Ashland Theological Seminary. 
Robert Campbell (DEN '68) of Glen Allen, Virginia, continues to work part-time at Virginia Dental and Anesthesia Associates. Campbell was an Emeritus Professor of Oral and Maxillofacial Surgery and Anesthesiology for Virginia Commonwealth University from 1977 to 2004. Campbell and his wife, Mary Ann, have four adult children and eight  grandchildren.

Arun Varshneya (GRS '68, '70, metallurgy & material science), a retired, New York-based Alfred University professor of glass science, was bestowed the rank of honorary fellow by the British Society of Glass Technology.
Norman Garn (ADL '69, DEN '73) has retired to Fort Lauderdale, Florida, with his wife Nancy, after practicing orthodontics for 34 years in Chicago. Garn volunteers in a dental clinic for underprivileged children in the Miami area when he is not pursuing his interests in swimming, bike riding, walking and traveling with his wife and dog during the summer.
Thomas Van Dyke (ADL '69, DEN '73) of Roxbury, Mass., is vice president of the Forsyth Institute in Cambridge, Massachusetts, and professor of oral medicine, infections, and immunity, as part of the faculty of medicine at Harvard University. Van Dyke and his wife, Barbara, have two sons. Charles lives in California with his wife and son and works in commodities for Chevron. William, lives in New York City and is the music director for the musical, Kinky Boots. 
Ronald Silver (DEN '73) is retired and living in Mountainside, New Jersey, with his wife of 25 years, Gina. They have two children. Currently, Silver spends his time auditing classes, playing golf and enjoying an active social life. 
Irene Costras-Vasikakis (DEN '78) of Strongsville, Ohio, is engaged to be married and works two days per week in her dental office. She spends her remaining time visiting her two daughters, a practicing endodontist in New York and a daughter in Boston, and her five grandchildren.  
Joseph Biernacki (CIT '80), chemical engineering professor, received Tennessee Tech University's highest faculty honor, the 2018 Caplenor Faculty Research Award.
Robert Kestenbaum (DEN '80) sold his dental practice after 35 years, continuing to work there one day a week. Kestenbaum is a board member of the Academy for Sports Dentistry and, through his company, VIP Mouth Guards, he makes mouth guards for the U.S. National Taekwondo Team, Olympic and Para-Olympic athletes, professional MMA fighters and members of the UFC. Additionally, Kestenbaum is the proud grandfather of a two-year-old grandson, Landon.
John D. Mellinger (WRC '80, MED '84) received the Teaching Excellence Award for tenured and tenure-track faculty at Southern Illinois University Carbondale. The award is presented to faculty who demonstrate outstanding teaching, high-quality classroom performance, innovation and a commitment to student learning outcomes and inclusive excellence in education. He also received the permanent title of Distinguished Teacher. Mellinger, the J. Roland Folse, MD Endowed Chair in Surgery, is professor and chair of general surgery and the general surgery residency program director. Mellinger led a surgical training effort in Nairobi, Africa through the Pan African Academy of Christian Surgeons, and the organization is now training multiple surgical specialties. He has given more than 100 national or international presentations and co-authored more than 80 scientific articles and more than 20 book chapters, many on topics of surgical education.
Jeffrey S. Berns (MED '81) received the 2018 Donald W. Seldin Distinguished Award from the National Kidney Foundation, an award given to clinicians who display excellence in clinical nephrology. Berns serves associate chief of the division of Renal Electrolyte and Hypertension in the Perelman School of Medicine at the University of Pennsylvania, associate dean for Graduate Medical Education, director of Penn's Renal Fellowship Program, and a professor of Medicine and Pediatrics in the Perelman School of Medicine at the University of Pennsylvania.
Sylvia Malcmacher Kramer (DEN '82), a dentist with an academic and clinical career, celebrated her 40th wedding anniversary. Kramer and her husband, Roger, have four adult children and three grandchildren.
James Aslanis Jr. (GRS '83, systems control & engineering) is a senior patent agent in the Silicon Valley office of Dickinson Wright, a general practice business law firm. He works with high technology industry clients to develop patent portfolios, prepares and prosecutes technology patent applications and provides technical advice. Aslanis also has a background in electrical engineering, systems engineering and biomedical engineering.
Patricia Moore (GRS '83, organizational behavior) has published The Black Pearl Queen (The Peppertree Press), telling the story of Moore's decision to become a black pearl dealer after buying a pair of black pearls while on vacation in Tahiti. 
Pamela Hickson-Stevenson (LYS '84) is executive director of the Akron-Summit County Public Library in Ohio. She is the library's first female director since 1927.
Judy Weisseg (WRC '85, MGT '90) is vice president, human resources for HarbisonWalker International, a supplier of refractory products and services in the United States.
Bilal Sayyed (WRC '87) was appointed director of the Federal Trade Commission's Office of Policy Planning.
Andrew Wheeler (WRC '87), a former adviser to the late Sen. George Voinovich of Ohio, was confirmed by the U.S. Senate as deputy administrator of the U.S. Environmental Protection Agency.
J. Scott Bernardy (DEN '88) of Auburn, Maine, is working on his seventh dental humanitarian mission. His son graduated college and started an Environmental Reclamation Company, and his daughter is pursuing her doctorate in Physical Therapy. 
J. Bradford James (MGT '88) has published The Business Zoo (Brads Tales), a collection of fun and informative stories that illustrate important business and life concepts and provide key lessons learned from James's years of experience  as both a CFO and CEO in a wide range of organizations, including private firms, public companies and not-for-profits.
Christopher A. Cornwall (LAW '89), an attorney with Dickinson Wright PLLC, was named a "2018 Client Service All-Star" by BTI Consulting Group. Cornwall is one of only 328 lawyers in the United States who were selected for this honor.
Khaled Ayyash (CWR '90; GRS '93 mechanical engineering; MGT '97) is Body Interior Chief Engineer for Ford South America.
M. Norman Oliver (GRS '92, anthropology; MED '94) was appointed the Virginia Acting State Health Commissioner by Gov. Ralph Northam.
Rich Pancost (CWR '92) was appointed head of the School of Earth Sciences at the University of Bristol.  
David A. Jarus (CWR '93; GRS '95, '02, macromolecular science) is vice president, research and development for PolyOne Corporation, a provider of specialized polymer materials, services and solutions.
Aaron Ames (MGT '94) is chief operating officer for DHX Media, a global children's content and brands company that includes Peanuts,Teletubbies, Strawberry Shortcake, Caillou and Inspector Gadget. Based in Halifax, Nova Scotia, Ames will be responsible for the company's overall operations and oversee its broadcast channels, DHX Television and its licensing agency, CPLG. 
Rebecca Dallet (LAW '94) was elected to a ten-year term on the Wisconsin State Supreme Court. Dallet served as a judge for the Milwaukee County Circuit Court in Wisconsin. Before becoming a judge, Dallet served as an assistant district attorney with the Milwaukee County District Attorney's Office and as an adjunct professor of law at Marquette University Law School. 
Doug Fowler (LAW '94) has published two novels, The Title of Extraordinary Length (lulu.com), a parody of young adult dystopias, and Uneasy Lies the Head (lulu.com), in which a time traveling man inhabits the body of Louis XIV in 1661 with comic results.
Elena V. Ravich (LAW '95), a real estate broker in New York City, joined Compass, a technology-driven real estate company. 
Nichole Capitanio (SAS '96) is the director of Personal Assistance Service, the faculty/employee assistance program that provides assessment, short-term counseling, and referrals to help resolve a range of personal, work, and family problems, at Duke University in Durham, North Carolina.
Kevin Martin (MED '96) is chief medical officer for Kittitas County Public Hospital District No. 1 (dba Kittitas Valley Healthcare), making him the  the third chief medical officer in the history of Kittitas Valley Healthcare. The system is the largest provider in an underserved rural county in Central Washington and operates a critical access hospital as well primary care and specialty clinics.
Carl Schimmel (CWR '97), Illinois State University associate professor of music, was named a 2018 Guggenheim Fellow. The fellowship, awarded by the John Simon Guggenheim Memorial Foundation, will support Schimmel's work in musical composition as he plans to focus on exploring methods of expressing narrative in musical form. 
Joshua Damesek (DEN '98) practices dentistry with his wife who is also a dentist. In his free time, Damesek enjoys spending time with the couple's five children, coaching basketball, playing golf, visiting his lake house, backpacking, camping and restoring his 1966 Ford F-100 truck.
Michael Dryden (DEN '98) is continuing his dental practice in Eugene, Oregon, specializing in endodontics. He has been married to his wife, Trisha, for 27 years and they have a set of twins, Adrianna and Andrew. He is active in church, enjoys spending time with family and friends, and pursues activities such as skiing, hiking, traveling and scuba diving. 
Tu T. Tran (MGT '02) is vice president of sales & marketing for Pharma Tech Industries. Tran's primary role is developing and maintaining new supply chain relationships with vendors and potential customers.

Erwin Chan (DEN '03) and wife, Valeda, have two boys, age three and one years old. Erwin enjoys his private practice and wishes he has more time to travel to exotic places for continuing education courses. 
Sumit Sud (LAW '06) of Astoria, New York, is deputy chief special counsel for ethics, risk and compliance in the administration of New York State Governor Andrew M. Cuomo.
Di Wu (GRS '06, epidemiology & biostatistics), assistant professor at the University of North Carolina at Chapel Hill (UNC-CH) School of Dentistry and research assistant professor at the UNC-CH Gillings School of Public Health, is one of five recipients of a UNC-CH Center for Environmental Health and Susceptibility Pilot Project Grant. Wu's area of research is environmental cancer. Specifically, she and her team have a long-term goal to explain new ways to protect against skin cancer caused by sun exposure.
Shaan-Chirag Chandrahas Gandhi (CWR '07, '07) married Meghal Bipin Shah on March 31, 2018, at the Ritz-Carlton, Sarasota, in Sarasota, Florida. Gandhi is principal at the Longwood Fund, a healthcare venture capital firm in Boston, an attending hospital medicine physician at Massachusetts General and an instructor in medicine at Harvard Medical School. 
Andrew Ibrahim (CWR '07, MED '12), a resident surgeon at the University of Michigan, was appointed chief medical officer of HOK, the global design firm whose healthcare practice has planned and designed numerous healthcare facilities.
Angelina Bair (CWR '08) of the Willoughby-Eastlake Public Library was a semifinalist for the Thompson Hine LLC Acclerate Pitch Competition for the library's special needs toy lending program. Additionally, Bair secured a $5,000 grant from the Lubrizol Corporation for the program. 
Viktoria Cox (DEN '08) and husband, Tony, live in Munster, Indiana, and are licensed foster parents with the intent of adopting. They enjoy traveling and hunting down vintage vinyl and dental medical antiques. 
Erin Ambrose Knierim (DEN '08) purchased the pediatric dental office of a fellow Case Western Reserve University alumnus in Toledo, Ohio. She lives in Sylvania, Ohio,  with her husband, Kevin Knierim (DEN '09), their children, Ben and Kate, and their dog, Chief. 
Gabriela Tataru Wilson (DEN '08) relocated to Las Vegas, Nevada. Currently not in practice, she enjoys spending time with her two children as they hike in Red Rock Canyon and explore their new city. 
Ryan Dewey (GRS '12, cognitive linguistics) has received an early summer 2018 release date for his book, Hack the Experience: Tools for Artists from Cognitive Science (Punctum Books), which translates research from cognitive science into templates that artists, architects, curators, and museums can use in how they design spaces to tell stories. 
Mark C. Guinto (LAW '12), an intellectual property attorney at the Cleveland law firm of McDonald Hopkins, received the United States Patent and Trademark Office Outstanding Volunteer Award for assisting individuals and businesses in need of intellectual property legal advice.
Jill Patel (CWR '17) is a rehabilitation technician at the Illinois Bone & Joint Institute in Des Plaines, Illinois.
 
Published December 1, 2017
Charles Acker (LAW '63) is proud to announce that his daughter, Christi, is the New York Supreme Court Justice for the 9th Judicial District, including the counties of Westchester, Putnam, Orange, Rockland and Dutchess.

Janice Steirer (CLC '66) and her husband Michael, a retired educator, celebrate their 50th wedding anniversary on Dec. 23, 2017. Jan taught second grade in the Cleveland schools and then raised four daughters. She enjoys traveling throughout the world and is a planning a trip to Panama in January.

Lee Davis (WRC '73) has retired, after 35 years as a school psychologist. While mental health issues in the U.S. have changed drastically during his career, he credits his undergraduate and graduate school programs for preparing him well.

Janette (Jan) Engle Lewis (NUR '73, '76) married Steve Fisher in August 2017. They live in Baja California, Mexico, where Jan is mental health consultant/educator at a women's shelter and helping Steve with a book about his five decades in Africa, where they first met 40 years ago.

Sam Srinivasan (MGT '73) has joined the board of directors Attivo Networks, a developer of deception technology for cybersecurity defense.

Michael Goler (LAW '77) received the Bob Rosewater Memorial Award for Meritorious Service to The Real Estate Section of the Cleveland Metropolitan Bar Association in recognition of his long-term service to the Bar Association's Real Estate Law Section, his expertise in the practice of real estate law and his commitment to community service in Greater Cleveland. Goler, a partner in the law firm Miller Goler Faeges Lapine LLP, is a past chair of the Real Estate Section, a past chair and regular participant in the Section's annual Real Estate Law Institute, and a founder and first chair of the Bar Association's Environmental Law Section. In 2016, he received the Outstanding Fundraising Volunteer Award from the Greater Cleveland Chapter of the Association of Fundraising Professionals. 

Suzanne Rose (MED '85) has been named senior vice dean for Medical Education in the Perelman School of Medicine at the University of Pennsylvania. Rose, who will begin her new role in February 2018, currently serves as senior associate dean for Education at the University of Connecticut School of Medicine.

Joseph Claude (JC) Gibson (GRS '87, organizational development and analysis) is executive vice president of human resources for HealthSmart, an Irving, Texas, company offering customizable and scalable health plan solutions for self-funded employers.

Kathy Magliato (MED '90), a cardiothoracic surgeon in Los Angeles and a member of Dean Davis' Visiting Committee at CWRU, was selected as one of the 100 Most Intriguing Entrepreneurs in the U.S. by Goldman Sachs. Magliato is developing a cardiovascular diagnostic device for the early, non-invasive detection of cardiovascular disease.
Charles B. Rwabukwali (GRS '93, '97, anthropology) was inducted as a fellow of the Uganda National Academy of Sciences (UNAS) on October 27th in Kampala, Uganda. Rwabukwali is a professor in the Department of Sociology and Anthropology at Makerere University. The UNAS is an honorific organization which serves as an independent platform through which scientists exchange ideas, knowledge and experiences on topical issues that foster national development in Uganda. Rwabukwali is one of only three UNAS members who are social scientists.

Melissa Lichtler (CWR '94; GRS '01, music education), in her 21st year of teaching within the Chardon Local Schools, was featured in the Northeast Ohio's newspaper The News-Herald for her dedication and love of teaching. Lichtler also serves as co-director of the Cleveland Youth Wind Symphony and a cooperating teacher in the CWRU student teaching program.

Heidi B. Friedman (LAW '95), of the Cleveland law firm Thompson Hine LLP, is one of 20 environmental lawyers selected nationally as Fellows by the American College of Environmental Lawyers, a professional association of distinguished lawyers practicing in the field of environmental law.

Jackie Dalton (MGT '96) is assistant vice president for the Federal Reserve Bank of Cleveland. Dalton is responsible for overseeing the consumer compliance and corporate compliance risk teams in the Supervision and Regulation Department.

Shelly Power (SAS '98, MGT '98), artistic director and chief executive officer of the Prix de Lausanne dance competition in Switzerland, has been named the next executive director for the Pennsylvania Ballet. Power will take over Philadelphia's dance company and school full-time.
Laurel Domanski Diaz (MGT '04, SAS '04) is chief operating officer for Neighborhood Family Practice, a primary care provider on Cleveland's near West Side.

Angelina Bair (CWR '08) received a Senatorial Citation from the General Assembly of the State of Ohio on behalf of Senator Sandra Williams, recognizing my academic excellence in the field of Library & Information Science and the completion of a Master of Library Information Science degree Kent State University.

Erin Klug (LAW '09), an intellectual property attorney with the law firm Varnum LLP, was named one of Michigan's "Up and Coming Lawyers" by Michigan Lawyers Weekly. "Up & Coming Lawyers" are attorneys in their first ten years of practice who are establishing a name for themselves, who go above and beyond and who display the ambition drive, determination and accomplishments that set them apart from their peers. Klug has been active for eight years in the Women's Bar Association of Oakland County, currently serving as president. She is also a Director at Large of the Women Lawyers Association of Michigan, which honored her with the organization's Leadership Award. Additionally, Klug is a member of the Animal Legal Defense Fund and Attorneys for Animals.
Jonathan Williams (DEN '09, MED '12, DEN '14) is the new owner of White Mountain Oral Surgery in North Conway, New Hampshire. The practice provides a wide range of services from dental extractions and implants, bone grafting, cleft lip and palate surgery, sinus lifts, treatment and evaluation of head and neck pathology and corrective surgery of the face and jaw. His wife, Laura Williams (DEN '09), joined Eastern Slope Dental in North Conway.
Dawn Columbare (NUR '11) was elected to the board of directors for The Resource Center, a support organization for people with disabilities and their families. Currently working as a nursing education consultant, Columbare retired from Jamestown Community College in 2015 after a 22-year career.
Heather Rybasack (MED '13), a fellow in the Department of Emergency Medicine at the Warren Alpert Medical School of Brown University, is now serving as deputy medical director to the Cumberland Rescue Service in Cumberland, Rhode Island.
Julie A. Micalizzi (LAW '17) joined the Cleveland office of McDonald Hopkins LLC, a business advisory and advocacy law firm, as an associate in the Intellectual Property Department.
Published November 2017
Charles (Chuck) Wiedman (ADL '54, DEN '61) and Dolores (Kasprzak) Wiedman (FSM '55) celebrated their 60th wedding anniversary on August 31, 2017, with family and friends in Frisco, Texas. In addition, Chuck Weidman was inducted into the Ashtabula County (Ohio) Track, Field and Cross Country Hall of Fame in May, 2017.

Michael Cullen (ADL '67; GRS '75, anatomy) was honored with the establishment of the Dr. Michael J. Cullen – Impact Through Innovation Fund at the University of Evansville (UE) in Evansville, Indiana.  He recently retired after 20 years at UE, where he served as professor and chair of biology, and as senior vice president of academic affairs.  Prior to his time at UE, Cullen was a faculty member at the University of Southern California School of Medicine for almost 19 years.  He also was a biomedical researcher at the National Institutes of Health in Bethesda, Maryland, focusing on demyelinating diseases and neuroplasticity.  Cullen and his wife, Ruth, now reside in Franklin, Tennessee.

Richard H. Thaler (ADL '67, HON '03), the Charles R. Walgreen Distinguished Service Professor of Behavioral Science and Economics at the University of Chicago Booth School of Business, was honored by the Royal Swedish Academy of Sciences with the Sveriges Riksbank Prize in Economic Sciences in Memory of Alfred Nobel 2017. Thaler was recognized for his contributions to behavioral economics, a relatively new field that bridges the gap between economics and psychology. Thaler, the author of the bestselling books Misbehaving: The Making of Behavioral Economics (2015) and Nudge: Improving Decisions About Health, Wealth and Happiness (2008), is renowned for creating easy-to-understand scenarios that show how human behavior often contradicts traditional economic logic.

Regis Scafe (ADL '71) is retiring from his position as head football coach from Thomas More College, ending a 45-year coaching career. Scafe was named the PAC Coach of the Year in 2015 and 2016, and was named the D3football.com South Region Coach of the Year in 2015. He has a 127-97 record in 22 years as a collegiate head coach.

Nan Tynberg (GRS '72, romance languages) published Shape: Reading in Three Dimensions, her first non-academic writing. Available on Amazon, the book reflects Tynberg's on the select works of favorite poets and storytellers. 

Ivan Banks (WRC '74) is chair of the department of education and psychology at Alcorn State University in Mississippi. He previously was the director of the Center for Educator Preparation and Certification Services at Alabama A&M University and the former interim executive director for the Vicksburg campus of Alcorn State University.

Walter Copan (WRC '75; GRS '82, chemistry) was confirmed by the Senate as the new director of the National Institute of Standards and Technology. Copan  also holds the title of undersecretary of Commerce for Standards and Technology.

John W. Patton Jr. (WRC '75) is general counsel and secretary to the board of trustees of Charles R. Drew University of Medicine and Science. In 1995, he became the first African American president of the Beverly Hills Bar Association. Patton is a member of the board of directors of CWRU's African American Alumni Association.

Kevin Joyce (WRC '79) is teaching Business Ethics, Law and Communication to MBA students in the Bowling Green State University College of Business.

Amy W. Williams (MED '84), chair of the Department of Internal Medicine at Mayo Clinic in Rochester, Minnesota, received the 2017 Lifetime Achievement Award from the Mayo Clinic Doctors Mayo Society. Throughout her career at Mayo Clinic, Williams has held numerous leadership positions and has served in leadership roles for the American Society of Nephrology, Minnesota Hospital Association, and Women in Nephrology.

David Cooperrider (GRS '86, organizational development) was honored with the Organization Development Network's prestigious Lifetime Achievement Award in October, 2017. The award is given to individuals who have served the profession over an extended period of time, have earned the respect and admiration of professional colleagues and have freely engaged not only contemporaries, but also have been committed to maintain a dynamic connection to all generations of OD practitioners. Cooperrider is the Fairmount Minerals Professor of Social Entrepreneurship at CWRU's  Weatherhead School of Management and founder of the revolutionary theory on Appreciative Inquiry, an approach that examines the positive attributes of organizations in order to solve problems. He has served as an advisor to former President Bill Clinton and Nobel Laureates the Dalai Lama and Costa Rican President Oscar Arias Sanchez. His mentor and former teacher, Peter Sorensen Jr., PhD, also received a Lifetime Achievement Award at the same ceremony.

Aida Saracevic Tanaka (WRC  '86) is the general counsel of Shape Corp., an automotive Tier 1 supplier in Grand Haven, Michigan.

Dixie Benshoff (MGT '88, SAS '88) was inducted into the Ravenna High School Hall of Fame in Ravenna, Ohio. Benshoff received the Academic/Career Accomplishment Award due to her contributions to the field of education and psychology. Formerly a department director at Akron General Medical Center and the Cleveland Clinic, Benshoff is currently adjunct assistant professor of community and family medicine at Northeast Ohio Medical University.

Anthea Daniels (LAW '89) is vice president and general counsel for Akron Children's Hospital.

Sean Higgins (GRS '90, applied physics) serves as an independent director on the board of directors for ShiftPixy, Inc., an on-demand human capital platform that syncs work opportunities from shift-based employers with ready-for-hire workers. Higgins is co-founder and vice president of professional services of Herjavec Group, an information security solutions firm headquartered in Toronto, Ontario.

Matt Medford (CWR '93) promoted to director of mechanical engineering at Symbotic, delivering automated warehouse solutions to companies around the world.

Richard Eubanks Jr. (MED '95), a cardiac, thoracic and vascular surgeon, joined the staff at Memorial Hospital-Golden Triangle in Columbus, Mississippi.

Kristin L. Pruitt (LAW '96) was promoted to executive vice president, chief administrative officer and general counsel for Lake City Bank, a $4.4 billion bank headquartered in Warsaw, Indiana.

Jeffrey E. Janis (MED '98), professor and executive vice chairman of the Department of Plastic Surgery at The Ohio State University Wexner Medical Center, is president of the American Society of Plastic Surgeons, the world's largest organization of board-certified plastic surgeons and foremost authority on cosmetic and reconstructive surgery.

Dana Parker (SAS '98) is working as an independent living donor advocate and a transplant social worker at the University of Colorado Health in Aurora, Colorado, a large multi-organ transplant center performing over 90 living donor transplants in 2017.

John Mansour (MED '99), associate professor of surgery and chief of the Division of Surgical Oncology, received the 2017 Patricia and William L. Watson Jr., MD Award for Excellence in Clinical Medicine. Established in 2009, the Watson Award is The University of Texas Southwestern's highest clinical honor and is bestowed upon an outstanding physician whose work exemplifies the Medical Center's commitment to patient care.

Ed Sproull (CWR '99; GRS '99, computer engineering) retired from Microsoft Corp after more than 17 years. Sproull, who lost his left leg below the knee in a motorcycle accident in 1981, has run more than 40 triathlons, including eight half-Ironman or longer events.

Gina Fridberg (MGT '01) is director of business development at Podolsky Circle, a commercial real estate advisory firm headquartered in Chicago. Fridberg comes to Podolsky Circle from Fifth Third Bank, where she originated and managed more than $400 million in acquisition and construction loans across the U.S.

Marco A. Rodriguez (MED '03), a board-certified and fellowship-trained orthopedic spine surgeon, founded the International Spine Institute in Baton Rouge, Louisiana. Dr. Rodriguez treats a variety of degenerative spinal conditions including herniated disc, sciatica, low back pain, spinal stenosis, neck pain, spondylolisthesis and failed back surgery.

Michael C. Diem (MGT '05) is senior vice president of business and corporate development for Amicus Therapeutics, a global biotechnology company focused on therapies for rare and orphan diseases.

Cynthia Mitchell (LAW '05) is the first woman to be appointed Pueblo County attorney in Colorado.

Elizabeth Sullivan (CWR '05; GRS '05, bioethics) is the co-chair of the Healthcare Practice Group, a team of attorneys providing legal services to individuals and entities throughout the U.S. healthcare industry, for McDonald Hopkins, a business advisory and advocacy law firm. 

Christopher Chan (LAW '07) has been recognized by Asian Legal Business as a Top 40 Lawyer Under 40 in Asia. The list profiles the brightest young legal minds in the region.

Mary Cotton (GRS '08, communication sciences), a speech and language pathologist living in Burlington, Vermont, has joined the board of directors of Vermont Learning-Support Initiative. Cotton works at Champlain Valley Union High School with adolescents who experience a variety of challenges, but primarily those with language impairment and social cognition issues.

Katie Kriegshauser (CWR '09) of Kansas City, MO, became the director and co-owner of the Kansas City Center for Anxiety Treatment, P.A. (KCCAT), a center focusing on evidence-based treatment of anxiety across the lifespan, clinical research and clinician training. KCCAT is one of only a few team-based resources available nationwide offering closely-tailored care for both children and adults with anxiety and related disorders. Kriegshauser and the KCCAT team recently received funding from the National Institute of Mental Health for an early childhood mobile-app-based prevention and early intervention program for anxiety and related conditions.

Emily E. Hoffman (CWR '11), of Northwestern University, received the Society of Women Engineers (SWE) with the SWE Outstanding Collegiate Member award. Hoffman accepted the award at SWE's annual conference in October 2017. The SWE Outstanding Collegiate Member award recognizes outstanding contributions to SWE, the engineering community and a college campus. Hoffman helped to found the graduate SWE group at Northwestern and currently serves at the society level as graduate programming coordinator for GradSWE. Emily also was active in SWE at CWRU.

Debra DeHass Lehr (NUR '11, '12) joined the Nursing Board of the American Health Council.

Ilirjan Pipa (LAW '11, MGT '11) was named a member of McDonald Hopkins,  a business advisory and advocacy law firm. Pipa, who works out of the firm's Cleveland office, has significant experience in securities, mergers and acquisitions, and general corporate transactions.

Brandon Crane (DEN '13) joined the practice of Dr. Thomas R. Hughes at Avon Dental Care in Avon, Ohio. Crane spent the past four years as an officer in the United States Air Force and has provided dental care for the past three years at Holloman Air Force Base in New Mexico.
Mariana Amatullo (GRS '15, management) joined The New School as associate professor strategic design and management, Parsons School of Design Strategies. Amatullo is co-founder and vice president of Designmatters, the award-winning social impact department of ArtCenter College of Design, in Pasadena, Calif. She is the recipient of numerous design and social innovation awards and honors, among them the 2012 DELL Social Innovation Education award for outstanding leadership in teaching and supporting student social innovators, Fast Company's Co.Design 50 Designers Shaping the Future, and the Public Interest Design 100. 

Nicholas Lias (DEN '15) joined the Advantage Dental Clinic in Klamath Falls, Oregon. Lias recently completed then went on to finish a year-long general practice residency at the Louis Stokes VA Medical Center where he helped members of the armed forces.

Brooke Orcutt (CWR '15), a multiple-time All-University Athletic Association player, has been named the assistant women's basketball coach at CWRU.

Judy Tingley (NUR '16), vice president and chief executive officer for Erlanger Health System's Heart and Lung Institute in Chattanooga, Tenn., and an assistant clinical professor of nursing for the Columbia University School of Nursing's Doctor of Nursing Practice program, received the Outstanding Alumni Award from Georgia Southwestern State University.

Carrie Busic (MGT '17), the national small business accounts sales and underwriting leader at Westfield Insurance has been named to the board of trustees for Gamma Iota Sigma, an organization promoting, encouraging and sustaining student interest in insurance, risk management and actuarial science as professions.
Published October 2017
Rosalind Coleman (MED '69), professor of nutrition at the Gillings School of Global Public Health and of pediatrics in the School of Medicine at the University of North Carolina at Chapel Hill, delivered the prestigious L. Van Deenen Lecture at the 2018 International Conference on the Bioscience of Lipids, held in Helsinki, Finland.
Marc E. Milstein (CIT '72) joined the University of Texas Southwestern Medical Center, an academic medical center, as vice president of information resources and chief information officer. 
Steven Altschuler (WRC '75, MED '79) is a senior advisor for Diversified Search, a professional search firm. Altschuler specializes in work in academic medicine within Diversified's Healthcare Services Practice, providing insight into candidate fits for senior-level positions. Altschuler is an emeritus trustee of CWRU.
Matt Feldman (WRC '75), president and CEO of the Federal Home Loan Bank of Chicago, will serve as co-chair and ambassador for the CEO Leadership Council of the Financial Services Pipeline Initiative. He will provide strategic oversight in connection with the initiative's programming and fundraising, as well as work alongside industry leaders from a collective of approximately 19 financial institutions to manage and push forward the group's goal of increasing the pipeline of African-American and Latino talent in Chicago's financial services industry.
Howard M. Stein (LAW '78), a partner at Certilman Balin Adler & Hyman, LLP  and based in the firm's East Meadow, New York, office, was named to the 2017 New York Super Lawyers List. The honor recognizes top lawyers in their respective areas of practice. Stein heads the Real Estate Practice Group where he concentrates on matters related to real property acquisitions, sales, leasing, real estate finance and loan workouts. He is an adjunct professor of real estate law at Touro Law Center, and also Chairman of the School's Board of Governors.
Krishna Venkataswamy (GRS '85, macromolecular science) is senior vice president and chief technology officer joins Interface Performance Materials. Headquartered in Lancaster, Pennsylvania, Interface Performance Materials has  manufacturing locations across the world and supplies advanced sealing solutions and thermal management systems. 
David L. Cooperrider (GRS '86, organizational behavior), the Fairmount Minerals Professor of Social Entrepreneurship at the Weatherhead School of Management, was honored by the Organization Development Network with the Lifetime Achievement Award by OD Network on October 16, in recognition of his significant and lasting impact on the field and practice of organization development.
Lizellen La Follette (MED '88) joined the Sonoma Valley Specialists Clinic in downtown Sonoma, California. The clinic is operated by Sonoma Valley Hospital to provide residents with greater access to medical specialists.

Paul Washlock (CWR '90; GRS '91, chemical engineering) is the distribution sales manager for Pilot Chemical Company, overseeing North American distribution sales for the company's products and services to the household and industrial detergent, personal care, lubricant, oilfield, emulsion polymerization, disinfecting and sanitizing industries.
John A. Heer (LAW '91) joined the Cleveland office of McDonald Hopkins LLC, a business advisory and advocacy law firm, as counsel in the Business Department. He has been an environmental attorney for more than 26 years with experience counseling clients in environmental law and regulatory matters. Heer serves on the boards of Akron Snow Angels and The LD Edge Network and is a member of the Pro Bono Committee of the Legal Aid Society.
Mary Raitano (LAW '91, SAS '95) is the first executive director for Habitat for Humanity of Medina County. Her 20 years of experience in the nonprofit sector includes her work as director of refugee resettlement at the International Institute of Akron, the community impact coordinator for United Way of Medina County and manager at the Lifeline program in Akron.
John Grabnar (MGT '92) is general plant manager at the Beaver Valley Power Station in Shippingport, Pennsylvania. The stations is owned by FirstEnergy Nuclear Operating Company, a subsidiary of FirstEnergy Corp.

Alex Konya (MGT '97) is vice president, Global Marketing and Product Management for Interface Performance Materials. Headquartered in Lancaster, Pennsylvania, Interface Performance Materials has manufacturing locations across the world and supplies advanced sealing solutions and thermal management systems. 

Christine Fall (MED '98) was appointed to the Physician Board of the American Health Council. Fall is the author of Nutritional Harmony, a publication created to explain how food impacts chronic disease and cancer, owner of L&D Integrative Medicine Consulting, LLC., a provider of educational seminars to the public, associate professor of primary care for Ohio University's Heritage College of Osteopathic Medicine, and a medical provider at Premise Health. She is board certified in both internal medicine and integrative holistic medicine.

John DiBella II (CWR '01; GRS '04, biomedical engineering) is president of the Lancaster, California division of Simulations Plus, Inc., a developer of drug discovery and development software focused on improving the ways scientists use knowledge and data to predict the properties and outcomes of pharmaceutical, biotechnology, and chemical agents.

Vishal Singh (MGT '03) is president of the Milgard Windows & Doors, based in Tacoma, Washington.

Micah Litow (CWR '04; MGT '04; GRS '04, master of engineering & management) is chief marketing and business development officer for Preora Diagnostics Inc., a privately held medical technology company developing low-cost and highly accurate cancer screening tests.

Tim Sykes (CWR '10; GRS '11, engineering and management), a former Spartan wrestler who now lives in Houston, was visiting family in Cleveland when Hurricane Harvey hit. Sykes raised funds and transported donated goods and supplies to Houston.

Vanessa Bond (GRS '12, music education) of West Hartford, Connecticut, was inducted into the Hightstown High Athletic Hall of Fame in Hightstown, New Jersey.

Alexa M. Johnson (LAW '17) joined Klarquist Sparkman, LLP, a law firm in Portland, Oregon. Johnson's practice includes all areas of intellectual property law, with a focus on the preparation and prosecution of U.S. and foreign patent applications. Her areas of expertise include biotechnology, medical devices, and chemical and mechanical engineering. Prior to joining Klarquist, Johnson was a patent department extern at NASA's Glenn Research Center.
Published September 2017
Daniel Saunders (CIT '48, CLC '50) celebrated his 91st birthday on August 17, 2017.

Dale Phillip (CIT '61) of Westlake, Ohio, has retired from his role as president and chief executive officer of AKS Cutting Systems, a subsidiary of Kiffer Industries and a manufacturer in the tool & die, automation, custom and precision machinery, robotic integration and metal  cutting industries.

Peggy Lumpkin (WRC '73) is director of the Center for Excellence in Teaching and Learning and assistant professor of education at Young Harris College in Young Harris, Georgia.

Toby Haberkorn (WRC '74), an experienced executive-search consultant and career coach, has co-authored Best Job Search Tips For Age 60-Plus: A Practical Work Options Resource For Baby Boomers (Baypointe Publishers). For people who want to continue working in paid and volunteer capacities, the book provides realistic work options, 21st century job search strategies and numerous resources.

David J. Helscher (LAW '79) of Clinton, Iowa, has been elected to serve on the Board of Governors of the Iowa State Bar Association. He will represent Judicial District 7 on the governing body.

Liz Brandt (LAW '82), a James E. Wilson Distinguished Professor in the College of Law, has been appointed to the position of Secretary of the Faculty at the University of Idaho, a key position in university governance.

Mohamed Djerdjouri (GRS '83, '88, operations research) is the dean of the University of South Carolina Upstate's George Dean Johnson Jr. College of Business and Economics, located in Spartanburg, South Carolina.

Krishna Venkataswamy (GRS '85, macromolecular science) of Lancaster, Ohio, is senior vice president and chief technology officer for Interface Performance Materials, a manufacturing, design and research company focused on applied materials science and polymer chemistry.

Kay Ellen Peterson (MGT '88, '10) co-authored a book with CWRU Professor Emeritus David A. Kolb entitled How You Learn Is How You Live: Using Nine Ways of Learning to Transform Your Life (Berrett-Koehler).

Thomas Simmons (MGT '89, LAW '93), of the law firm Tucker Ellis LLP,  has been named to the list of The Best Lawyers in America for 2018. 
Beth A. Cherry (NUR '93) is vice president of Physician Services for Broward Health, a health care system in South Florida.
Mike Labbe (GRS '93, biomedical engineering) is the director, R&D engineering for Valtronic Technologies (USA), a medical device developer and manufacturer. Labbe holds seven U.S. patents, has been published in Med Phys, and has been a presenter at the American Association of Physicists in Medicine, a scientific, educational and professional organization of medical physicists.

Marsha Atkins (NUR '94) is dean of nursing for Northern Virginia Community College's Medical Education Campus.

Robert Bodde (MGT '94) is regional sales manager for Michigan, Ohio, Western Pennsylvania, Kentucky and West Virginia for LNS America, Inc. He assumes responsibility for sales and customer support for LNS bar feeders, chip and coolant management systems, air filtration products and workholding devices.

Eric Schnur (MGT '94), chairman, president and chief executive officer of Lubrizol, is CWRU trustee.  

Diane Balciar (MGT '97) is a realtor with Kerr & Co Realty of Cool Springs, Tennessee.
Eric Evans (MGT '97) is chief financial officer for Avista Pharma Solutions, Inc., a contract testing, development and manufacturing organization providing pharmaceutical, animal health and medical device clients a range of scientifically-differentiated services.

Alex Konya (MGT '97) of Lancaster, Ohio, is vice president of global marketing and product management for Interface Performance Materials, a manufacturing, design and research company focused on applied materials science and polymer chemistry.

Heather Logan Melick (LAW '97) recently graduated summa cum laude with her BSN from Mount Carmel College of Nursing. Heather is associate general counsel with the Office of Legal Affairs at The Ohio State University Wexner Medical Center in Columbus, Ohio.

Ronald D. Ford (MGT '98) is the senior vice president and chief financial officer of Armstrong Flooring, overseeing global finance and accounting functions.

Bruno Richard (MGT '99) is vice president and general manager, Travel Retail Europe Middle East and Africa for Estée Lauder.

Mark M. Crowley (MGT '03) is the president of Lake Catholic High School in Mentor, Ohio.

Jennifer Altstadt (MGT '04) is chief operating officer for Sea-Land Chemical Company, a distributor of specialty chemicals, providing a variety of products to lubricant, cleaner, coatings, adhesives, rubber and plastics industries.

Laura Gorjanc Pizmoht (LAW '04) is a Willoughby Hills District 1 City Council member in Willoughby Hills, Ohio.

Bruce C. Gockerman (MGT '08) is an industry assistant professor of public administration in the Stuart School of Business at Illinois Institute of Technology. 

Steven G. Rado (LAW '08) is chief digital officer for The Children's Place, Inc., a children's apparel retailer.

Michael A. Weiss (MGT '10) is chair of the Department of Biochemistry and Molecular Biology and director of chemical biology and biotherapeutics for the Indiana University Precision Health Initiative at the Indiana University School of Medicine. He joins Indiana University from the Case Western Reserve University School of Medicine, where he was chair of biochemistry, a distinguished research professor and the Cowan-Blum professor of cancer research. 

Okezie Aguwa (MED '11) joined Denver Spine Surgeons in Greenwood Village, Colo.

Christopher Ryan Cave Barrett (LAW '11) is vice president, corporate development and intellectual property for Axial Biotherapeutics, a biopharmaceutical company exploring the link between the human gut microbiome and the central nervous system to develop a new class of biotherapeutics to improve the quality of life for people with neurological diseases and disorders. He is based in Axial's Boston office.

Stephanie Hippo (CWR '15) married Jonathan Onorato (CWR '15) on July 3, 2016, at The Currituck Club in North Carolina. 

John G. Marvar (LAW '16, MGT '16) is an associate in the Business Department of the Cleveland office of McDonald Hopkins LLC, a business advisory and advocacy law firm.

Mark Duffy (DEN '17) is a dentist at Bright Now Dental in Miamisburg, Ohio.‌
Published August 2017
John Shields (CIT '68; GRS '71, '75, metallurgy & material science) is a 2017 APMI Fellowship Award recipient, recognizing his work on molybdenum and its associated metals and his reputation for the research and development of alloys. Additionally, he worked with NASA to develop materials for space shuttles.

Allan Reid (CIT '74) is an attorney for Foley Panszi Law in Zionsville, Indiana. Reid focuses his practice primarily on criminal law and is a former master commissioner in the criminal courts of Marion County in Indiana.

Katharine Van Tassel (NUR '80, LAW '86) is associate dean of academics and professor of law at Concordia University School of Law, a Boise, Idaho, non-profit law school. Van Tassel holds an MPH in Law and Public Health Policy from Harvard University and is completing an MS in Food Safety from Johns Hopkins University. She previously was a professor of law and director of health law programs with Creighton University School of Law.

Prasan Samal (GRS '81, metallurgy & material science) is a 2017 APMI Fellowship Award recipient. Now retired, Samal helped develop and qualify stainless steel components for use in automotive exhaust systems. He is author or co-author of 11 U.S. patents, two books and more than 50 technical papers. APMI International is a non-profit professional society which promotes the advancement of powder metallurgy and particulate materials as a science.

Michael J. Stamos (WRC '81, MED '85) is dean of the University of California Irvine School of Medicine.

Michael Ward (LAW '84) is chief executive officer of Aeterna Zentaris Inc., a specialty biopharmaceutical company developing and commercializing novel pharmaceutical therapies.

Thomas J. Intili (LAW '86) was inducted as fellow of the Ohio State Bar Foundation, the philanthropic arm of the Ohio State Bar Association, during a ceremony at the Ohio Supreme Court in June 2017. The foundation promotes the pursuit of justice and the public understanding of the rule of law. A new class of civic-minded lawyers is inducted annually and volunteer for one year of service to outreach programs throughout Ohio.

Gina Beim (GRS '87, Systems Control & Engineering; MGT '04), founder and president of MCDA Consulting LLC, with the 2017 Outstanding Civil Engineer of the Year Award from The Cleveland Section of the American Society of Civil Engineers.

Alison K. Hall (GRS '88, anatomy) is the associate dean of research workforce development for the George Washington University School of Medicine and Health Sciences.

Lori Linskey (LAW '88) is the first woman in Monmouth County's history to be named First Assistant Prosecutor, the second-in-command of New Jersey's Monmouth County Prosecutor's Office.

Wayne Schaeffer (CWR '90) is Project Engineer at Tempest , a manufacturer of chillers and heat transfer systems for the food, pharmaceutical, chemical, energy, tire & rubber industries.

Lars-Ake Norling (GRS '92, systems control & engineering) is chairman of Digi.Com Berhad, a mobile service provider in Malaysia.

Mark Stephan (MED '94) is the medical director for Equality Health, a company focused on centralized technology, services and network designs intended to organize a better health care delivery system for underserved communities.

Lisa D. Sutton (LAW '94) of Moreland Hills, Ohio, joined the Board of Trustees of Ursuline College. Sutton is a member of the senior leadership team of the law department at Eaton Corporation, serving the Cleveland-based company as vice president/chief counsel – environment, health & safety.

David White (MGT '94) is vice president of sales and marketing at Standard Locknut LLC. In this role, White will drive strategic product and market expansion.

Sarah K. Masters (MNO '95) and Paul M. Kearney were married on May 20, 2017, in Arlington, Virginia at the Unitarian Universalist Church of Arlington, where Masters is the director of congregational life and Kearney is the facilities manager. The couple resides in Herndon, Virginia.

Donnette A. Fisher (LAW '97) was appointed law director by the city of Xenia, Ohio, by the Xenia City Council.

Jennifer Rubio Thatcher (CWR '98) of Beachwood, Ohio, opened a new optometry clinic, Beachwood Family Eye Clinic, in June 2017.

Robert L. Wagner (LAW '01) joined the Pittsburgh, Pennsylvania, office of Buchanan Ingersoll & Rooney PC, bringing his complex litigation and intellectual property counsel experience to the law firm's energy team.

Christine Wright (MGT '02) is director of corporate development for global public health organization NSF International.

Brian Bauman (MED '04) is medical director of hospital system Summa Health's Respiratory Care/Pulmonary Service and Lung Nodule Program.

Amy Gilman (GRS '06, art history) has been named director of the Chazen Museum of Art. The museum, opened to further the University of Wisconsin–Madison's mission of education, research and public service, holds the second-largest collection of art in Wisconsin.

Angela Bair (CWR '08) is graduating in August 2017 with a Master of Library & Information Science from Kent State University, with a concentration in Youth Services.

Julie Hein (LAW '09) joined the law firm of BakerHostetler's Cincinnati office as a member of the Intellectual Property Group's Privacy and Data Protection team.

Nancy White (MGT '10) is general manager of Cliff House Maine, a waterfront resort on the southern coast of Maine.

Andrea N. Lee (LAW '12) joined Honigman Miller Schwartz and Cohn LLP as an associate in the health care and corporate practices. Lee advises clients in the health care sector on transactional, regulatory and compliance matters.

Richard Garceau (MGT '14) is the vice president of sales for 7SIGNAL, a provider of Wi-Fi performance management software.

Evan Guarr (CWR '17) is the lab manager in the Chemical Engineering Department of CWRU. 

Andrew Henning (MGT '17) received the NCAA Postgraduate Scholarship based on his athletic and academic achievements, along with his work in the community and demonstrated leadership. He will receive a grant to be used for graduate study. Henning is the second Spartan this year to win the scholarship and the 26th student-athlete overall in CWRU history. He is also just the second member of the men's swimming and diving team to receive the scholarship.
Published July 2017
Mary Jane Tillman Goeth (FSM '44) celebrated her 94th birthday in May 2017.  She graduated from Flora Stone Mather College and continued her education at Harvard, where she earned her physical therapy credentials in a graduate program and worked at Boston Children's Hospital.  Eventually, Tillman and her husband returned to their home state of Oregon to raise five children. Over the rest of her career, she worked as a physical therapist with Oregon Health and Science University and Doernbecher Children's Hospital.

Eliezer Jaffe (SAS '57, '60), founder of Israel's first academic school of social work, the Paul Baerwald School of Social Work at the Hebrew University of Jerusalem, was presented with the Bonei Zion Prize for lifetime achievement awarded annually by Nefesh B'Nefesh to immigrants from English-speaking countries in recognition of their significant contributions to Israel. Specializing in philanthropy and nonprofit management, Jaffe was the first Centraid-L. Jacques Menard Professor for the Study of Nonprofit Organizations, Volunteering and Philanthropy at Hebrew University and co-chairman of the university's Center for the Study of Philanthropy at the Hebrew University of Jerusalem. He was also professor emeritus at Hebrew University and founder of the Israel Free Loan Association, which assisted the needy and new immigrants with interest-free loans with personal repayment plans. Jaffe passed away in May 2017.

Bradley D. Kronstat (WRC '73) of Guilford, Connecticut, was installed as president for the Connecticut Society of Certified Public Accountants 2017-2018 activity year.  He is the assistant controller of Connecticut Gardens, LLC, in North Branford.

Parameswar Nandakumar Warrier (MGT '75) wrote and published the novel Sara's Message (JustFiction Edition) and The Nordic Model: A Promise of Prosperity for All (Lambert Academic Publishing), a look at the much-acclaimed Nordic Model of growth.

William Gropp (CIT '77) is the director of the National Center for Supercomputing Applications at the University of Illinois at Urbana-Champaign. 

Norma I. Quintana (SAS '79), a documentary photographer, published her first art book, Circus: A Traveling Life (Damiani Editore). The book features a foreword by novelist Mona Simpson and presents a decade-long pictorial series of a traveling one-ring circus. Inspired by her education in social sciences and the appeal of the circus, Quintana decided to photograph a small, American circus that set up in her hometown of Hugo, Oklahoma.  Expecting a reluctance to her presence, she found herself warmly welcomed into the visually stunning world of the circus. What was initially a plan to take a few photographs became a life-changing decade of chronicling  the lives of a group of nomadic performers, often resulting in surreal collaborations between photographer and subject. Quintana is a photographer and educator working in the tradition of social documentary. Shooting with film and using only available light, her images are primarily in black and white. Quintana has studied under Mary Ellen Mark, Graciela Iturbide and Shelby Lee Adams and lectured nationally at major universities. She is a founding member of the Bay Area non-profit PhotoAlliance, a nonprofit organization dedicated to supporting the understanding, appreciation and creation of contemporary photography. (Photo credit: Damiani Editore)  

Rebecca Williams (CIT '79, MGT '93) of Apex, North Carolina, is president of the LORD Corporation's Aerospace & Defense industry group, leading the company's global business serving aerospace and defense customers.  
Jeanne Colleran (GRS '80, English), provost and academic vice president at John Carroll University, was named interim president. 

Michael Hopkins (MED '80), a gynecologic oncologist in Canton, Ohio, was inducted into the Aultman Hospital's Hippocrates Honor Society. This lifetime achievement award, created by the Aultman Hospital medical staff, recognizes physicians who exemplify the qualities of excellence, compassion, integrity and leadership. 

Carolyn Cuff (GRS '82, '87, operations research), program coordinator and professor of mathematics, received the 2017 Distinguished Faculty Award from Westminster College in New Wilmington, Pennsylvania. The award recognizes her intellect, leadership and her influences on both her peers and students.

Rich Simons (CIT '83) is the vice president and general manager for Laars Heating Systems, a subsidiary of Bradford White Corp.

Kim Litwack (NUR '84, '82) is dean of the College of Nursing at the University of Wisconsin-Milwaukee.

Elizabeth Massella (MED '87) was named one of Pittsburgh's Best Doctors by Pittsburgh Magazine. Massella, who specializes in pediatrics and adolescent medicine, was recognized in the pediatrics-general category. 

Jim Telljohann (MGT '87) is vice president, specialties, for Chevron Phillips Chemical Company LLC, a worldwide petrochemical business headquartered in The Woodlands, Texas.

Christopher T. Hutter (MGT '89) joined the board of directors for Power Survey and Equipment Ltd. Hutter is the executive vice president and chief operating officer of PowerSecure International, Inc., an energy products and services company serving utilities and large industrial and commercial customers. 

Lisa Danielle (DiCicco) Koch (CWR '90; GRS '98, fluid & thermal science), aerospace engineer in the Acoustics Branch at NASA Glenn Research Center, received the 2017 NASA Glenn Federal Women's Program Award and the 2017 Cleveland Federal Executive Board Wings of Excellence Award.  She also is a graduate of the first NASA GRC Women in STEM Leadership Development Program. (Photo caption: Dr. Paula Dempsey, NASA Glenn Deputy Project Manager, Revolutionary Vertical Lift Technology Project; Danielle Koch, Aerospace Research Engineer, NASA Glenn Acoustics Branch; Nola Bland, Federal Women's Program Manager, NASA Glenn Office of Diversity and Equal Opportunity. Photo credit: NASA Glenn Research Center)

Robbie Das (CWR '91) is the chief financial officer of lighting manufacturer Tempo Industries, LLC in Irvine, California. Before joining Tempo, Das served as the CFO/COO for LED Global Corp. and his experience includes roles as a senior executive with Siemens and PricewaterhouseCoopers.

Dan Schwallie (LAW '91) recently published the articles: Roth Is on the Rise: Is Roth Right for Your Plan? in the second quarter 2017 issue of Benefits Quarterly; Hardship Withdrawals Create Hardships for Plan Sponsors in the Spring 2017 issue of the Journal of Deferred Compensation; and Is It an Unforeseeable Emergency or a Hardship Distribution? in the Summer 2017 issue of the Journal of Pension Planning & Compliance.
Robert Zakon (CWR '91, GRS '92, computer engineering) completed a year of public service in Washington, D.C., as a White House Presidential Innovation Fellow, a program bringing the principles, values and practices of the innovation economy into government. Established in 2012 and signed into law through the TALENT Act in Congress, the program has included 112 fellows over the past five years from companies such as Google, Microsoft and Facebook. Zakon's tenure bridged two administrations, and encompassed work with the U.S. Department of the Treasury, Department of Defense and the White House Office of Science and Technology Policy (OSTP), among several other interagency initiatives. At the Treasury, Zakon worked in the development of policy and assessment strategies around financial and emerging technology innovations. As an innovator-in-residence within Treasury's Office of Critical Infrastructure Protection and Compliance Policy, he explored ways to enhance governance around cybersecurity in the financial services sector, and facilitating cross-agency innovation efforts. As an advisor to several OSTP initiatives, Zakon worked to provide government transparency and access across the open data and science communities, and coordinated sharing among the government's leading innovators. Other activities included serving as a mentor for a hack-a-thon exploring ways to eliminate the gender pay gap, serving as a product strategy trainer for agile digital procurement and lecturing at the National Defense University on the future of cybersecurity, artificial intelligence, machine learning and big data. Zakon received a letter from President Barack Obama acknowledging his contributions, "With talent and creativity, you've helped advance our mission to reimagine public service and build a tomorrow of expanded opportunity and greater possibility for all." Zakon resides in the Mount Washington Valley of New Hampshire with his wife and two sons.

Malki Indich (SAS '93) of Lakewood, New Jersey, was honored as a VIP Member for 2017 by Strathmore's Who's Who Worldwide Edition for her outstanding contributions and achievements for over 20 years in the fields of counseling and education. Indich is the owner of Malki Indich LCSW, a firm that provides counseling services for children and families, and serves as a consultant at Catapult Learning Inc., a company providing educational management services.

Robert Simpson (LAW '93, MGT '93) of Farmington, Connecticut, received the Trailblazer Award from the George W. Crawford Black Bar Association. The organization's highest award recognizes individuals who promote personal growth, leadership development and community service in the legal profession. Simpson is a trial attorney and partner with the Hartford, Connecticut, office of Shipman & Goodwin LLP, leading the firm's Product Liability and Toxic Tort Practice Team in representing clients in federal and state litigation throughout the United States. Simpson serves on the Executive Committee for the National Bar Association, Commercial Law Section and is a division director of the ABA Section of Litigation. Additionally, Simpson is a long-standing member of the George W. Crawford Black Bar Association and the Connecticut Hispanic Bar Association, on the board of the Hartford County Bar Foundation, a member of the Board of Directors of Riverfront Recapture, Inc., active in leadership for the Golden Eagles Pathfinder Scout Group and stewardship director for the Faith SDA Church in Hartford.

Mark Stephan (MED '94) of Phoenix, Arizona, is vice president and medical director of Equality Health, a healthcare network in Maricopa county dedicated to ending health disparities among the Hispanic community. 

Tshilidzi Marwala (CWR '95) was appointed the vice-chancellor and principal of the University of Johannesburg, effective January 1, 2018. 

Elizabeth Madigan (GRS '96, nursing) is the chief executive officer of the Honor Society of Nursing, Sigma Theta Tau International.

Mark I. Froimson (MGT '97) of Hunting Valley, Ohio, joined the board of directors of Pacira Pharmaceuticals, Inc., a company focused on the development of new products for acute care practitioners and their patients. Froimson is currently serving as the president of the American Association of Hip and Knee Surgeons. Previously, he was the executive vice president and chief clinical officer of Trinity Health, a national non-profit Catholic healthcare system.

Janet Quinzer-Gooch (GRS '97) is the executive vice president for academic affairs and provost at Truman State University. 

Vikram Gupta (MGT '00), founder and chief executive officer, celebrated the sixth anniversary of his company, IvyCap Ventures, India's largest homegrown domestic fund, by hosting IvyCap Day 2017 in Mumbai. The event commemorated the startup ecosystem and its spirit of innovation and was attended by more than 300 startup founders, prominent Indian and global venture capitalists, fund managers, mentors and academics.

Todd M. Leombruno (MGT '00) of Chagrin Falls, Ohio, was elected vice president and controller of Parker Hannifin Corporation, a global motion and control technologies company.

Jeremy Davis (MGT '02) is chief executive officer of Consolidated Glass Holding Inc., the managing entity for a group of subsidiary companies operating in the architectural, security and custom glass and metal fabrication businesses. (Photo credit: Consolidated Glass Holding Inc.)
‌‌
Todd Platzer (MGT '04) co-founded Ozone Layer Deodorant, LLC, a company creating a skincare line using a patented process for infusing ozone into shea butter and creating a chemical-free deodorant.

‌‌Mark Lunter (MGT '05) is chief marketing officer for Rush Street Gaming, a developer and operator of casinos in the United States. Lunter most recently served as regional vice president of marketing for Caesars Entertainment, leading strategies for its eastern and mid-south regions. Lunter is based out of company's headquarters in Chicago.

Brad M. Picha (MED '06), a board-certified orthopedic spine surgeon, joined Laser Spine Institute in Mayfield Heights, Ohio.

Ilana Ressler (MED '06), a physician board-certified in reproductive endocrinology and obstetrics and gynecology, joined the Reproductive Medicine Associates of Connecticut in Fairfield County.‌
John Knific (CWR '09) of Cleveland, Ohio, is president, COO & co-founder of Wisr. The Cleveland-based educational technology company, providing an engaging space for alumni and students to connect with each other, was honored with a Venture Innovation Award at the 2017 ASU+GSV Summit. Knific, who is also an EdTech Exec and DecisionDesk CEO/co-founder, was among Bloomberg BusinessWeek's Top 25 Young Entrepreneurs in 2007. Alumni are invited to mentor current CWRU students through The Alumni Career Network, powered by Wisr, by registering at https://case.wisr.io

Jessica Malone (CWR '10), assistant director of development the Philanthropy Institute, Cleveland Clinic, was selected as a member of Crain's Cleveland Business's 2017 class of Twenty in Their 20s, a group of young professionals that are helping propel Northeast Ohio's renaissance through their business, civic and philanthropic endeavors. 

‌Rebecca Jones (CWR '16) graduated from the Infantry Basic Officer Course at Fort Benning, Georgia, becoming the first female Infantry officer from Case Western Reserve University.

‌Aditya Rengaswamy (MGT '16) of Miami, Florida, received the Undergraduate Award of Distinction from the North-American Interfraternity Conference. The award recognizes fraternity men who have found in their experience an outlet for developing as both a leader and a better man by embodying the values of their fraternity and expecting the same from those with whom they associate. While at CWRU, Aditya was highly involved in the campus community as chapter president of Theta Chi, founder of Kids Against Hunger and executive board member of the What You Do Matters Summit. Additionally, he was recognized many times for his academic contributions to the Weatherhead School of Management.

Eli William (DEN '17) is a recipient of the 2017 Community Commitment Award, given annually by the Delta Dental Foundation, for committing to practice in a designated health professional shortage area in an effort to increase access to dental care in areas of high need. William joined a family dental practice in St. Clairsville, Ohio.
Published June 2017
Bernard Isaacson (DEN '44), age 98, continues to attend classes at Osher Lifelong Learning Institute at Rochester Institute of Technology and to golf. 

Ardath A. Franck (GRS '56, communications sciences) of Fairlawn, Ohio, was inducted into the Ohio Senior Citizens Hall of Fame by the Ohio Department of Aging, the Ohio Association of Area Agencies on Aging and members of the Ohio General Assembly.  Franck was recognized in a ceremony at the Ohio Statehouse Atrium in Columbus on May 18. She is a speech therapist whose career has spanned more than seven decades. Today, Franck serves as the director of the Akron Education Campus and also tutors law and nursing students preparing for board examinations.

Diana Attie (FSM '60; GRS '62, art education), professor emeritus of art at The University of Toledo, received the Milestones Award for her outstanding leadership qualities in the field of art from the YWCA of Northwest Ohio.

Lucille Garber Ford (GRS '67, economics) was inducted into the Ohio Senior Citizens Hall of Fame, by the Ohio Department of Aging, the Ohio Association of Area Agencies on Aging and members of the Ohio General Assembly during a special ceremony at the Statehouse Atrium in Columbus. In the 1960s, Ford was the first and only woman to serve on the Ohio Edison Company Board of Directors and the first woman appointed to serve on a bank board for National City Bank. Ford made history in 1978 when she became the first woman to run for lieutenant governor in Ohio. In 1979, Ford was named dean of the School of Business Administration, Economics and Radio/TV of Ashland University. She developed several new majors and educational programs for adult students. In 1986, she became vice president of academic affairs, the nursing program, the writing center, the honors program and many other academic and administrative activities. She became provost in 1990, administering both graduate and undergraduate programs, continuing education and special programs, and is currently serving as provost emeritus, professor emeritus and board trustee emeritus.  Since retiring from Ashland in 1995, she has devoted her leadership skills to the Ashland County Community Foundation, a fund enhances the Ashland County community. She has served on five major public company boards, held countless civic and community leadership positions, and sat on numerous local, state and national boards.

Carl A. Singer (CIT '68), is the national commander of the Jewish War Veterans of the USA, a congressionally chartered veterans service organization which has been continuously active since 1896 and advocates on behalf of all American veterans.

Linda Lehmann Masek (LYS '70) wrote and published The Mag-ni-fi-cat Mysteries (Fireside/Lux Publications). The book continue the story of Maggie the cat and her human friends in 1950's America. With illustrations created by the author, her home state of Ohio provides the local background for all the adventure.

Margaret Vugrin (FSM '71, LYS '72) received a master's in public health from Texas Tech University Health Sciences Center (TTUHSC), Department of Public Health. She has worked as a reference librarian at TTUHSC Library in Lubbock, Texas, for the past 30 years. Vugrin moved to Texas when her husband, Davor Vugrin, MD, accepted an invitation to be chief of medical oncology at the TTUHSC Medical School. The couple's five children are scattered across the United States and their six grandchildren range in age from 14 to two years.

David W. Rose (WRC '74) writes the column Notes from Underground regularly featured in FUNGI Magazine, an exploration of the history of mycology via poetry, literature and biography.

Lee Fisher (LAW '76, MGT '97, MNO '05) is dean of Cleveland State University's Cleveland-Marshall College of Law. 

Barrett J. Rollins (GRS '79, molecular biology & microbiology; MED '80), chief scientific officer and faculty dean for academic affairs at Dana-Farber Cancer Institute in Boston and the Linde Family Professor of Medicine at Harvard Medical School, received an honorary degree from Amherst College during its 196th Commencement exercises on May 21, 2017.

Elaine Nichols (SAS '80) is the supervisory curator of culture at the Smithsonian National Museum of African American History and Culture.

Wesley W. Wilson (LYS '81), coordinator of archives and special collections at DePauw University in Greencastle, Indiana, is the 2017 recipient of the Sister M. Claude Lane, O.P., Memorial Award given by the Society of American Archivists in conjunction with the Society of Southwest Archivists. The award, honoring an archivist who has made a significant contribution to the field of religious archives, will be presented during a ceremony in July.

Michael C.H. McDaniel (LAW '82), a WMU-Cooley Law School associate dean and professor, was honored with the Distinguished Citizen Award by the Chief Okemos District of the Boy Scouts of America during the 2017 Distinguished Citizen Breakfast for Scouting. During the event, he also received the Key to the City from Lansing (Michigan) Mayor Virg Bernero. In addition to teaching constitutional law, McDaniel is also the director of the Homeland and National Security Law LL.M. program at WMU-Cooley Law School, a program he created in 2013. McDaniel is a retired Brigadier General and was Deputy Assistant Secretary for Homeland Defense Strategy, Prevention and Mission Assurance at Department of Defense prior to joining law school. In 2003, he was also Homeland Security Advisor to then-Michigan Gov. Jennifer Granholm, and has been the chairperson for Great Lakes Hazard Coalition (GLHC) since 2012. He also served as the Assistant Adjutant General for Homeland Security with the Michigan National Guard. In 2016, McDaniel was appointed by Michigan Gov. Rick Snyder to the Flint Water Interagency Coordinating Committee (FWICC) and helped to secure $100 million in funding from Congress. The funding sped up the process of removing hazardous water pipes, with over 600 pipes replaced by the end of 2016.

Amy Reif (WRC '82, MGT '86) of Bloomington, Indiana, is the command radiation health officer and an assistant radiation safety officer at the Naval Surface Warfare Center, Crane Division, in Crane, Indiana.

Bob Graf (GRS '83, '85, macromolecular science) is corporate vice president of data science and analytics, a new position for the Lubrizol Corporation based in Wickliffe, Ohio.

Steven Accinelli (GRS '85, operations research), professor of aviation and director of aviation programs at the University of Dubuque, was named to the school's Faculty Hall of Fame for his nearly 20 years of work bringing the aviation program to national prominence. (Photo credit: University of Dubuque)

Forrest A. Norman III (WRC '86, LAW '92), shareholder of Dickie, McCamey & Chilcote, P.C. and founder and chair of Dickie McCamey's Church Law Practice Group, presented Violence, Security and Church Liability to members of the National Conference of the Christian Legal Society in Washington, D.C. Norman lives in Hudson, Ohio.

Michelle Mohr Carney (SAS '89), professor and director of the School of Social Work at Arizona State University, has been named dean of the University of Kansas School of Social Welfare.

Christine Lys (CWR '90; GRS '97, biology) of San Diego, California, is associate vice president, business development at Accelovance, Inc., a global contract research organization specializing in oncology, vaccines/immunology and general medicine.
Hugh McNeelege (LAW '91), writing under the name Bear Kosik, was selected as one of the first resident playwrights at Manhattan Repertory Theatre. His play, Alpha Betty, was presented in June at the Players Theatre Short Play Festival and Between Panic and Desire was presented in July at the Midtown International Theatre Festival, both in Manhattan's Theater District.

Anton (Tony) Wallner (GRS '92, chemistry) was named dean of the College of Arts and Sciences at Webster University in Saint Louis, Missouri. He will begin his position July. He previously was at Barry University in Miami Shores, Florida.

Russell Warley (GRS '93, chemical engineering) was named dean of faculty and professor of chemical engineering at the Rose-Hulman Institute of Technology in Terre Haute, Ind.

Elaine Szeto (MGT '94, '00) is chief product officer of Western Alliance Bancorporation in Phoenix, Arizona, overseeing product strategy and development as well as services to drive innovation and meet the needs of both business and personal clients.

D. Phillip Stickney (MED '95) joined Kettering Physician Network Orthopedics & Sports Medicine in Hamilton, Ohio. Stickney is a general orthopedist, specializing in shoulder, hip and knee replacement. He also evaluates and treats degenerative conditions of the lumbar spine.

Miguel A. Medina III (SAS '97), a plastic and reconstructive surgeon, joined the team of cancer specialists at Miami Cancer Institute, part of Baptist Health South Florida.

Anu Hoey (GRS '98, molecular virology) is vice president of corporate development at Invenra, Inc., is an antibody discovery and development company focused on bispecific antibodies for immuno-oncology and based in Madison, Wisconsin.

John Melcher (MGT '98) is chief operating officer of Crystal Mountain, a family-owned, four-season resort destination southwest of Traverse City, Michigan. 

Tesham Gor (MGT '02) is corporate vice president, corporate strategy and consumer insights for the Lubrizol Corporation based in Wickliffe, Ohio.

Andrew Lundberg (CWR '02) of Cincinnati, Ohio, is senior analyst at 84.51°,  a wholly owned subsidiary of The Kroger Co. focused on customer engagement.

Kate Wexler (LAW '02) joined Hahn Loeser & Parks LLP as senior attorney in the Business Practice Area in the Cleveland office. Wexler earned her JD cum Laude from Case Western Reserve University School of Law.

Justin Haselton (CWR '03), a civil engineer with R.E. Warner & Associates, Inc. in Westlake, Ohio, was named one of Civil + Structural Engineer Magazine's 2017 "Rising Stars." (Photo credit: CMP Communications)

Margaret Greco (MED '04), a pediatric cardiologist, joined SwedishAmerican of Rockford, Ill.

Jennifer Kahn McGinn (MGT '04) published her first children's book Emily's Shoes (CreateSpace Independent Publishing Platform), the story of a young girl who dreams in vivid color with the help of special shoes. The book was illustrated by a 12-year-old artist and proceeds support research for Batten Disease, an inherited disease of the nervous system that affects McGinn's seven-year-old twin nieces.

Luke Feeney (LAW '05), mayor of the City of Chillicothe, Ohio, delivered the keynote speech at Ohio University Chillicothe's Graduation Recognition Ceremony in April 2017.

Ellen Rudolph (GRS '07, art history) is chief curator at the Akron Art Museum. Rudolph previously served as executive director of the Maltz Museum of Jewish Heritage in Beachwood, Ohio.

Jaeyeon Kim (GRS '08, biomedical engineering) is associate director of pharmacometrics at Novartis.

Erin Klug (LAW '09) was sworn onto the board of the Women Lawyers Association of Michigan and received the group's 2017 Regional Leadership Award at its 99th annual meeting. Klug, an intellectual property attorney focusing on patent and trademark procurement, is counsel at the Novi, Mich., offices of Varnum LLP.

Eli H. Miller (MGT '09) is the acting U.S. director of the Asian Development Bank and the acting U.S. director of the European Bank for Reconstruction and Development. He also is the chief of staff at the U.S. Department of the Treasury.

Nicholas Preusch (LAW '09), a tax manager at PBMares, LLP, a public accounting and consulting firm with national and international clients, was named one of the Virginia Society of Certified Public Accountants Top 5 Under 35 for 2017.

Paul Hay (CWR '10) received his PhD in classical studies from the University of Texas at Austin. He will begin a teaching appointment in the Department of Classics at CWRU in fall 2017.

Andrew J. Wolf (CWR '10) joined Hahn Loeser & Parks LLP as an associate in the Labor & Employment practice area in the Cleveland office. Wolf earned his JD cum laude from William and Mary Law School, where he was the executive editor of the William & Mary Bill of Rights Journal, earned the Legal Skills Scholar Award and won a Book Award for Topics in Disability Law. Wolf earned his BA summa cum laude from Case Western Reserve University, where he earned Phi Beta Kappa honors.

Sarah Hutnik (CWR '11, MGT '11, LAW '16), of Dayton, Ohio, is assistant prosecuting attorney for Montgomery County, Ohio, assigned to the Child Protection Unit of the Prosecutor's Office.

David McCormick (GRS '11, early music performance), director of the Shenandoah Valley Bach Festival, received a Rising Star Award from his alma mater, Shenandoah University Conservatory, in Winchester, Va.

Fabrice Henry (CWR '13) graduated cum laude from the The Ohio State University College of Medicine. He is a member of the Alpha Omega Alpha Honor Medical Society and, during the convocation ceremony, he received the William Neely Taylor, MD Award in recognition of excellence in the field of Urology. Henry starts his residency in Urology at Akron General Medical Center and Akron City Hospital in July.

Sheilla Lienerth (MGT '15) is assistant vice president of client relations for Safeguard Properties in Valley View, Ohio.

Sara Smoter (LAW '16) joined the national trial and litigation law firm Kaufman & Company, LLC as an associate attorney in the firm's Cleveland office. Smoter's previous experience includes externships with the district judge for the U.S. District Court, Western District of Pennsylvania, the United States magistrate judge for the Northern District of Ohio and the Offices of the United States Attorneys for the Northern District of Ohio. While attending Case Western Reserve University School of Law, Smoter served as executive notes editor of Case Western Reserve Law Review.
Published May 2017
‌John C. Thomas, Jr. (ADL '67) has written and published Fit In Bits: How to Stay Fit When you Have No Time to Stay Fit (CreateSpace Independent Publishing Platform), a guide to incorporating exercise into spare moments and situations in the course of an ordinary day.

Arthur Ross (MED '75) is joining the Scientific Advisory Board of MedAware Systems, Inc. A pediatric surgeon and researcher, Ross has served three medical schools as a campus executive or dean.

Richard Balnave (LAW '77), professor at the University of Virginia School of Law, has retired after 33 years of teaching a range of clinics in family law and children's law, as well as courses in professional responsibility. Permission to use photo in print and online granted by Kimberly Reich, Univ of Virginia School of Law. Photo credit: University of Virginia School of Law

Michael C.H. McDaniel (LAW '82), retired brigadier general and current Western Michigan University Thomas M. Cooley Law School associate dean and professor of law, was inducted into the alumni ROTC Hall of Fame for the Seneca Battalion of the U.S. Army Reserve Officers' Training Corps at St. Bonaventure University, located in Olean, New York, on April 1, 2017.

Sabra T. Pierce Scott (WRC '82, SAS '12) was sworn in by Mayor Frank G. Jackson as the City of Cleveland's first director of quality control and performance management. The mission of this office is to track departmental performance and incorporate efficient, effective and economically sound process improvement methods to ensure high levels of accountability, compliance and quality control. Photo credit: City of Cleveland

Melissa Baumann (GRS '86, '88, metallurgy & material science) has been named the provost and chief academic officer at Xavier University, effective June 15, 2017.

Sanku Mallik (GRS '92, chemistry), professor of pharmaceutical sciences, received North Dakota State University's prestigious Waldron Award for Excellence in Research. A nationally respected researcher, he has received $15.5 million in grants over the past 10 years, including a Centers of Biomedical Research Excellence grant from the National Institutes of Health for his pancreatic cancer research.

Marta Roth (MED '92), primary care physician at Roth Family Medicine Ltd. in Fairlawn, Ohio, has been selected to join the Physician Board at the American Health Council. She will be sharing her knowledge and expertise on family medicine.

Nimesh Mehta (CWR '96, MGT, '99) is chief operating officer and managing director of Civitas Capital Group, a family of specialty asset management and financial services companies.

Raland Hatchett Jr. (MGT '05) is executive director of Big Brothers Big Sisters of Summit, Medina, and Stark Counties, Inc.

‌Angelina Bair (CWR '08) of University Heights, Ohio, received the Priscilla L. Drach Children's Librarian Scholarship from Kent State University's School of Library and Information Science. The scholarship is awarded to students who demonstrate creativity, leadership and dedication to children's librarianship through academic achievement. Bair is pursuing her Master of Library and Information Science with a specialization in youth services and special collections at Kent State University, while working as a library associate substitute at Willoughby-Eastlake Public Library. She hopes to become a children's librarian within a public library and to continue researching children's literature. Photo credit: Kent State University

Derek Overstreet (CWR '08) joined the board of directors of Zoned Properties, Inc., a strategic real estate development firm whose primary mission is to identify, develop, and lease safe and sustainable properties in emerging industries. Overstreet is co-founder and chief scientific officer of Sonoran Biosciences, which develops new sustained-release pharmaceutical formulations for applications including orthopedic infection and postoperative pain management.

Michelle Buerschen (NUR '13, '16) joined the practice of Hyatt Family Care and is seeing patients at the Premier Physician Network practice in Tipp City, Ohio.
Published April 2017
George N. Havens (CIT '49, MGT '72) wrote and published Heroic Leaders: Visionary. Courageous. Inspiring. (Strategic Consulting Press) The book argues that life is richer with the benefit of heroes, by chronicling four unsung heroic leaders who have been important influences in his life: John Frank Stevens, The Hero of Marias Pass and the Panama Canal; Heinrich Harrer, a mountain climber and adventurer; T. Keith Glennan, a leader in education and at NASA; and David Ogilvy, an influential advertiser. This is the seventh book Havens has written since retiring as the head of The Jayme Organization, an advertising and marketing firm. His other books are based on his expertise and experience and include: We Made the Headlines Possible (Greenleaf Book Group) on his World War II service; A Special Time, A Special Place: East Cleveland Remembered (Greenleaf Book Group) on growing up there; A Professional Guide to Winning Presentation (Greenleaf Book Group) on his ad agency's best practices; and The Competitive Challenge (Greenleaf Book Group) on satisfying today's tougher customers. Havens, a resident of University Circle's Judson Manor, now heads Strategic Consulting, a firm focused on leadership, planning and marketing.
 
Bob MacIntyre (CIT '52) of Redlands, California, has invented a syringe extender through his company ZIACOM. The product was the result of a request from Orthopedic Surgeon Dr. Christopher Jobe at Loma Linda University Medical Center (LLUMC), who was searching for a syringe extender that could be operated with one hand and provide doctors with better accuracy when working with orthopedic patients. The two men worked together on the development and the instrument is now being marketed by LLUMC officials. MacIntyre is also the inventor of The Arm Enhancer, designed to mitigate the problems of golf and tennis elbow, and The SeeCane, a tool using an LED light to provide additional stability and illumination. All of MacIntyre's inventions were developed in his home.
Linda Lehmann Masek (LYS '70) wrote and published The Mysterious Cattery and Under the Cat's Paw (Fireside/Lux Publications). The books include two novellas, poetry and a full-length novel. Masek's creative stories follow the tails(!) of: CopyCat, a feline sleuth, who solves a murder; Mag-ni-fi-cat, a cat who takes on a haunted house; and Catkin, a cat who brings a girl home to her family. With illustrations created by the author, her home state of Ohio provides the local background for all the adventure.
James N. Letendre (LYS '74) has retired after working in public libraries in Chicago, Miami Beach and Charleston, S.C. In 2015, he received his Master of Arts in Theology from St. Leo University in Florida. On February 11, 2017, Letendre was ordained a Permanent Deacon for the Roman Catholic Diocese of Charleston, S.C.
Parameswar Nandakumar Warrier (MGT '75) wrote and published the novel The Stockholm Triangle (JustFiction Edition), in which a Somalian refugee in Sweden suspects that a new friend was involved in a massacre by U.N forces in his home village.
John McCreery (CIT '77) was appointed Chief Operating Officer of Iradimed Corporation, a developer of MRI compatible medical devices. McCreery has primary responsibility over the regulatory, manufacturing and engineering departments of the company.
JoAnn E. Manson (MED '79), chief of the Division of Preventive Medicine at Brigham and Women's Hospital and professor of medicine at Harvard Medical School, was honored by the Massachusetts Medical Society as the 2017 recipient of the Women's Health Research Award, recognizing a physician for contributions that advance women's health research in Massachusetts.
Annie L. Sobel (MED '83), of Lubbock, Texas, was appointed to the Texas Military Preparedness Commission by Governor Greg Abbott. Sobel is an associate professor at the Department of Medical Education and at the Graduate School of Biomedical Sciences at Texas Tech University (TTU), adjunct professor of Electrical and Computer Engineering at TTU and an adjunct associate professor at the TTU Health Science Center School of Nursing. She is a former distinguished member of the technical staff at the Sandia National Laboratory in Albuquerque, N.M., and guest scientist at Los Alamos National Laboratory. She is also the current chair of the Permanent Monitoring Panel for mitigation of acts of terrorism for the World Federation of Scientists. Sobel achieved 20 years of military service in 2008, and retired as a Major General in the Arizona Air National Guard with an honorable discharge with prior service in the United States Army.
David J. Pristash (MGT '86) received his eighth patent for a vertical axis wind/solar turbine, which significantly increases the harvesting of solar energy while reducing environmental impact.
‌‌‌Lauren Lawrence (MGT '89) of Mt. Pleasant, Michigan, was promoted to vice president of Karmanos Cancer Network, providing oversight and leadership for 14 cancer centers throughout Michigan. She first joined the Barbara Ann Karmanos Cancer Institute at McLaren Health Care in Michigan in December 2013. Prior to that, Lawrence served as executive director of the Seidman Cancer Center at Lake Health University Hospitals in Mentor, Ohio, and in administrative roles in the Cleveland Clinic.
Linda Conrad (MGT '92) was appointed vice president, financial planning and analysis for Cooper Standard. She is based at the company's headquarters in Novi, Mich.
Robert Geho (MGT '94) was elected to the Cleveland Institute of Music Board of Trustees. Geho is the co-founder and CEO of Diasome Pharmaceuticals, Inc., where he leads the management of the company's development programs in new therapies for diabetes and obesity, and co-founder and director of SDG, Inc., a nanotechnology therapeutics company that is an Equity Partner Company of the Cleveland Clinic Foundation. Geho also serves as a member of the board of directors of the Diabetes Hands Foundation.
 
Chris Cronin (GRS '96, history) was promoted to principal consultant at HALOCK, a Chicago-based information security consulting firm. He has authored multiple risk management and governance methodologies and is a frequent public speaker on the topic of information security. Cronin serves on the board of directors of Eighth Blackbird, a Chicago-based arts organization.
Kimberley Mitchell (GRS '96, communications science) joined the law firm of Smith, Haughey, Rice & Roegge as a shareholder. Mitchell is a lawyer in the business and real estate law practice group based in the firm's Holland, Mich., office. 
Ronald J. O'Leary (LAW '97), Cleveland's current director of building and housing, was appointed Cleveland Housing Court judge in the Housing Division of Cleveland Municipal Court by Ohio Gov. John Kasich. He will take over on April 10. O'Leary will have to run for election in November to retain the seat through the end of the term, which concludes January 1, 2020. 
Richik Sarkar (LAW '98), a member of McGlinchey Stafford's Cleveland office, has been selected to participate in the Leadership Council on Legal Diversity's 2017 Fellows Program, which aims to identify, train and advance the next generation of leaders in the legal profession. Demonstrating leadership in the legal community, Richik joins an organization of more than 240 corporate chief legal officers and law firm managing partners who are personally committed to creating a truly diverse legal profession.
Gregory S. Lovins (MGT '99) is vice president and interim chief financial officer of Avery Dennison Corp., a global leader in pressure-sensitive and functional materials and labeling solutions. Lovins will lead the company's finance function, including audit, financial reporting, investor relations, financial planning and analysis, tax and treasury. He will also oversee the company's information technology group.
‌‌Jack Trachtenberg (CWR '99, GRS '99, political science) is a principal at Deloitte Tax LLP's Multistate Tax Controversy Services practice in New York, focusing on all aspects of New York State and City tax controversy matters for corporations and passthroughs, including income/franchise and sales and use tax. He also advises clients on New York State and New York City tax matters, having successfully litigated cases before the New York State Division of Tax Appeals, the New York State Tax Appeals Tribunal and the New York State Supreme Courts. Before joining Deloitte, Jack was a partner at Reed Smith LLP focused on corporate income, franchise, gross receipts, sales and use and personal income taxes.
Dr. Chunjiang 'CJ' Qian (GRS '01, Systems Control & Engineering), Mary Lou Clarke Endowed Professor, was appointed chair of the Department of Electrical and Computer Engineering, University of Texas at San Antonio.

Jacqueline Jones (CWR '02, GRS '04, '07, biomedical engineering) was one of 50 women across the state of Connecticut honored during the thirteenth annual Connecticut Technology Council Women of Innovation Awards Ceremony. The awards recognize women innovators, role models and leaders in science and technology professions. Of these 50 women, nine were recognized as winners in their respective categories. Jones won the category of Large Business Innovation and Leadership for her role as an R&D manager at Medtronic, a medical technology development company, where she leads a team focused on clinical engineering and user experience of a next generation surgical robot.

AnnMarie Kassouf (SAS '05) married Paul Lepro on July 9, 2016. The ceremony took place at St. Elias Melkite Catholic Church in Cleveland, followed by a reception at Mapleside Farms in Brunswick, Ohio, and a Mediterranean honeymoon cruise. The new Mrs. Lepro is a social worker at Cleveland Metro Health Medical Center. The couple resides in Lakewood.
John Popovich (MGT '05) is vice president of fluid sealing and thermal systems sales at EGC Enterprises, a company that pioneered the use of flexible graphite in fluid sealing and thermal management applications for high heat and high pressure applications.

Arlene Guzik (NUR '08) joined BayCare Urgent Care, of Clearwater, Florida, as director of occupational medicine services. Guzik has more than 25 years of experience in occupational health and previously served as assistant medical director and vice president, operations of Lakeside Occupational Medical Centers Inc. in Largo, Florida.
Ganesh Kumar (MGT '09), formerly executive vice president and chief financial official, was promoted to senior executive vice president and chief operating officer of OFG Bancorp, a financial holding company providing banking and financial services. Kumar is in charge of all retail operations, which collectively represent OFG's largest revenue generating business, and all strategic business development and expansion endeavors.
Published March 2017
Frank Germane (CLC '49) received the Knight of the Legion of Honor medal from the French government for his service in the U.S. Army during WWII. 

Fred Gray (LAW '54, HON '92), a prominent civil rights lawyer, received the Trailblazer Award from the International Civil Rights Center & Museum in Greensboro, N.C.

James Young (GRS '71, history) published Union Power: United Electrical Workers in Erie, Pennsylvania (Monthly Review Press). The narrative extends from union organizing efforts during the Great Depression through ferocious political attacks during the McCarthy Era and economic losses of the Great recession and beyond in the quintessential American industrial town of Erie. Much of the content is supplied through oral history interviews, as well as traditional archival sources. Young serves as treasurer of the Pennsylvania Labor History Society and is working on a history of workers at the Hershey Foods facility in Pennsylvania.

Larry W. Hurtado (GRS '73, religion), emeritus professor of new testament language, literature & theology in the School of Divinity at the University of Edinburgh, received the 2017 PROSE Award in the category of archaeology & ancient history for his book, Destroyer of the Gods: Early Christian Distinctiveness in the Roman World (Baylor University Press).

Gina Gibney (WRC '79, GRS '82, theatre), founder, artistic director & CEO of Gibney Dance in New York City, received Dance/USA's Ernie Award at the organization's 2017 Annual Conference. The Ernie Award honors individuals working in the dance field whose achievements have significantly empowered artists and supported their creativity individually or as a community. Gibney founded Gibney Dance in 1991 as a performing and social action dance company, which has today emerged as a cultural leader in the arts and social justice fields. She was named to the Out100 2016 list of influential members of the LGBT community, and in 2008 she was named to the Vanity Fair Hall of Fame for "making art and taking action." 

Barney Olson (CIT '80) joined R.E. Warner & Associates Inc. of Westlake, Ohio, as senior process engineer.

George Njoroge (GRS '83, chemistry, GRS '85, chemistry), a U.S.-based Kenyan researcher and senior research fellow at Eli Lilly, has made history as the first African to be granted more than 100 patents by the US Patent and Trade Office. In addition to the more than 100 patents, Dr Njoroge has authored and co-authored over 120 scientific publications. 

Maria Thomas-Jones (LAW '87)was named CEO of Legal Aid of NorthWest Texas. 

William J. Barrett (MGT '89) was elected to the board of directors of 1ST Constitution Bancorp.

Anton Wallner (GRS '92, chemistry), an associate dean at Barry University in Florida, will join Webster University as the dean of the College of Arts and Sciences this summer.
Robert Dombrowski (MED '93) joined The Centers for Advanced Orthopaedics at it