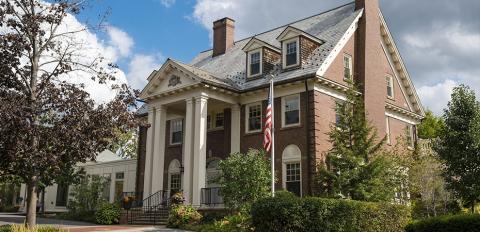 Have you recently married, changed careers, been promoted, received an award, had a baby, traveled the world, discovered a passion or have other news to share? Tell us your story.
If you are registering for CWRU Connect and require your Constituent ID, please refer to your latest issue of Alumni News or call 216.368.6280 for assistance. To honor members of the Case Western Reserve University community who have made exceptional contributions to their profession or the community, consider nominating them for our annual awards. Contact The Alumni Association with questions regarding class notes. 
---
Current Class Notes
William Grant (ADL '41) was named Chevalier dans l'Ordre National de la Legion d'Honneur by the government of France in May 2018, for his service in France during World War II. He received the award at a ceremony in Colorado, where he is now living after having spent 69 years in New York. His two children, Jenifer and David, were in attendance.
Richard L. Pinkerton (MGT '62), of Strongsville, Ohio, was honored by the city's mayor as March 20, 2018, was declared "Dr. Dick Pinkerton Day," recognizing his 17 years on the Strongsville economic development committee and 13 years on the residential survey taskforce.
Satoru Izutsu (GRS '63) received the Order of the Rising Sun, Gold Rays with Neck Ribbon during the 2017 Autumn Conferment of Decoration on Foreign Nationals by the government of Japan recognizing his contributions to developing medical education and medical care in Japan. Izutsu recently retired from the University of Hawaii, School of Medicine, where he was vice dean and emeritus professor of public health and psychiatry.
Paul Dutton (LAW '72), a partner with the Youngstown, Ohio-based law firm Harrington, Hoppe & Mitchell, Ltd., has been named chairman of Akron Children's Hospital Foundation Board of Directors. Dutton has served on the foundation board since 2011 and on the Akron Children's Hospital Board of Directors since 2017.
Mitchell Cohen (WRC '74) received the Presidential Achievement Award for Excellence in Scholarship of Baruch College of the City University of New York for his book The Politics of Opera: A History of Monteverdi to Mozart (Princeton University Press). The book also received the Association of American Publishers Prose Award for Music & the Performing Arts and was named among the Best Books of 2017 in the London Evening Standard. Additionally, he edited a new edition of Princeton Readings in Political Thought (Princeton University Press). He writes for various publications including, recently, The New York Times Sunday Book Review. Cohen is professor of political science at Baruch College, CUNY and co-editor emeritus of Dissent magazine, a magazine published by the University of Pennsylvania Press on behalf of the Foundation for the Study of Independent Social Ideas.
Kenneth Mauritz (CIT '75), of Hattiesburg, Mississippi, received the Distinguished Alumni Award from University of Wisconsin Oshkosh's Alumni Association for his extraordinary and widely recognized accomplishments in higher education. Mauritz has professor emeritus status with the School of Polymers and High Performance Materials at the University of Southern Mississippi.
Craig Newmark (CIT '75; GRS, '77, computer science; HON '08), the Craigslist founder, is giving $20 million to the CUNY Graduate School of Journalism. As a result of the gift, the school will change its name this summer to the Craig Newmark Graduate School of Journalism at the City University of New York. The donation, to be made through Craig Newmark Philanthropies, will fund an endowment for the school.
Robert Webster (CIT '79) was named the deputy director weapons at Los Alamos National Laboratory. Webster is employed by Triad National Security, LLC, which is the Los Alamos National Laboratory's new managing and operating contractor for the National Nuclear Security Administration.
Russell Moy (CIT '81) is a fellow of the American Association for the Advancement of Science. Fellows are recognized for their scientifically or socially distinguished contributions to the advancement of science or its applications. Moy currently serves as the general counsel of the Southeastern Universities Research Association, the management and operating contractor for the Jefferson Lab, a U.S. Department of Energy National Laboratory.
Michael Fine (MED '83) will publish Health Care Revolt (PM Press) in September, 2018, an argument for rebuilding the United States health care system to make it both functional and affordable.   
Gregory I. Berk (MED '84) is president and chief medical officer for Vedantra Pharmaceuticals, Inc., an immunotherapy company focused on developing products to treat cancer and infectious disease.
Susan Strobel (WRC '84), a secondary English language arts teacher at Spring Lake High School in Spring Lake, Michigan, was appointed to the board of Reading Enables Adult Development (R.E.A.D.), a volunteer-based adult literacy program serving Northwest Ottawa County.
Richard G. Barr (MED '85) is the editor-in-chief of the Journal of Ultrasound in Medicine, a publication of the American Institute of Ultrasound in Medicine. Barr is assistant chairman of the department of radiology at Northside Medical Center, and president of Radiology Consultants Inc., both in Ohio. Additionally, Barr is a professor of radiology at Northeastern Ohio Medical University.
Ted Keen (CIT '85) is the european leader for the global transfer pricing practice of Duff & Phelps, a global valuation and corporate finance advisor.
Edward Marinstein (LAW '85) and his wife Robyn received the Albany (New York) Jewish Community Center's Pillars of the Community Award.
Matthew A. Kosior (CWR '89, MGT '04), of Sandusky, Ohio, is president of American Colors Inc., a manufacturer of high-quality liquid pigment dispersions and intermediates for the plastics, coatings, adhesive and sealants, and agriculture markets. Kosior previously served as Executive Vice President and Chief Executive Officer for the company, working on the expansion of operations with two new facilities in Tennessee and Texas, as well as a plant in Shanghai.
M. Norman Oliver (GRS '92, anthropology; MED '94), a professor at the University of Virginia School of Medicine, was named  Virginia state health commissioner by Gov. Ralph Northam.
Rina Banerjee (CWR '93) had paintings featured in The Galleries at Cleveland State University during its 2018-19 season presentation of "Demise," a powerful meditation on the meaning of life and death. Curated by artist John L. Moore, the show features the work of six prominent contemporary artists at their downtown location in Cleveland's Playhouse Square.
James E. Caminis (CWR '00) is a principal with Lipman Frizzell & Mitchell LLC, a commercial real estate valuation and consulting firm primarily serving the Washington D.C./Baltimore region.
James Whyte IV (NUR '01) was one of 195 nurse leaders inducted as fellows in American Academy of Nursing. He is a professor for the Florida State University College of Nursing. Additionally, Whyte maintains active clinical practice as a nurse practitioner, with a focus in family and pediatric care, orthopedics and sports medicine, and people living with HIV/AIDS. His research focuses on the development of expert performance in nurses and other health care professionals, along with care of people living with HIV/AIDS.
Matthew Pifer (GRS, '05, anatomy; MED '08), an orthopedic surgeon, joined the Orthopedic Surgical Practice in Santa Barbara, California.
Britany Salsbury (CWR '05) is associate curator of prints and drawings for the Cleveland Museum of Art.
Patrick Chang (CWR '06) is an associate for Updata Advisors, Inc., an investment bank specializing in the information technology industry.
Jeffrey Kutsikovich (CWR '06) joined the Bone and Joint Institute of Tennessee's orthopaedic team. Prior to joining the Bone and Joint Institute, Kutsikovich treated patients at Vanderbilt Bone and Joint Clinic in Franklin, and served as Assistant Professor of Orthopaedic Surgery at Vanderbilt University Medical Center.
Ken Gamboa (MGT '07) is director of marketing and business development for the Tri-Cities Cancer Center in Kennewick, Washington.
Emily Muzzarelli (CWR '10; GRS '11, civil engineering) is the assistant city manager in Morgantown, West Virginia.
Lori Ann Terjesen (GRS '11, art history and museum studies) is director of education for the National Women's History Museum in Alexandria, Virginia. Terjesen develops, presents and oversees programs and projects that interpret the museum's mission with special emphasis on the history of American women.
Ronnie Ursin (NUR '11) is treasurer for the Association of Black Nursing Faculty, Inc. in London.
Erika Dunyak (LAW '17) is a clinical fellow in the Harvard Law School Food Law and Policy Clinic. She leads the Farm Bill Legal Enterprise, a consortium of legal scholars focused on improving the farm bill.
Fahreen S. Velji (LAW '17) joined the individual practice area in the New York office of Outten & Golden LLP employee rights law firm.
Published December 1, 2017
Charles Acker (LAW '63) is proud to announce that his daughter, Christi, is the New York Supreme Court Justice for the 9th Judicial District, including the counties of Westchester, Putnam, Orange, Rockland and Dutchess.

Janice Steirer (CLC '66) and her husband Michael, a retired educator, celebrate their 50th wedding anniversary on Dec. 23, 2017. Jan taught second grade in the Cleveland schools and then raised four daughters. She enjoys traveling throughout the world and is a planning a trip to Panama in January.

Lee Davis (WRC '73) has retired, after 35 years as a school psychologist. While mental health issues in the U.S. have changed drastically during his career, he credits his undergraduate and graduate school programs for preparing him well.

Janette (Jan) Engle Lewis (NUR '73, '76) married Steve Fisher in August 2017. They live in Baja California, Mexico, where Jan is mental health consultant/educator at a women's shelter and helping Steve with a book about his five decades in Africa, where they first met 40 years ago.

Sam Srinivasan (MGT '73) has joined the board of directors Attivo Networks, a developer of deception technology for cybersecurity defense.

Michael Goler (LAW '77) received the Bob Rosewater Memorial Award for Meritorious Service to The Real Estate Section of the Cleveland Metropolitan Bar Association in recognition of his long-term service to the Bar Association's Real Estate Law Section, his expertise in the practice of real estate law and his commitment to community service in Greater Cleveland. Goler, a partner in the law firm Miller Goler Faeges Lapine LLP, is a past chair of the Real Estate Section, a past chair and regular participant in the Section's annual Real Estate Law Institute, and a founder and first chair of the Bar Association's Environmental Law Section. In 2016, he received the Outstanding Fundraising Volunteer Award from the Greater Cleveland Chapter of the Association of Fundraising Professionals. 

Suzanne Rose (MED '85) has been named senior vice dean for Medical Education in the Perelman School of Medicine at the University of Pennsylvania. Rose, who will begin her new role in February 2018, currently serves as senior associate dean for Education at the University of Connecticut School of Medicine.

Joseph Claude (JC) Gibson (GRS '87, organizational development and analysis) is executive vice president of human resources for HealthSmart, an Irving, Texas, company offering customizable and scalable health plan solutions for self-funded employers.

Kathy Magliato (MED '90), a cardiothoracic surgeon in Los Angeles and a member of Dean Davis' Visiting Committee at CWRU, was selected as one of the 100 Most Intriguing Entrepreneurs in the U.S. by Goldman Sachs. Magliato is developing a cardiovascular diagnostic device for the early, non-invasive detection of cardiovascular disease.
Charles B. Rwabukwali (GRS '93, '97, anthropology) was inducted as a fellow of the Uganda National Academy of Sciences (UNAS) on October 27th in Kampala, Uganda. Rwabukwali is a professor in the Department of Sociology and Anthropology at Makerere University. The UNAS is an honorific organization which serves as an independent platform through which scientists exchange ideas, knowledge and experiences on topical issues that foster national development in Uganda. Rwabukwali is one of only three UNAS members who are social scientists.

Melissa Lichtler (CWR '94; GRS '01, music education), in her 21st year of teaching within the Chardon Local Schools, was featured in the Northeast Ohio's newspaper The News-Herald for her dedication and love of teaching. Lichtler also serves as co-director of the Cleveland Youth Wind Symphony and a cooperating teacher in the CWRU student teaching program.

Heidi B. Friedman (LAW '95), of the Cleveland law firm Thompson Hine LLP, is one of 20 environmental lawyers selected nationally as Fellows by the American College of Environmental Lawyers, a professional association of distinguished lawyers practicing in the field of environmental law.

Jackie Dalton (MGT '96) is assistant vice president for the Federal Reserve Bank of Cleveland. Dalton is responsible for overseeing the consumer compliance and corporate compliance risk teams in the Supervision and Regulation Department.

Shelly Power (SAS '98, MGT '98), artistic director and chief executive officer of the Prix de Lausanne dance competition in Switzerland, has been named the next executive director for the Pennsylvania Ballet. Power will take over Philadelphia's dance company and school full-time.
Laurel Domanski Diaz (MGT '04, SAS '04) is chief operating officer for Neighborhood Family Practice, a primary care provider on Cleveland's near West Side.

Angelina Bair (CWR '08) received a Senatorial Citation from the General Assembly of the State of Ohio on behalf of Senator Sandra Williams, recognizing my academic excellence in the field of Library & Information Science and the completion of a Master of Library Information Science degree Kent State University.

Erin Klug (LAW '09), an intellectual property attorney with the law firm Varnum LLP, was named one of Michigan's "Up and Coming Lawyers" by Michigan Lawyers Weekly. "Up & Coming Lawyers" are attorneys in their first ten years of practice who are establishing a name for themselves, who go above and beyond and who display the ambition drive, determination and accomplishments that set them apart from their peers. Klug has been active for eight years in the Women's Bar Association of Oakland County, currently serving as president. She is also a Director at Large of the Women Lawyers Association of Michigan, which honored her with the organization's Leadership Award. Additionally, Klug is a member of the Animal Legal Defense Fund and Attorneys for Animals.
Jonathan Williams (DEN '09, MED '12, DEN '14) is the new owner of White Mountain Oral Surgery in North Conway, New Hampshire. The practice provides a wide range of services from dental extractions and implants, bone grafting, cleft lip and palate surgery, sinus lifts, treatment and evaluation of head and neck pathology and corrective surgery of the face and jaw. His wife, Laura Williams (DEN '09), joined Eastern Slope Dental in North Conway.
Dawn Columbare (NUR '11) was elected to the board of directors for The Resource Center, a support organization for people with disabilities and their families. Currently working as a nursing education consultant, Columbare retired from Jamestown Community College in 2015 after a 22-year career.
Heather Rybasack (MED '13), a fellow in the Department of Emergency Medicine at the Warren Alpert Medical School of Brown University, is now serving as deputy medical director to the Cumberland Rescue Service in Cumberland, Rhode Island.
Julie A. Micalizzi (LAW '17) joined the Cleveland office of McDonald Hopkins LLC, a business advisory and advocacy law firm, as an associate in the Intellectual Property Department.
Published November 2017
Charles (Chuck) Wiedman (ADL '54, DEN '61) and Dolores (Kasprzak) Wiedman (FSM '55) celebrated their 60th wedding anniversary on August 31, 2017, with family and friends in Frisco, Texas. In addition, Chuck Weidman was inducted into the Ashtabula County (Ohio) Track, Field and Cross Country Hall of Fame in May, 2017.

Michael Cullen (ADL '67; GRS '75, anatomy) was honored with the establishment of the Dr. Michael J. Cullen – Impact Through Innovation Fund at the University of Evansville (UE) in Evansville, Indiana.  He recently retired after 20 years at UE, where he served as professor and chair of biology, and as senior vice president of academic affairs.  Prior to his time at UE, Cullen was a faculty member at the University of Southern California School of Medicine for almost 19 years.  He also was a biomedical researcher at the National Institutes of Health in Bethesda, Maryland, focusing on demyelinating diseases and neuroplasticity.  Cullen and his wife, Ruth, now reside in Franklin, Tennessee.

Richard H. Thaler (ADL '67, HON '03), the Charles R. Walgreen Distinguished Service Professor of Behavioral Science and Economics at the University of Chicago Booth School of Business, was honored by the Royal Swedish Academy of Sciences with the Sveriges Riksbank Prize in Economic Sciences in Memory of Alfred Nobel 2017. Thaler was recognized for his contributions to behavioral economics, a relatively new field that bridges the gap between economics and psychology. Thaler, the author of the bestselling books Misbehaving: The Making of Behavioral Economics (2015) and Nudge: Improving Decisions About Health, Wealth and Happiness (2008), is renowned for creating easy-to-understand scenarios that show how human behavior often contradicts traditional economic logic.

Regis Scafe (ADL '71) is retiring from his position as head football coach from Thomas More College, ending a 45-year coaching career. Scafe was named the PAC Coach of the Year in 2015 and 2016, and was named the D3football.com South Region Coach of the Year in 2015. He has a 127-97 record in 22 years as a collegiate head coach.

Nan Tynberg (GRS '72, romance languages) published Shape: Reading in Three Dimensions, her first non-academic writing. Available on Amazon, the book reflects Tynberg's on the select works of favorite poets and storytellers. 

Ivan Banks (WRC '74) is chair of the department of education and psychology at Alcorn State University in Mississippi. He previously was the director of the Center for Educator Preparation and Certification Services at Alabama A&M University and the former interim executive director for the Vicksburg campus of Alcorn State University.

Walter Copan (WRC '75; GRS '82, chemistry) was confirmed by the Senate as the new director of the National Institute of Standards and Technology. Copan  also holds the title of undersecretary of Commerce for Standards and Technology.

John W. Patton Jr. (WRC '75) is general counsel and secretary to the board of trustees of Charles R. Drew University of Medicine and Science. In 1995, he became the first African American president of the Beverly Hills Bar Association. Patton is a member of the board of directors of CWRU's African American Alumni Association.

Kevin Joyce (WRC '79) is teaching Business Ethics, Law and Communication to MBA students in the Bowling Green State University College of Business.

Amy W. Williams (MED '84), chair of the Department of Internal Medicine at Mayo Clinic in Rochester, Minnesota, received the 2017 Lifetime Achievement Award from the Mayo Clinic Doctors Mayo Society. Throughout her career at Mayo Clinic, Williams has held numerous leadership positions and has served in leadership roles for the American Society of Nephrology, Minnesota Hospital Association, and Women in Nephrology.

David Cooperrider (GRS '86, organizational development) was honored with the Organization Development Network's prestigious Lifetime Achievement Award in October, 2017. The award is given to individuals who have served the profession over an extended period of time, have earned the respect and admiration of professional colleagues and have freely engaged not only contemporaries, but also have been committed to maintain a dynamic connection to all generations of OD practitioners. Cooperrider is the Fairmount Minerals Professor of Social Entrepreneurship at CWRU's  Weatherhead School of Management and founder of the revolutionary theory on Appreciative Inquiry, an approach that examines the positive attributes of organizations in order to solve problems. He has served as an advisor to former President Bill Clinton and Nobel Laureates the Dalai Lama and Costa Rican President Oscar Arias Sanchez. His mentor and former teacher, Peter Sorensen Jr., PhD, also received a Lifetime Achievement Award at the same ceremony.

Aida Saracevic Tanaka (WRC  '86) is the general counsel of Shape Corp., an automotive Tier 1 supplier in Grand Haven, Michigan.

Dixie Benshoff (MGT '88, SAS '88) was inducted into the Ravenna High School Hall of Fame in Ravenna, Ohio. Benshoff received the Academic/Career Accomplishment Award due to her contributions to the field of education and psychology. Formerly a department director at Akron General Medical Center and the Cleveland Clinic, Benshoff is currently adjunct assistant professor of community and family medicine at Northeast Ohio Medical University.

Anthea Daniels (LAW '89) is vice president and general counsel for Akron Children's Hospital.

Sean Higgins (GRS '90, applied physics) serves as an independent director on the board of directors for ShiftPixy, Inc., an on-demand human capital platform that syncs work opportunities from shift-based employers with ready-for-hire workers. Higgins is co-founder and vice president of professional services of Herjavec Group, an information security solutions firm headquartered in Toronto, Ontario.

Matt Medford (CWR '93) promoted to director of mechanical engineering at Symbotic, delivering automated warehouse solutions to companies around the world.

Richard Eubanks Jr. (MED '95), a cardiac, thoracic and vascular surgeon, joined the staff at Memorial Hospital-Golden Triangle in Columbus, Mississippi.

Kristin L. Pruitt (LAW '96) was promoted to executive vice president, chief administrative officer and general counsel for Lake City Bank, a $4.4 billion bank headquartered in Warsaw, Indiana.

Jeffrey E. Janis (MED '98), professor and executive vice chairman of the Department of Plastic Surgery at The Ohio State University Wexner Medical Center, is president of the American Society of Plastic Surgeons, the world's largest organization of board-certified plastic surgeons and foremost authority on cosmetic and reconstructive surgery.

Dana Parker (SAS '98) is working as an independent living donor advocate and a transplant social worker at the University of Colorado Health in Aurora, Colorado, a large multi-organ transplant center performing over 90 living donor transplants in 2017.

John Mansour (MED '99), associate professor of surgery and chief of the Division of Surgical Oncology, received the 2017 Patricia and William L. Watson Jr., MD Award for Excellence in Clinical Medicine. Established in 2009, the Watson Award is The University of Texas Southwestern's highest clinical honor and is bestowed upon an outstanding physician whose work exemplifies the Medical Center's commitment to patient care.

Ed Sproull (CWR '99; GRS '99, computer engineering) retired from Microsoft Corp after more than 17 years. Sproull, who lost his left leg below the knee in a motorcycle accident in 1981, has run more than 40 triathlons, including eight half-Ironman or longer events.

Gina Fridberg (MGT '01) is director of business development at Podolsky Circle, a commercial real estate advisory firm headquartered in Chicago. Fridberg comes to Podolsky Circle from Fifth Third Bank, where she originated and managed more than $400 million in acquisition and construction loans across the U.S.

Marco A. Rodriguez (MED '03), a board-certified and fellowship-trained orthopedic spine surgeon, founded the International Spine Institute in Baton Rouge, Louisiana. Dr. Rodriguez treats a variety of degenerative spinal conditions including herniated disc, sciatica, low back pain, spinal stenosis, neck pain, spondylolisthesis and failed back surgery.

Michael C. Diem (MGT '05) is senior vice president of business and corporate development for Amicus Therapeutics, a global biotechnology company focused on therapies for rare and orphan diseases.

Cynthia Mitchell (LAW '05) is the first woman to be appointed Pueblo County attorney in Colorado.

Elizabeth Sullivan (CWR '05; GRS '05, bioethics) is the co-chair of the Healthcare Practice Group, a team of attorneys providing legal services to individuals and entities throughout the U.S. healthcare industry, for McDonald Hopkins, a business advisory and advocacy law firm. 

Christopher Chan (LAW '07) has been recognized by Asian Legal Business as a Top 40 Lawyer Under 40 in Asia. The list profiles the brightest young legal minds in the region.

Mary Cotton (GRS '08, communication sciences), a speech and language pathologist living in Burlington, Vermont, has joined the board of directors of Vermont Learning-Support Initiative. Cotton works at Champlain Valley Union High School with adolescents who experience a variety of challenges, but primarily those with language impairment and social cognition issues.

Katie Kriegshauser (CWR '09) of Kansas City, MO, became the director and co-owner of the Kansas City Center for Anxiety Treatment, P.A. (KCCAT), a center focusing on evidence-based treatment of anxiety across the lifespan, clinical research and clinician training. KCCAT is one of only a few team-based resources available nationwide offering closely-tailored care for both children and adults with anxiety and related disorders. Kriegshauser and the KCCAT team recently received funding from the National Institute of Mental Health for an early childhood mobile-app-based prevention and early intervention program for anxiety and related conditions.

Emily E. Hoffman (CWR '11), of Northwestern University, received the Society of Women Engineers (SWE) with the SWE Outstanding Collegiate Member award. Hoffman accepted the award at SWE's annual conference in October 2017. The SWE Outstanding Collegiate Member award recognizes outstanding contributions to SWE, the engineering community and a college campus. Hoffman helped to found the graduate SWE group at Northwestern and currently serves at the society level as graduate programming coordinator for GradSWE. Emily also was active in SWE at CWRU.

Debra DeHass Lehr (NUR '11, '12) joined the Nursing Board of the American Health Council.

Ilirjan Pipa (LAW '11, MGT '11) was named a member of McDonald Hopkins,  a business advisory and advocacy law firm. Pipa, who works out of the firm's Cleveland office, has significant experience in securities, mergers and acquisitions, and general corporate transactions.

Brandon Crane (DEN '13) joined the practice of Dr. Thomas R. Hughes at Avon Dental Care in Avon, Ohio. Crane spent the past four years as an officer in the United States Air Force and has provided dental care for the past three years at Holloman Air Force Base in New Mexico.
Mariana Amatullo (GRS '15, management) joined The New School as associate professor strategic design and management, Parsons School of Design Strategies. Amatullo is co-founder and vice president of Designmatters, the award-winning social impact department of ArtCenter College of Design, in Pasadena, Calif. She is the recipient of numerous design and social innovation awards and honors, among them the 2012 DELL Social Innovation Education award for outstanding leadership in teaching and supporting student social innovators, Fast Company's Co.Design 50 Designers Shaping the Future, and the Public Interest Design 100. 

Nicholas Lias (DEN '15) joined the Advantage Dental Clinic in Klamath Falls, Oregon. Lias recently completed then went on to finish a year-long general practice residency at the Louis Stokes VA Medical Center where he helped members of the armed forces.

Brooke Orcutt (CWR '15), a multiple-time All-University Athletic Association player, has been named the assistant women's basketball coach at CWRU.

Judy Tingley (NUR '16), vice president and chief executive officer for Erlanger Health System's Heart and Lung Institute in Chattanooga, Tenn., and an assistant clinical professor of nursing for the Columbia University School of Nursing's Doctor of Nursing Practice program, received the Outstanding Alumni Award from Georgia Southwestern State University.

Carrie Busic (MGT '17), th