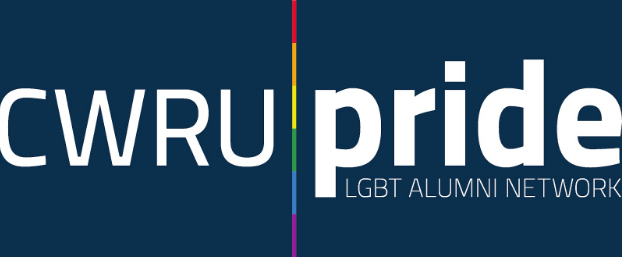 Welcome!
Welcome to the new CWRU Pride Alumni newsletter. This quarterly newsletter serves to inform alumni of upcoming events and news from and about the CWRU LGBTQIA+ community.
---
Upcoming Events
Check the CWRU LGBT Center's Facebook page for updates on Transgender Day of Remembrance, Found Family Reunion and other events. 
Professionals With Pride
October saw the first annual Professionals with Pride event hosted by the LGBT Center in partnership with other campus offices! Students were able to speak to representatives from many companies in the area that have gender and sexuality-inclusive non-discrimination policies. There were also breakout sessions for students including one on the laws that impact LGBTQ employees. For more on the event, check out this Observer article.
---
A Look Back at Homecoming!
The Dessert Reception was a great time! Author Ken Schneck spoke about his new book LGBTQ Cleveland: Images of Modern America, which spans nearly 50 years of Cleveland history.



Dr. Ken Schneck

We also honored Mark Agrast (CWR '78) who is this year's recipient of the CWRU Pride Alumni Award. Mark is currently the executive director for the American Society of International Law and previously served as deputy assistant attorney general in the United States Department of Justice for five years. From his nomination: "Additionally, Mark has served in numerous leadership capacities in the American Bar Association (ABA), including as a member of its Board of Governors and its Executive Committee, a past chair of the Section of Individual Rights and Responsibilities and the Commission on Immigration, and current chair of the Commission on Disability Rights.  He is a longtime member of the ABA's House of Delegates.  Mark co-chaired the National Lesbian and Gay Law Association (now the National LGBT Bar) and served as that organization's ABA delegate. He has been a leader of the World Justice Project since its inception and has played a central role in designing and implementing its Rule of Law Index, a quantitative assessment measure of the extent to which countries adhere to the rule of law." 

We're proud of Mark and his work over the last thirty plus years! 



Mark Agrast (CWR '72)
---
Facebook Group!
We have a new private Facebook group for CWRU LGBTQIA+ alumni!  If you want to join, please contact CWRU Pride Vice President Vari Robinson at vrobinson96@gmail.com. This group is closed so only members can see who else is in the group. 

Also, like our official Facebook page to keep up to date with happenings on campus.
---
Call for Members!
Do you know anyone who should be part of our CWRU Pride Alumni Network and/or would want to receive these emails? If so, ask them to complete this form.

For questions, email cwrualumnipride@case.edu! If you receive these emails and want to be a part of the CWRU Pride Alumni Board and contribute to our meetings and events, please email us, as well.