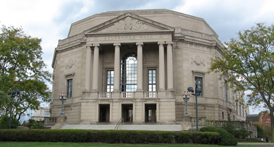 Fall Convocation 2018 will be Wednesday, August 29, at 4:45 p.m. at Severance Hall, 11001 Euclid Ave., Cleveland, 44106 (see map). 
Registration
As part of the common reading program, Sarah Kay will appear on campus as the Elaine G. Hadden Distinguished Visiting Author during Fall Convocation on August 29—the official opening event of the 2018-19 academic year.
Immediately following the convocation, a complimentary reception and book signing will be held in the Tinkham Veale University Center Ballroom. 
The event is free and open to the public. No tickets will be issued. Seating is general admission. Online registration requested.