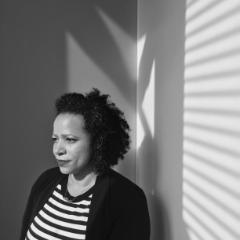 Investigative journalist Nikole Hannah-Jones covers racial injustice for The New York Times Magazine. Recently named a MacArthur Fellow, Hannah-Jones served as the keynote speaker for the 2018 Martin Luther King, Jr. Convocation on January 19, 2018. 
Celebrate the Dream
Each year, Case Western Reserve University honors Martin Luther King, Jr.—the holiday, the man and the legacy—with a celebration that includes a range of activities including workshops, films, panel discussions and acclaimed speakers. All members of the university and the community at large are invited to observe King's holiday and recognize his commitment to social justice and global peace. The 2018 celebration theme is "The Struggle Continues: The King Legacy and Fight for Justice in Education."
2018 MLK Convocation
Nikole Hannah-Jones, New York Times Magazine Staff Writer and 2017 MacArthur Fellow, will headline the 2018 MLK Convocation on Friday, January 19 at 12:45 p.m. in the Kelvin and Eleanor Smith Foundation Ballroom at the Tinkham Veale University Center on the campus of Case Western Reserve University.  Limited self-parking is available in Lot S-29 (Campus Center Parking Garage). Hourly rates apply. View the campus parking map.  
The 2018 MLK Convocation is free and open to the public. No tickets will be issued. Seating is first-come first-serve. Registration is used to help gauge event interest and provide event updates as needed.