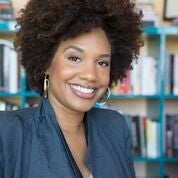 Visual artist and advocate LaToya Ruby Frazier uses photography to capture and explore social inequality and historical change. In her work The Geography of Oppression published in The Atlantic, Frazier documented how King's assassination affected the physical structures of cities. Frazier will be the keynote speaker at the 2019 Martin Luther King Jr. Convocation on January 18.  
Celebrate the Dream
Each year, Case Western Reserve University honors Martin Luther King Jr.—the holiday, the man and the legacy—with a celebration that includes a range of activities including workshops, films, panel discussions and acclaimed speakers. All members of the university and the community at large are invited to observe King's holiday and recognize his commitment to social justice and global peace. 
The 2019 celebration theme is "Through the Lens of Our Stories: The King Legacy Today." Funding requests for programming will be accepted through December 12, 2018. See the Campus Groups page for more details and application instructions. 
2019 MLK Convocation
LaToya Ruby Frazier, acclaimed photographer and video artist, will headline the 2019 MLK Convocation on Friday, January 18 at 12:45 p.m. in the Kelvin and Eleanor Smith Foundation Ballroom at the Tinkham Veale University Center on the campus of Case Western Reserve University.  Limited self-parking is available in Lot S-29 (Campus Center Parking Garage). Hourly rates apply. View the campus parking map.  
The 2019 MLK Convocation is free and open to the public. Advance registration requested via the form below. No tickets will be issued. Seating is first-come first-serve. Registration is used to help gauge event interest and provide event updates as needed.