Whether it's startup funding for interdisciplinary faculty research or increased scholarship support to ensure a student reaches graduation, gifts to the College of Arts and Sciences at Case Western Reserve University are critical to meeting the most pressing needs of our campus community.
Every CWRU undergraduate student benefits from support of the College Fund (the Annual Fund for the College of Arts and Sciences), which fuels scholarships, research and travel for conferences and other professional development experiences.
The same goes for graduate students in the arts, humanities, and the physical, biological and mathematical sciences, who come to the College of Arts and Sciences for focused, specialized study with renowned faculty and academic mentors.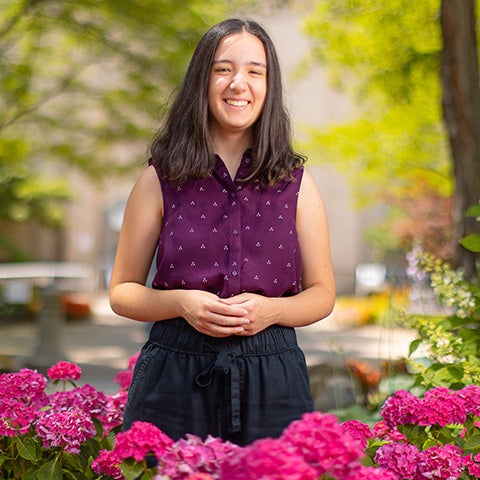 Case Western Reserve University was by far my best option for college, but I was worried I wouldn't be able to afford it. Then I got the financial aid package and I was so relieved. I wouldn't have been able to attend CWRU if not for the scholarships I was awarded." 
 
Johana Guci, Class of 2024, biochemistry
Support Students Like Johana With Your Gift Today!
Recent gifts to the College Fund have been used by:
The Department of Art History and Art to support the Cleveland Symposium, the oldest student-run art history symposium in the United States;
The Department of Astronomy to send undergraduate and graduate students to collect data at observatories in Arizona, Texas and the Canary Islands;
The Department of English to establish the Community Writing Assistance Program, which provides tutoring to adults in communities surrounding the university; and
The Department of Physics to provide annual undergraduate prizes for research and academic achievements.
Additional funding opportunities
Tribute Gifts
Celebrate an achievement or honor a legacy with a tribute gift to the College of Arts and Sciences. Designate your online donation as an honorary or memorial gift to make a difference today, or establish an endowed fund that will have a lasting impact.
Scholarships
Scholarships are essential to recruiting a diverse class of the most qualified students to the College of Arts and Sciences, regardless of financial circumstances.
Planned Gifts
Strategic or planned giving offers simple but powerful vehicles with which to invest in the future of the college. Our staff are ready to partner with you and your advisors to find a plan that meets your personal and philanthropic goals.
Endowed Professorships and Funds
From funding academic awards and experiential learning opportunities to named professorships that propel innovation and research, endowment support is critical to sustaining and growing the offerings at CWRU College of Arts and Sciences.
Thanking you
Alumni and friends are the heroes in our story, past, present and future. That is why we offer a variety of perks at the college and university levels to honor your generosity. Learn more about how we say thank you.
Contact us