Whether you support Case Western Reserve University's Frances Payne Bolton School of Nursing through the Annual Fund, an estate commitment or a major gift, your generosity is vital to our success.
In addition to fueling innovative research and education initiatives, your gift enables Case Western Reserve University to provide nursing students with a path to graduation—regardless of their financial circumstances—and assemble a world-class faculty.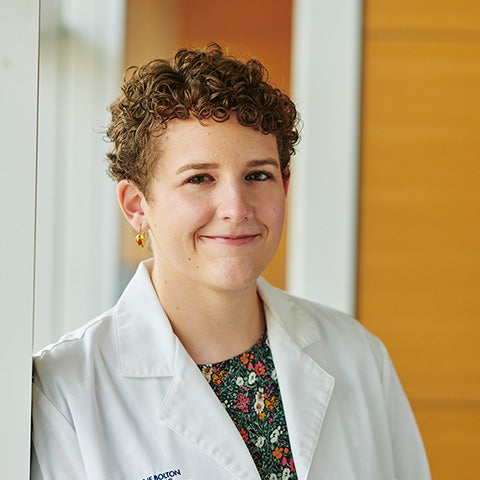 Without awards like this, it would be difficult to complete this research. This support allows someone like me to move forward in my career and hopefully be able to give back one day to Case Western Reserve, to the nursing profession and to the broader patient community."
Julia O'Brien, PhD (CWR '14; GRS '21, nursing), Joyce M. Stielau Award recipient
Funding opportunities 
What's your passion? Help catalyze cutting-edge research, support developing leaders or give back to the Cleveland community by designating a gift to your area of interest.
Annual giving
Beyond supporting the operating budget, a gift to the Annual Fund allows Frances Payne Bolton School of Nursing to stay on the forefront of nursing education by consistently upgrading teaching tools and student resources.
Planned gifts
Strategic or planned giving offers simple but powerful vehicles with which to invest in the future of Frances Payne Bolton School of Nursing. Our staff are ready to partner with you and your advisors to find a plan that meets your personal and philanthropic goals.
Endowed professorships, chairs and funds
From funding academic awards and experiential learning opportunities, to named professorships that propel innovation and research, endowment support is critical to sustaining and growing the offerings at Frances Payne Bolton School of Nursing. See existing endowed chairs.
Tribute gifts
Whether you're celebrating an achievement or the life of a loved one, a tribute gift to support nursing at Case Western Reserve is a meaningful way to mark the occasion. Designate your online donation as an honorary gift, or recognize the legacy of a fellow alum with your contribution to the Frances Payne Bolton School of Nursing Alumni Memorial Scholarship Fund (contact Sara Schoonmaker, assistant director of special giving & stewardship, at 216.368.4416 or sara.schoonmaker@case.edu for more information).
Leaders Scholarship Fund
Scholarships reduce barriers to access and lessen the financial burden for underrepresented minorities pursuing a nursing education. Your gift to the Leaders Scholarship Fund enables Frances Payne Bolton School of Nursing to train a workforce that reflects the diverse communities they serve.
Stethoscope ceremony
At Frances Payne Bolton School of Nursing, first-year nursing students are presented with a stethoscope before they begin clinical rotations as a symbol of their new role and responsibility to uphold the highest standards of care. Support from alumni and friends is critical to sustaining this beloved tradition.
Marian K. Shaughnessy Nurse Leadership Academy
Named in honor of alumna Marian Shaughnessy (NUR '85, '17), this leadership academy at Frances Payne Bolton School of Nursing offers fellowships for nurses at every stage of their career, with curricula designed in partnership with CWRU Weatherhead School of Management. Support of the Shaughnessy Nurse Leadership Academy empowers nurses to catalyze change in healthcare by providing a foundation of knowledge and a leadership network.
2022 U.S. News & World Report Rankings
#5
Bachelor of Science in Nursing
#11
Master of Science in Nursing
#15
Doctor of Nursing Practice