Weatherhead School of Management at Case Western Reserve University provides an immersive educational experience for learners at every level—from undergraduate students at the start of their career to established professionals pursuing advanced training—thanks to the support of alumni and friends like you.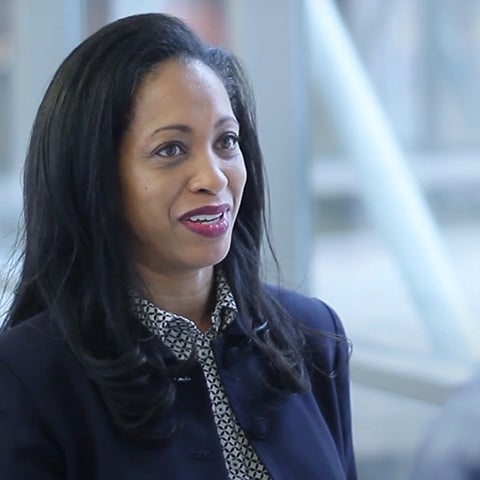 Because of Weatherhead, I have a great foundation for business knowledge that I believe has spurred career-long development."
Jackie Dalton, (MBA '96), vice president of strategy and engagement at Federal Reserve Bank of Cleveland
Your gift to the Weatherhead School of Management Annual Fund is a powerful investment in an outstanding management education today that shapes the leaders of tomorrow.
Your support can fuel:
student scholarships, enabling us to competitively attract top-caliber students regardless of their financial circumstances;
faculty fellowships, helping to attract and retain industry leaders by providing outlets for groundbreaking research and interdisciplinary initiatives; and
centers such as xLab and the Fowler Center Business as an Agent of World Benefit, which leverage corporate partnerships to shape the future of business through research, collaboration and digital innovation.
Make Your Gift to Weatherhead School of Management Today
Funding opportunities
Annual giving
Beyond supporting the operating budget, a gift to the Annual Fund allows Case Western Reserve's Weatherhead School of Management to stay on the forefront of business education by consistently upgrading teaching tools and student resources.
Tribute gifts
Celebrate an achievement or honor a legacy with a tribute gift to Weatherhead School of Management. Designate your online donation as an honorary or memorial gift to make a difference today, or establish an endowed fund that will have a lasting impact.
Endowed professorships
Endowed professorships at Weatherhead School of Management reduce the student-to-faculty ratio and enable us to direct money that would otherwise be spent on salaries toward research endeavors, professional development opportunities and experiential learning for students.
Faculty fellowships
Faculty fellowships allow the Weatherhead School to attract and retain acclaimed faculty committed to teaching, scholarship and service, by underwriting the faculty member's salary and associated expenses.
Student scholarships
Learn about scholarship funds established by alumni and friends that allow Weatherhead School of Management to recruit top-caliber students of all backgrounds in an increasingly competitive business school environment.
Planned gifts
Strategic or planned giving offers simple but powerful vehicles with which to invest in the future of Weatherhead School of Management. Our staff are ready to partner with you and your advisors to find a plan that meets your personal and philanthropic goals.
The Weatherhead Venture Society
The Venture Society recognizes the school's loyal supporters who make a significant leadership investment in the Weatherhead Annual Fund. By providing unrestricted support at $1,000+ per year, Venture Society members pave the way for the next generation of management leaders. Join the Venture Society.
Contact us