With a gift to Case Western Reserve University School of Dental Medicine, you join generations of alumni, faculty and community partners whose generosity enables us to provide a world-class education with hands-on experiences.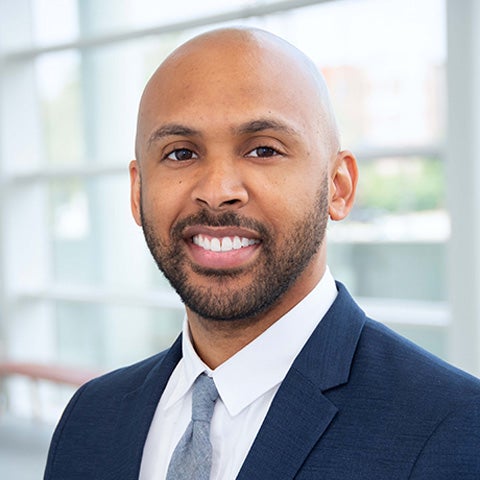 Yes, this scholarship will free up money to help me care for my family. But on top of that, it releases a mental burden, which will help me really focus on my studies."
Otis Bevel, Class of 2023, Molina Dental Scholarship recipient
Your gift can support:
State-of-the-art facilities and tools, including our dental simulator labs, practice management software and digital X-ray equipment;
student scholarships, allowing CWRU to competitively recruit a skilled and diverse class;
a world-class faculty to shape the next generation of dental professionals; and
our community engagement programs, including our dental clinic, which provides quality care to Greater Cleveland while offering hands-on experience to students.
Funding opportunities
Annual giving
Beyond supporting the operating budget, a gift to the Annual Fund allows the School of Dental Medicine to stay on the cutting edge by consistently upgrading teaching tools, including the dental simulator labs, practice management software and digital X-ray equipment.
Partners in Progress
The Partners In Progress (PIP) program was established in 1999 as a way for alumni to help advance the School of Dental Medicine through multi-year Annual Fund commitments. Over the past two decades, the well-recognized "PIP program" has become a vital source of sustained support.
Dental Clinic sponsorships
Explore opportunities for naming rooms and spaces at our dental clinic by speaking with a member of our team.
Tribute gifts
Celebrate an achievement or honor a legacy with a tribute gift to CWRU School of Dental Medicine. Designate your online donation as an honorary or memorial gift to make a difference today, or establish an endowed fund that will have a lasting impact.
Scholarships
Scholarships are essential to recruiting a diverse class of the most qualified students to Case Western Reserve University School of Dental Medicine, regardless of financial circumstances.
Planned gifts
Strategic or planned giving offers simple but powerful vehicles with which to invest in the future of the School of Dental Medicine. Our staff are ready to partner with you and your advisors to find a plan that meets your personal and philanthropic goals.
Endowed professorships and funds
From funding academic awards and experiential learning opportunities, to named professorships that propel innovation and research, endowment support is critical to sustaining and growing the study of dentistry at Case Western Reserve University.
Honoring your generosity
In addition to recognition from Case Western Reserve University, the School of Dental Medicine is pleased to celebrate donor support through membership in giving societies and access to special events and publications.
School of Dental Medicine Giving Societies
The 1892 Society celebrates those with lifetime gifts of $25,000 and above.
The Dean's Society recognizes gifts of $1,000 or more to the School of Dental Medicine during the fiscal year (July 1–June 30)
The Starting Now Society honors first time donors, primarily graduates of the last decade, who make their first three-year pledge of support to the school.
Celebration of Philanthropy Donor Brunch
Each Homecoming and Reunion Weekend, we gather to celebrate the achievements of those whose philanthropic leadership has made an impact at CWRU School of Dental Medicine. Invitations to this event are extended each August in recognition of the previous fiscal year's giving (July 1 through June 30).
Additional events throughout the year provide donors with exclusive opportunities to meet with faculty and students, learn about our latest research and creative endeavors, tour CWRU's world-class facilities, and engage in dialogue with school and university leadership.
For more information, contact the Office of Development & Alumni Relations at 216.368.5758 or email dentalalumni@case.edu.
Contact us
Mailing Address
Office of Development and Alumni Relations
School of Dental Medicine
Case Western Reserve University
10900 Euclid Avenue
Cleveland, OH 44106-7342
Phone: 216.368.3480 or 877.468.1436
Fax: 216.368.3204
Visitors & Deliveries
Samson Pavilion
9501 Euclid Avenue, Room 431
Cleveland, OH 44106