Class is in Session
Did you know you have a greater chance of staying active and achieving your fitness goals if you attend group exercise classes? Research shows it. We have over 80 classes per week and have the choices to keep you motivated and challenged. And all group exercise classes are free for One to One members! Peruse the One to One Group Exercise calendar online, add our classes to your personal calendar, share them with your friends or print out the season's schedule.
Please note: Our May schedule is a continuation of our Jan-April 2018 schedule, with just a couple instructor changes (click the schedule button!).
Our summer schedule will be out for June-August!
Group Exercise Class Schedule Group Exercise Class Description
Class highlights in 2018! 
Here are a few highlights on the 2018 schedule!
Start your week off with Pamela and Cycle 60 - Mondays at 6:00am!
Wind down on Tuesday nights with Katie K and Yoga Flow - Tuesdays at 7:00pm!
By popular demand, Kieonna hosts "Strength & Power" - Thursdays at 5:30pm!
Have you tried Barre? Andrea would love to have you join her - Thursdays at 7:00pm
End your work week with Ellie and Yoga Flow - Fridays at 5:30pm
A perfect way to prepare for the week ahead is Yoga for Stress Relief with Ellie - Sundays at 4pm.
Have you tried  STRONG by Zumba with Suzi,  PiYo with Brandy, or Pound Fitness with Nicole? Check them out on the schedule!
Get challenged, stay safe
Our talented, top-trained instructors design each class to challenge you in a safe way that keeps you engaged and improves your fitness. But before diving into the next session, take some tips:
Wear comfortable workout attire for the discipline and proper footwear.
Ask the instructor to help you learn target heart rate and understand heart rate response.
Give your body time to adapt to the exercise.
Drink water before, during and after exercise to prevent dehydration and muscle cramps.
If you arrive late or leave early, you should still warm up, cool down and stretch.
Do not enter if 15 or more minutes late.
Notify your instructor if you have special conditions or concerns (i.e., pregnancy, diabetes, fasting or surgery).‌
---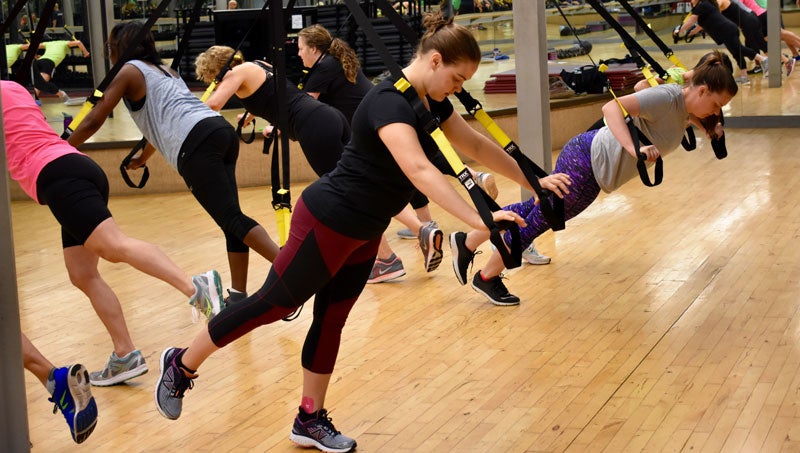 Group Exercise vs. Small Group Training.  What is the difference? 
Our main group exercise classes are free to all 121 members and guests! ‌View the current schedule via the buttons above!
Our Small Group Training classes (TRX, Kettlebell, Total Body Training and Boxing Burnout) and Pilates Reformer allow you to work more closely with the certified instructor in a small group setting for a small additional fee.  ALL MEMBERS can try a small group training class for FREE!  You will love these classes - check them out!