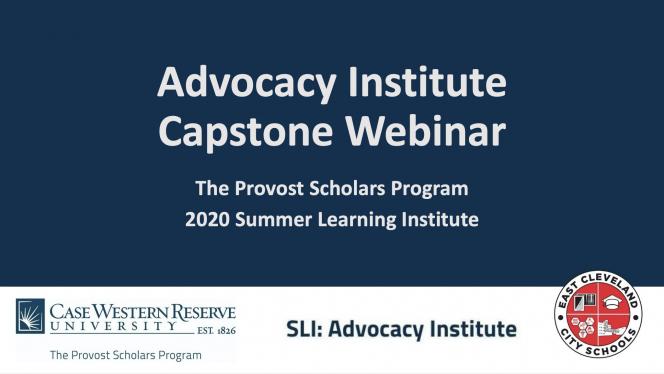 2020 Summer Learning Institute
Overview: Strengthening Scholarship through Academics and Advocacy
The SLI program—a major component of the Provost Scholars Program—is a rigorous program in academic excellence and social emotional learning (traditionally exclusive to the rising 9th grade Provost Scholars. The four-week program includes ACT test preparation, advanced academic coursework (with an emphasis on math and science), as well as engagement in Advocacy Workshops culminating in a Capstone Presentation (via Webinar). The SLI will expand how Scholars will continue to improve their academic performance and integrate the development of leadership capacity through the applied work of the Advocacy Workshops. These workshops will include an emphasis on building leadership capacity by creating an intersection of academics and advocacy.
Participants: Current Provost Scholars
Schedule: July 13, 2020 – August 7, 2020
Learning Objectives:
Strengthen scholarship through ACT preparation and personalized academic coursework

Build social/emotional intelligence through active participation in advocacy workshops
Honorarium & Expectations: Attendance & Participation
SLI Participants will be compensated in the amount of a check from Case Western Reserve University (CWRU) for $300 made out to the Scholar upon completion (exact date TBD). SLI participants must have perfect attendance and complete ALL components of the program including assigned course work (ACT prep and core subjects), workshops, portfolio development & submission, and a capstone presentation. Lateness or absence from synchronous (or failing to report asynchronous) activities without a valid parental excuse will void compensation.
Faculty:
*Eva Barrett: CWRU Senior/Student Worker; Sociology/History major; Lead Teaching Artist at Twelve Literary Arts
Paula Elder: Coordinating Faculty, Director, Curriculum and Instruction, East Cleveland City Schools
Faye Gary: EdD, RN, FAAN, Program Director, Endowed Professor of Nursing & Appointment in Psychiatry, CWRU
*Kate Klonowski: Licensed 7-12 ELA Educator; M.Ed. in Educational Technology; Ph.D. candidate in Education
*Lisa Kollins: Administrator, Schubert Center for Child Studies; M.A. in Judaic Studies; Director of the Superhero Project
Lee Thompson: PhD, Assoc. Program Director, Assoc. Dean of Arts & Sciences and Prof. of Psychological Sciences
*Livia Timpanarro-Perrotta: MSMP, Honors in Clinical Neuroscience; Mentor; ACT Tutor Coordinator
David VanLeer: Retired school administrator, Program Volunteer
* Denotes core instructor. Visiting instructors for the ACT and AI will join as well.
Expectations: Attendance & Participation
Each participant will be compensated in the amount of $300 with a check made out to the Provost Scholar following the successful completion of the program.  
The following requirements MUST be met without exception to receive the $300 honorarium:
Perfect Attendance

(on-time and present for the entirety of the scheduled online activities)

Active Participation

(e.g. taking notes, online discussions, asynchronous lessons, and workshops)

Professional Behavior

(a respectful demeanor will be expected – please refer to our

Code of Conduct

)

Portfolio Completion

(each participant will maintain and submit a portfolio documenting their process)

Capstone Presentation

(participants will share work with families and the community on August 7th)
Required Materials:
A working computer/laptop/chromebook that can support the google suite of apps

All components of this program are in a virtual environment and will require the participant to have access to a computer (camera is encouraged but not mandatory), and internet access. If there is a need for either of these, please contact the Program Coordinator, Ms. Kate, at (216) 534-3498 or

kak121@case.edu

for assistance.

A webcam (or a mobile phone with a camera feature)

Headphones (optional—helpful if you are in noisy surroundings)

The following free apps (on your phone and/or computer):

Zoom Meeting Room: https://cwru.zoom.us/my/provostscholars

Google Classroom: t7n4lc5 (use EC email to log in)

Khan Academy Class Code: PA5D77NW

Google Sites

Google Slides

Google Docs

Google Meet (possibly for meeting on your own/in small groups)

Remind (our class code is @sli202)

The Kindle app (Amazon)