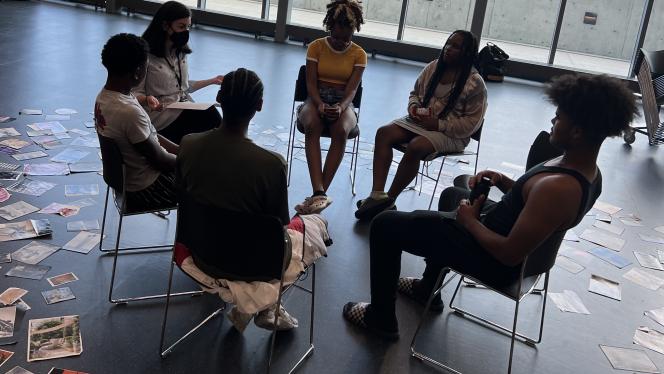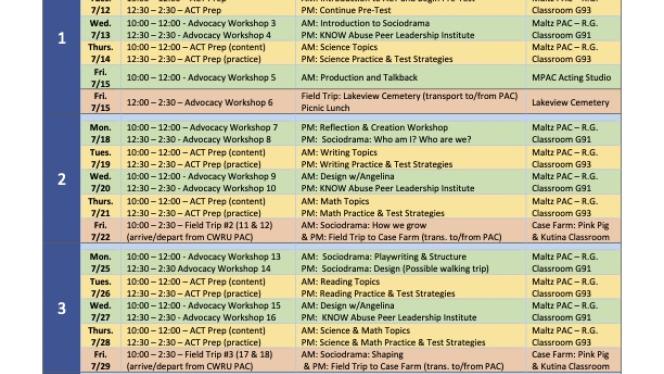 2022 Summer Learning Institute Syllabus
Overview: Strengthening Scholarship through Academics and Advocacy
The SLI program—a major component of the Provost Scholars Program—is a rigorous program in academic excellence and social emotional learning for new and current Provost Scholars. The four-week program includes ACT test preparation, advanced academic coursework, as well as engagement in Advocacy Workshops culminating in a Capstone Presentation (live & via Webinar). The SLI will expand how Scholars will continue to improve their academic performance and integrate the development of leadership capacity through the applied work of the Advocacy Workshops. These workshops are designed to explore the intersection of academics and advocacy through the lenses of biological science and performance art.
Participants: New & Current Provost Scholars
Location: Case Western Reserve University – Maltz Performing Arts Center – 1855 Ansel Rd., Cleveland, OH
Schedule: July 11, 2022 – August 5, 2022 (Monday – Friday 10:00 AM – 2:30 PM) Lunch will be provided
Primary Learning Objectives:
Strengthen scholarship through ACT preparation & individualized in-person and virtual coursework
Participants will engage in ACT preparation with CWRU Graduate Medical Students and Provost Scholars alums in our hybrid classroom at CWRU using GoSchoolBox. They will use resources from Kaplan, Princeton Review, and others to ensure high-quality and effective test preparation, and be taught by individuals who have excelled at these exams themselves. Virtual instruction will be facilitated by in-person faculty as well.
Build social/emotional intelligence through active participation in advocacy workshops and field trips
Programming is based on previous summer learning institute programming and integrating the five CASELSocial/Emotional core competencies: self-awareness; self-management; social awareness; relationship skills; and responsible decision-making. Through developing their own ideas to support community, SLI participants can promote positive outcomes for themselves and their peers.
Expectations: Attendance & Participation
Each Scholar will be compensated in the amount of $400 with a check made out to the Scholar following the successful completion of the program. 
The following requirements MUST be met without exception to receive the $400 honorarium:
Perfect Attendance

(on-time and present for the entirety of the scheduled online activities)

Active Participation

(e.g. taking notes; completing lessons; participating in discussions and workshops)

Professional Behavior

(a respectful demeanor will be expected – please refer to our

Code of Conduct

)

Portfolio Completion

(each participant will maintain and submit a portfolio documenting their process)

Capstone Presentation

(participants will share work with families and the community on August 6th)
Some components of this program may require the Scholar to have internet access and a computer (camera is encouraged but not mandatory). If there is a need for either of these, please contact the Program Coordinator, Ms. Kate, at (216) 534-3498 or kak121@case.edu for assistance.
Coordinating Faculty Team:
Ryan Bennett*: Coordinator, Farm Food Program, University Farm, CWRU
Christopher Bohan*: MFA, AEA/SAG-AFTRA, Instructor of Acting, Department of Theater, CWRU
Steven Box*: Farm Administrator, Case Western Reserve University Farm, CWRU
Samantha Clarke*: Comprehensive Community Advocate, Jewish Family Service Association of Cleveland (JFSA)
Faye Gary: EdD, RN, FAAN, Program Director, Endowed Professor of Nursing & Appointment in Psychiatry, CWRU
Angelina Herin*: Associate Professor of Theater, Resident Costume Designer, CWRU
Kate Klonowski*: Licensed 7-12 ELA; MJE; MEd in Educational Technology; PhD candidate in Education
Jonas Portillo*: University Farm, CWRU
Lee Thompson: PhD, Assoc. Program Director, Assoc. Dean of Arts & Sciences and Prof. of Psychological Sciences, CWRU
Livia Timpanaro-Perrotta*: MSMP, Honors in Clinical Neuroscience; Mentor; ACT Tutor Coordinator, CWRU
*Denotes core instructional faculty. Other guest instructors will join for AI and ACT programs.