Founded in December 1987, the Chicago chapter is one of the longest-standing CWRU alumni chapters. We are always looking for energetic volunteers and new ideas. If you are interested in learning more about the Chicago chapter or getting involved, please contact: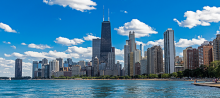 Jody Bonhard

Assistant Director, Chapter and Regional Programming

Jody.E.Bonhard@case.edu

216.368.4806

We will connect you with the local chapter leadership.
Like us on Facebook to view current and upcoming events in your area!