The Columbus chapter of The Alumni Association was established in July 1989 and is always looking for energetic volunteers to support the chapter and its mission. For more information and to become more involved, contact: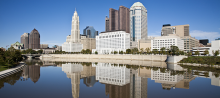 Kristofer Reiber
Assistant Director, Chapter and Regional Programming
Kristofer.Reiber@case.edu
216.368.2418
 
We will connect you with the local chapter leadership.
Like us on Facebook to view current and upcoming events in your area!