Where we've been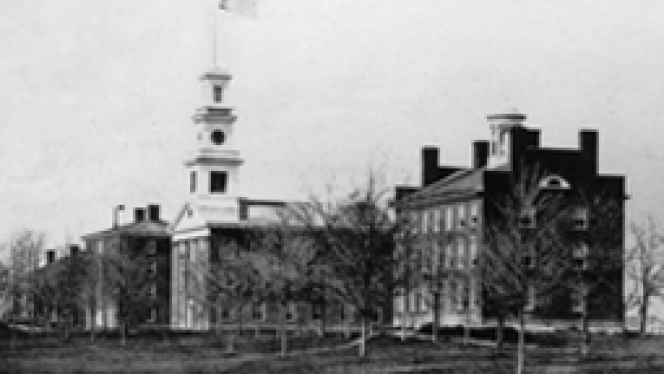 Case Western Reserve has a rich history.
Established Advocates
Case Western Reserve University and the institutions from which it was formed, have a rich heritage of challenging inequality. Through the efforts of the Social Justice Institute, the university is committed to following in the legacy of its social justice pioneers. Below is a sampling of a few of the university's most influential leaders.‌‌‌
Charles Backus Storrs was serving as a professor of theology when, in 1831, he was asked to assume the presidency of Western Reserve College.  Abolitionist sentiment was strong among the students and faculty from the early 1830s and President Storrs was an active champion in an ideological battle against several of the college's trustees. When he died of consumption, he was considered a national martyr to the cause of abolitionism.
‌Florence Ellinwood Allen received a Master of Arts from Western Reserve University in 1908. She sought admission to the law school, but was denied because she was a woman. After receiving her JD elsewhere, she was admitted to the Ohio Bar and was involved with the suffrage movement. Allen headed the university committee that opened legal and medical education here to women. In addition, she was the first woman appointed Assistant County Prosecutor of Cuyahoga County (1919) and the first woman elected to the Court of Common Pleas in the County (1920). She was the first woman elected to the Supreme Court of Ohio (1922) as well as any state Supreme Court. She was also the first woman appointed to the Federal Circuit Court of Appeals, serving the Sixth Circuit 1934. She was named the chief judge in 1958.
Reverend Bruce W. Klunder was a Presbyterian minister and civil right activist, born in Colorado. Klunder graduated from Yale Divinity School and came to Cleveland in 1961 as assistant executive secretary of the Student Christian Union at Western Reserve University.  He quickly became involved in the city's civil rights fight, including serving as the head of the local chapter of the Congress of Racial Equality (CORE).  Among other actions, Klunder led a restaurant sit-in in Sewanee, Tennessee in 1962. He died in 1964 when he was run over by a bulldozer while protesting the construction of a segregated school here in Cleveland. Klunder's death polarized the Cleveland community - some saw the incident as the result in a breakdown of law and order, while others viewed his sacrifice as an act of love.  He is one of 41 individuals listed as civil rights martyrs at the national Civil Rights Memorial in Montgomery, Alabama.
Robert W. Morse, former president of Case Western Reserve University. Morse denounced the National Guard's shooting of protestors at Kent State University in 1970. He characterized the police response an "act of assassination against American youth" at a time when few university administrators dared entangle themselves in social movements.  During his tenure, he also oversaw the creation of the Urban and Environmental Studies program.
Jean Murrell Capers graduated from Western Reserve University in 1932 with a degree in education and, after years teaching in Cleveland, received a law degree from Cleveland Law School.  When Capers was elected to the Cleveland City Council in 1949, she became the first African American woman elected to the city council of any major city in the United States.  She later served in the Attorney General's office, was an original member of the Women's Advisory Council of the Ohio Bureau of Employment Services and, in 1977, was appointed a Cleveland Municipal Court Judge.  During her time on the City Council, she often spoke out against segregation and continued to fight for social justice throughout her career.
Jean Donovan, a volunteer and missionary who helped provide necessities for struggling El Salvadorians as the country was in the midst of civil war. The graduate of Case Western Reserve University Weatherhead School of Management was murdered alongside three nuns by a U.S.-trained military death squad during the deadly war.
Fred Gray, a Case Western Reserve University alumnus, is a member of the Alabama House of Representatives, as well as an attorney, preacher and activist. He litigated several major civil rights cases, including some that reached the United States Supreme Court for rulings. Gray represented Rosa Parks, who refused to give up her seat on a city bus to a white man, and was also Dr. Martin Luther King Jr.'s first civil-rights lawyer. He served as the President of the National Bar Association in 1985 and in 2001 was elected as the first African-American President of the Alabama State Bar.
Congressman Louis Stokes, a Case Western Reserve University alumnus, was the first African American member of Congress from the state of Ohio. His career focused on advocacy for the poor and disadvantaged—especially those in urban America. Among his other legislative efforts was his sponsorship of programs for minority professionals in health, science and engineering. After completing his 33-year career in Congress, Stokes joined the faculty of the Jack, Joseph and Morton Mandel School of Applied Social Sciences at Case Western Reserve University as a distinguished visiting professor.
Stephanie Tubbs Jones, a congresswoman and Case Western Reserve University alumna. She was one of Ohio's modern-day political pioneers. An advocate of health care coverage for low- and middle-income people and a leader in the fight against predatory lending practices, Jones was also the first African American woman from Ohio elected to the U.S. House of Representatives.
To learn more about social justice initiatives at Case Western Reserve University and how you can be involved, contact the Social Justice Institute at 216.368.7568 or socialjustice@case.edu.