Making Strides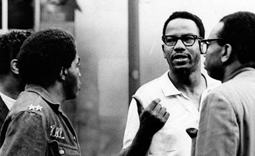 Working toward equal access to opportunity for all people through understanding and addressing the root causes of social injustice and developing innovative solutions.
Like any other community or institution, Case Western Reserve University has not always been on the right side of social justice issues. Throughout its history, Case Western Reserve has not been immune to gender and racial discrimination or neighborhood tensions.
Today—more than ever—achieving greater inclusion on campus and improving university-community relations remain the significant challenges and goals for the Social Justice Institute and the university.
The institute—through cooperation, communication and collaboration—achieves the following goals:
Supporting innovative and synergistic research, scholarship and pedagogy;
Building and supporting social justice leaders; and
Forging productive relationships across boundaries within the university and into the community.
To learn more about social justice initiatives at Case Western Reserve and how you can be involved, contact the Social Justice Institute at 216.368.7568 or socialjustice@case.edu.