One of the Nation's Top Universities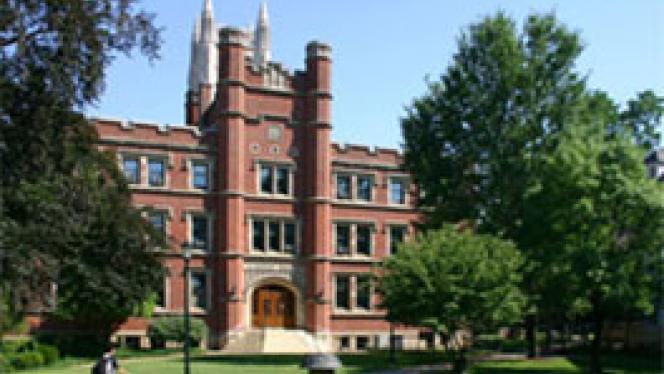 Case Western Reserve University—a leader among independent research universities—offers world-class academic programs in Cleveland's culturally vibrant University Circle. Learn more about a CWRU education.
The Social Justice Institute weaves together the richly diverse contributions of scholars from varying disciplines and schools to inspire the next generation of informed, critically-thinking promoters of social justice.
SJUS 100: Introduction to Social Justice
Concepts and quests for justice, and struggles against injustice, have shaped human understanding and community relationships for centuries. Probing broad questions, our signature course, Social Justice 100, encourages students to think critically and expansively about the social world and the conditions of humanity.  The course provides a foundational exploration of social justice concepts, issues and remedies, thereby developing the necessary analytical tools and information to assess inequality and address issues. Various instructors from our dynamic leadership team teach the class, which focuses on a interdisciplinary method of thinking and in-depth case studies
SJUS 100 is offered each Spring semester. Our Spring 2022 instructor is Braveheart Gillani, a PhD student at the Mandel School of Applied Social Sciences. As of November 17, 2021, the Spring 2022 course is at capacity.
Minor in Social Justice
To better prepare today's students for the range of opportunities to make a difference in their communities and in the world, the Institute offers an interdisciplinary undergraduate minor in social justice that is open to students from all participating schools. 
The Social Justice Minor prepares students across the university to address local, national and global inequities. The curriculum emphasizes history, theory and practice of social justice work; the distribution of power, resources and opportunities; and appropriate individual and collective remedies for social justice.  The minor is a total of 15 credits, including the required core course, SJUS 100 (see above).
Ready to declare a Minor in Social Justice? Fill out the Minor Declaration Change Form and have it signed by SJI Co-Director and Minor Advisor​​​​​​ Dr. Mark Chupp. Then, take it to your navigator to have it submitted.
In addition to Introduction to Social Justice, students must also take one course from each Focus Area listed below, plus one additional course from any Focus Area. These classes come from multiple departments and address crucial issues in diverse voices. This interdisciplinary approach is a crucial component of the Social Justice Minor.  Students may also petition for relevant SAGES seminars to be approved as an elective for the minor; a petition form must be completed for each course.  If the course is approved, students must submit the Academic Advisement Report with appropriate signatures to the Office of Undergraduate Studies.
Please note: not all courses are offered every semester and additional courses continue to be added to the approved list.
Focus Area 1: Ethics, Politics and Economics
Are existing arrangements just? To what extent are current thought systems amenable to change? What are the preferred alternatives and how can they be realized?
Approved courses include:
HSTY/ETHS 393—History of Race
PHIL 316—Topics in Philosophy: African Political Thought
PHIL 325/425—Philosophy of Feminism
PHIL 334/POSC 354/454—Political and Social Philosophy
PHIL 384—Ethics & Public Policy
Focus Area 2: Social Inequality, Power and Privilege
What is a fair distribution of resources? How do cultural practices, social relations, social structures and institutions reproduce, reduce, or eliminate inequalities? What are the consequences of social inequality for health, development and well-being of individuals and communities? How are distributions and uses of power connected to social inequalities?
Approved courses include:
ETHS/WGST/FRCH/WLTI 335/435—Women in Developing Countries
HSTY 208—Social History of Crime
HSTY 257—Immigrants in America
HSTY 259/ETHS 252B—Intro to Latina/o Studies
HSTY/WGST/ETHS 318—History of Black Women in the U.S.
HSTY 363/463—Gender in America
MPHP 101—Introduction to Public Health
ORBH 370—Women and Men as Colleagues in Organizations
RLGN 338/WGST 339—Black Women and Religion
SOCI 202—Race and Ethnic Minorities in The United States
SOCI 326/WGST 326—Gender, Inequalities, and Globalization
SOCI 349—Social Inequality
SOCI 366—Racial Inequality and Mass Imprisonment in the U.S.
SPAN 342—Feminist Voices in Latin American Literature
WGST/SOCI 201 (cross-listed as ENGL/PHIL/HSTY/RLGN)—Introduction to Women's and Gender Studies
Focus Area 3: Social Movements and Social Change
What are competing models of social change? What role have social movements played in U.S. and global history? How do social movements form? How have states responded to social movements? What is the relationship between democracy and social movements? How have different technological innovations advanced or impeded social movements? What are the necessary knowledge and skills to implement social change?
Approved courses include:
HSTY/ETHS 280—History of Modern Mexico
HSTY 381—City as Classroom
POSC 322—Political Movements and Political Participation
POSC 346/446—Women and Politics
SASS 369—Social Networking and Community Organizing in the 21st Century
SOCI 328—Urban Sociology
SOCI 380—Social Movements and Social Change 
SPAN 315—Latin American Cultural Conflicts
To learn more about the Social Justice Minor or to meet with an SJI Advisor, contact the Social Justice Institute office at 216.368.7568 or socialjustice@case.edu. 
Visit our departmental partners to learn more about the courses, instructors and curricula: