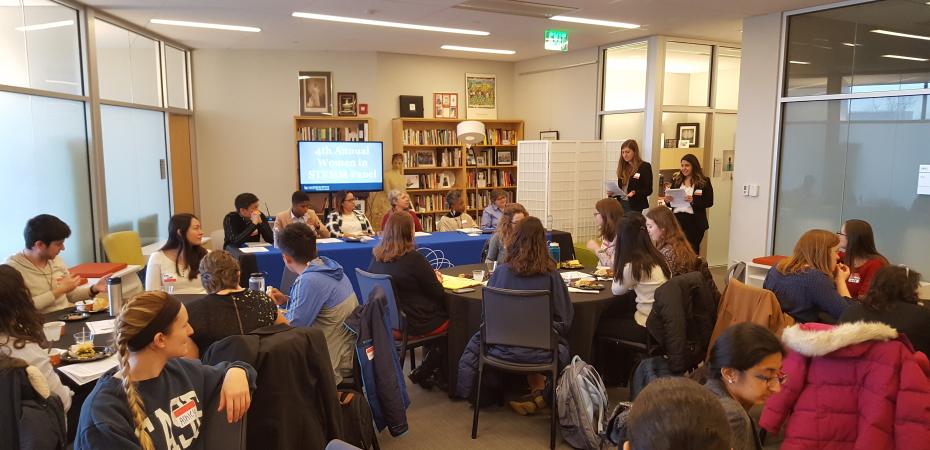 The Women in Science and Engineering Roundtable (WISER) aims to promote the inclusion and success of all women pursuing a Science, Technology, Engineering, or Mathematics (STEM)-related career at Case Western Reserve University through leadership, mentorship, and outreach. WISER also provides opportunities for professional skill development, collaboration with campus and community partners, and a sense of community in STEM.
WISER is open to all women CWRU students (undergraduate, graduate and professional) with a major or planning a career in science, technology, engineering, and math (including medicine). WISER is trans-inclusive and looking to support women of all gender expressions and identities. 
New members and guests are always welcome at all WISER events, as are all interested CWRU faculty and staff. WISER sponsors a variety of programs and events, including Peer Mentoring, monthly meetings, social outings, field trips, and opportunities for professional and educational enrichment. These activities are designed to stimulate discussion and thought about issues related to being a woman in STEM, to help build skills for success in the university and beyond, and to build a community of women in STEM at CWRU.
WISER Lounge - Sears 545
WISER students are able to gather and meet in the WISER lounge. The room is centrally located on campus, and set up for conversation, napping, and working. The lounge also has computers and a printer available specifically for student use.
WISER Programs
WISER works to provide programming for it's members and the CWRU community all year long, often in collaboration with the Mather Center and other student organizations. 
Some of WISER's most popular programming is listed below:
Co-President 1
Ruth Boampong
Ruth Boampong is currently a sophomore majoring in Neuroscience as a Pre-Med student. She is from Corona, California, and aspires to become an OB-GYN. Ruth has always wanted to create a safe haven for other women. That is why she joined WISER, to promote a nice environment for other women wanting to make a difference in the STEM field. In her free time, she loves to read, play video games, and go on hikes!
Co-President 2
Sierra Bhatia
Sierra is a senior from Naperville, Illinois studying neuroscience on the pre-med track. In
addition to her support for women through WISER, Sierra is a volunteer tutor for girls interested
in the STEM field. Sierra is also a peer tutor and research student, and hopes to attend medical
school next year.
Vice President
Michelle Lo
Michelle Lo is a sophomore from New York City double majoring in Computer Science and Data Science & Analytics, with a minor in Business Management. Outside of WISER, Michelle is a part of the University Program Board. This past summer, she had the opportunity to study abroad in South Korea. In her free time, she enjoys traveling, being outdoors, solving puzzles, and cooking.
VP of Finance
Ananya Veerubhotla
Hi! My name is Ananya, and I am the treasurer of WISER. I am currently a sophomore majoring in biomedical engineering on the computing and analysis track. I am from the Bay Area. Some of my favorite things to do are traveling, listening to music, and hanging out with friends.
VP of Internal Affairs
Karisa Liaw



Hi! I'm a sophomore from Naperville, IL majoring in Physics. In addition to WISER, I'm also involved in research and love volunteering at UH.
VP of PR


Michelle Gimba

My name is Michelle Gimba, I am a junior on the premed track. My major is Biology and my minors are psychology and chemistry.My official capacity in WISER is the Vice President of Public Relations, my role is involved in the marketing and raising awareness of WISER and its activities. I enjoy late night movies, watching F1 and listening to the Hamilton soundtrack.
VP of Outreach
Delphine Casper
 
Delphine is a current second year from Seattle, WA studying Cognitive Science on the pre-medicine track. When she is not studying for organic chemistry, she enjoys playing frisbee, hammocking, listening to music and hiking. She loves being a part of WISER because of the amazing community it creates to uplift women in STEM and she hopes to foster that same community for all club members as VP of Outreach this coming year.
Outreach Chair
Amy Budzichowski

I'm a sophomore mechanical engineering student with a passion for biomechanics. I'm a think[box] student technician, a member of the Baja team, and a student researcher. In my free time, I enjoy reading and sewing.
Women's Coalition Chair
Aria Vincent

My name is Aria Vincent. I am the Women's Coalition Chair in the Women's Science and Engineering Roundtable. I am originally from Chicago, Illinois, and have lived on the south side of Chicago all my life up until the fall of 2022 when I started at Case Western Reserve University. I am currently a second-year and a Medical Anthropology major on the pre-med track. I am considering minoring in Public Health as well. I hope you all will look out for the event I am planning for Women's History Month in March and other WISER events!
E-week Chair
Isabelle Deputy

Hi everyone! I'm Isabelle and I am the E-week coordinator for this year! I am a second-year BME student on the mechanics track. I am also a member of HDC and HyperCase. In my free time I like to play frisbee and climb! A fun fact about me is that I am a lover of pickles.
Freshman Representative 1
Srivaishnavi Kommireddy

Hi, I'm Vaish! I'm an intended neuroscience major and math minor on the pre-med track, and my dream is to work in psychiatry. I joined WISER to help advance its endeavor in bringing better opportunities for women in STEM; feel free to reach out to me anytime! Outside of work, you can catch me writing horror stories on my secret blog, trying out different restaurants on Euclid, or streaming Noeasy by Stray Kids for the 4000th time.
Freshman Representative 2
Hiya Kachawa

Hi, my name is Hiya and I am majoring in Neuroscience and Psychology (pre med). A fun fact about me is that I love dancing hip hop as well as singing and I love binge watching k-dramas for fun in my free time! I plan on becoming a psychiatrist.