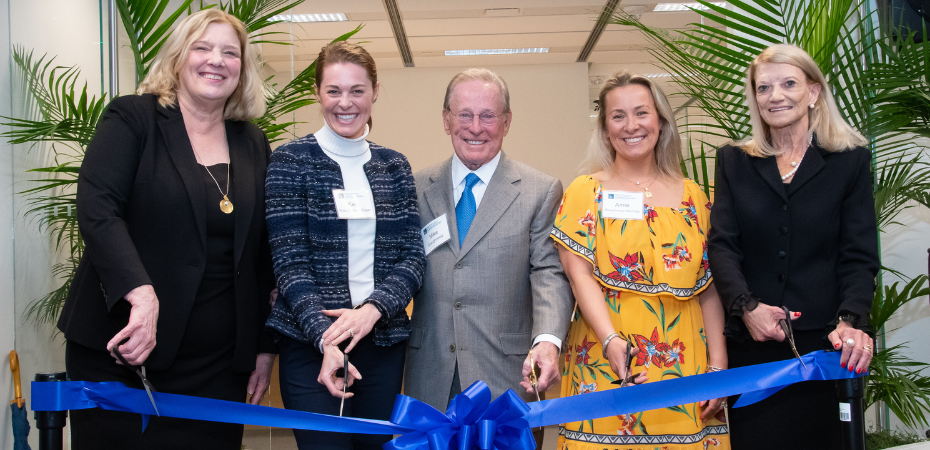 Case Western Reserve alumna Marian Shaughnessy (NUR '85, '17) understood the power of nurses to transform health care. Her vision led to the creation of a leadership academy at Frances Payne Bolton School of Nursing named in her honor—and in 2021, in recognition of the first anniversary of Marian's death, the Shaughnessy family announced a $2.5 million gift to establish a permanent home for the academy.
A new home for nurse leadership is dedicated at CWRU.
---
A Place to Innovate
In an era when health care is changing dramatically, nurses should be front and center in conversations about what comes next. Significant shortages in primary care providers have contributed to dramatic increases in the number of nurse practitioners nationally. Despite the prominence the nursing profession plays in health care -- 35 percent of the entire US health care workforce in 2017 -- representation of nurses on hospital boards sits at just 5 percent.
Globally, nurses deliver 80 percent of all health care. Nurses are at the bedside, closest to patients and their families. They serve on health care's front line, and know first-hand the best practices in delivering care. As a result, nurses have enormous potential to innovate, and to advocate for patients in devising plans for patient-centered care.
All nurses, including nurse educators, chief nursing officers and staff nurses must be equipped to innovate nursing practice and care delivery models that improve the quality of patient care and reduce costs. Now is the time to develop new nurse leaders.
New Horizons
Case Western Reserve University's Frances Payne Bolton School of Nursing is revered around the globe as an incubator for nurse leadership. With a transformational commitment from Marian and Michael Shaughnessy, the school can provide nurses with greater opportunities to learn about leadership across the spectrum of health care from direct care settings like hospitals to places where policies and regulations are created.
Building a Leadership Destination
The Marian K. Shaughnessy Nurse Leadership Academy enables nurses to have the knowledge necessary to catalyze changes within individual hospitals and entire health systems. This groundbreaking initiative influences nursing education practices nationwide, conducts research on nurse leadership, and brings its best lessons to other cities through concentrated executive development programs. The goal is to increase quality of care; promote wellness; improve safety, efficiency and effectiveness; and reduce health care costs.
Read more about the Shaughnessy's gift and the impact it's having at CWRU as a leadership destination.
Contact
For more information, contact:
Joyce J. Fitzpatrick, PhD, MBA, RN, FAAN
Inaugural Director, Marian K. Shaughnessy Nurse Leadership Academy
Elizabeth Brooks Ford Professor of Nursing
Phone: 216.368.2543
Email: nurse-leader@case.edu
Coldiron Senior Nurse Executive Fellowship Program
Developed by the Marian K. Shaughnessy Nurse Leadership Academy, the American Nurses Association, the American Organization for Nursing Leadership and the Healthcare Financial Management Association, the Coldiron Senior Nurse Executive Fellowship Program is an innovative five-part program designed to enhance and expand the development of senior nurse executive leaders. Applications for the inaugural class of nurse executives will begin being accepted on July 15, 2020.
About the Coldiron Senior Nurse Executive Fellowship Program
Founder's Circle Lecture Series
The Founder's Circle, a DNP alumni group, has established a new leadership-focused lecture series. The lecture series, which is set to be administered through the Nurse Leadership Academy, will expand the knowledge-base and expertise of the school's graduates and students through exposure to nationally recognized leaders.
Read more about the Leadership Lecture Series in the Fall/Winter 2018 issue of Forefront magazine.
To view the November 2022 event, "Nurse Executive Mental Health," presented by Angela S. Prestia, PhD, RN, NE-BC, visit this link.