Event Date:
April 27th 8:00 AM - 5:00 PM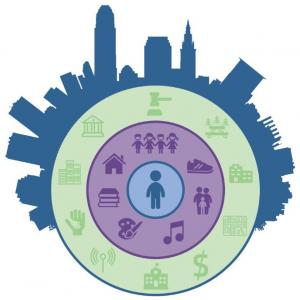 Location: Tinkham Veale University Center, Case Western Reserve University
Thank you to all who attended and participated in our anniversary event!
In celebration of the 20th Anniversary of the Schubert Center for Child Studies at Case Western Reserve University, the Center is convening individuals committed to child well-being in order to promote healthy child and adolescent development by exploring the context of how children grow up. Specifically, "how do we make environments effective and equitable for all of our children?" This includes an explicit focus on addressing inequities and disparities that impact children and families and our community's home-grown solutions.
What did the day include?
Discussion panels will be led by researchers and community members in the areas of Arts & Self-Expression; Early Childhood; Education; Home/Neighborhood; Health (Physical & Emotional Well-Being); and Relationships.
A keynote luncheon on the role of media co-hosted by The City Club of Cleveland can be viewed here.
Networking opportunities will be available for all attendees.
Watch videos of all the panels here.
This is event is made possible by the generous financial and in-kind support from the following organizations and individuals:
Dr. Donald and Gerda Freedheim
Dr. Jane Kessler                                                         
The George Gund Foundation
Follow us on Twitter (@SchubertCenter) and Facebook (Schubert Center for Child Studies). #CLE4children #SchubertCenterTurns20