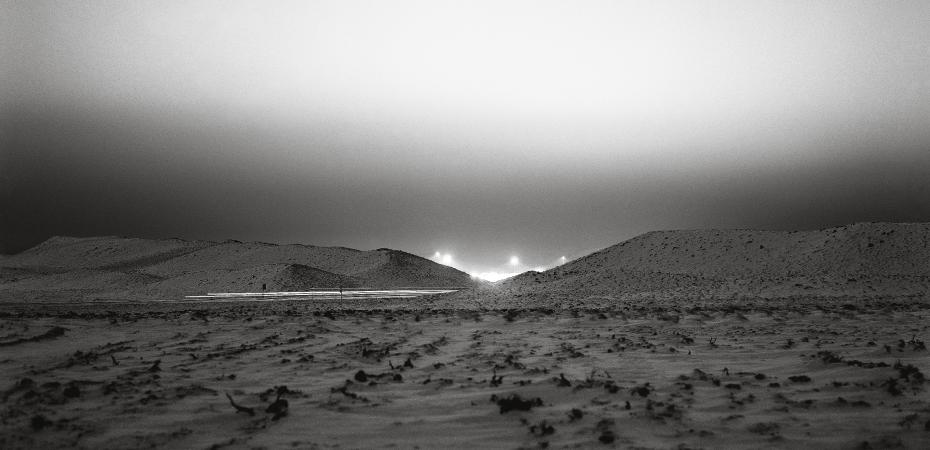 At the Martin L. King, Jr. Library, 1962 Stokes Blvd.
Hours:
Mon, Tues, Thurs - 10 am-7 pm
Wed, Fri, Sat - 10 am-6 pm
Sun - closed
This powerful exhibition of historical and contemporary photographs will be on display at the Martin Luther King, Jr., Library, from mid-September through January 2019.  The exhibit is free and open to the community.  A series of events, sponsored by diverse community organizations and inspired by the exhibition, will bring to life the issues, individuals and injustices reflected in this visual record of a national crisis. Please note: events take place throughout the city.
Incarceration impacts all of us. Americans, even those who have never been to a prison or had a relative incarcerated, are all implicated in a form of governance that uses prison as a solution to many social, economic, and political problems. Empathy and political awareness are essential to creating systemic change — through this exhibition and the accompanying series of public programs, Prison Nation may provoke us to see parts of ourselves in the lives of those on the inside.  
---
Bail Reform - Art Reveal Event
Sponsor:  ACLU Ohio
Date and Time:  Thursday, September 20, 6 pm
Location: Waterloo Arts, 15605 Waterloo Road
Join the ACLU for the unveiling of new bail reform artwork!  This life-size canvas depicts the complex world of bail, from an emotional, financial, and humanistic standpoint. This exclusive reveal will happen in a room full of local activists, advocates, and community members.
ACLU Policy Counsel Caitlin Hill will kick-off the event by providing an overview of their bail reform campaign, then Policy Associate Melekte Melaku will discuss upcoming grass-roots events and community forums. Artist Joe Sharp will conclude the event by fielding questions from the audience about his relationship to bail and how this artwork came to life. This event is free & open to the community.
---
Opening Reception with Dr. Nicole Fleetwood
Prison Nation co-curator Dr. Nicole Fleetwood will discuss prison artwork, mass incarceration, and the creation of this powerful exhibit and lead two gallery walk-throughs. The evening also includes a prison art and reform panel discussion with Dr. Fleetwood, Tyra Patterson of the Ohio Justice & Policy Center, Fred Ward of the Khnemu Center, and Shakyra Diaz of the Alliance for Safety & Justice.  Free and open to the community.  Hors d'oeuvres will be served.  
Registration requested for the gallery walk-throughs.  For additional information, call Shayna Muckerheide at 216.623.2964.
---
Sponsors:  Department of Public and University Programs at the Wexner Center for the Arts, with funding support from the Ohio Arts Council
Date and Time:  Friday, October 12, 1-3 pm
Location:  Wexner Center for the Arts, 1871 North High Street, Columbus
The Ohio Prison Arts Connection hosts its second annual Statewide Gathering to convene artists, teachers, community members, prison staff, restored citizens, people who work in the re-entry context, and more - together we will connect, learn from one another, and address the crucial questions in front of us to move our efforts forward. OPAC is a coalition of people committed to building arts access in prisons and re-entry, and to creating spaces to share stories, art, and resources both inside and outside of prisons.
We will also have a panel of people with different standpoints in the justice and carceral systems to talk with us about the role they see for the arts in the lives of people impacted by the criminal justice system. A keynote conversation between a current warden and a restored citizen will point us toward vision for the future. We will create space for art and stories around the state.
Lunch will be provided, and we invite anyone who is able to stay for dinner as well.  Travel assistance is available for any attendee.  
Project partners include the OPAC Steering Committee, the Ohio Arts Council, The OSU Center for Ethics and Human Values, Wild Goose Creative, Otterbein University, and Healing Broken Circles.
---
Homeward: Life in the Year After Prison with Bruce Western
Bruce Western is Professor of Sociology and co-director of the Justice Lab at Columbia University.  His most recent book, Homeward: Life in the Year after Prison, examines the tumultuous first year after release from prison. Drawing from in-depth interviews with over one hundred individuals, Western describes the lives of the formerly incarcerated and demonstrates how poverty, racial inequality, and failures of social support trap many in a cycle of vulnerability despite their efforts to rejoin society.  
Free and open to the community.  
---
Hack Cleveland - #FIX216 Criminal Justice Reform Scope-a-Thon
Sponsor:  Hack Cleveland and Cleveland Neighborhood Progress
Date and Time:  Friday, October 26, 6-8 pm (Doors open at 5 pm) & Saturday, October 27, 10 am-3 pm
Location: Midtown TechHive, 6815 Euclid Avenue
A civic hackathon is an event where people work together with urgency and creativity to produce a technical solution that will make their cities better. Hack Cleveland is organizing a community-centered event that will focus on sustainable solutions that will advance criminal justice reform by intentionally bringing together people from Tech, Design, Community Organizing, and Policy backgrounds to ensure we hear from a diverse set of opinions and generate solutions that represent a wide variety of experiences.
Up to $10,000 in prizes are available for the top team(s) to help them follow through and develop their ideas into sustainable, publicly available applications.  All persons who have an interest in supporting criminal justice reform in Ohio are invited to this discussion. You do not need to hold a formal role or be a technologist to be a part of the solution. The only requirement is a desire to affect change! 
---
Returned Citizens - Personal Reflections
Sponsor:  CWRU Social Justice Institute
Date and Time:  Thursday, December 6, 6-7:30 pm
Location: Martin Luther King, Jr., Library, 1962 Stokes Blvd.
How can images tell the story of mass incarceration when the imprisoned don't have control over their own representation?  This question is at the core of Prison Nation, a powerful exhibition curated by Aperture Magazine that addresses the unique role photography plays in creating a visual record of this crisis, using both historical pictures and contemporary digital work.  Local returned citizens (individuals who were formerly incarcerated) will speak on a panel about their experiences and their response to the empathy, awareness and political action essential to creating systemic change.  Free and open to the community.  
---
Art as Justice: A Panel Discussion
Sponsor:  Aperture, Ohio Transformation Fund, Ohio Prison Arts Connection, Art for Justice Fund and Cleveland Public Library
Date and Time:  Tuesday, January 15, 6-8:30 pm
Location: Martin Luther King, Jr., Library, 1962 Stokes Blvd.
This panel discussion and idea-building session is about the value of the arts inside and outside prisons, and the practical problems and possibilities for improving access to the arts for justice-involved people in the Cleveland area.  Featuring exhibit artist Jessie Krimes and moderated by Jessie Glover of Ohio Prison Arts Connection, the panel includes artists and program facilitators who work in a range of mediums and contexts. 
---
Click here to see a preview of the Prison Nation exhibit.
---
Exhibit Co-sponsors