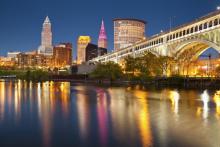 These engaging forums are held at various locations throughout the greater Cleveland area and focus on current public policy issues facing Northeast Ohio.
This series is co-sponsored by the Case Western Reserve University Siegal Lifelong Learning Program, League of Women Voters-Greater Cleveland, Northeast Ohio Media Group plus Lakewood and Cuyahoga County Library Systems. Corporate sponsor: First Interstate Properties, Ltd.
Lecturer(s):
Ginger Christ
April 25, 2018
|
6:30-8 p.m.
Some think that single payer healthcare is the answer to our healthcare problems and others think it will bankrupt the country and won't work. This forum will explore both sides with a particular emphasis on how it might impact Northeast Ohio.
Lecturer(s):
Karen Beckwith & Nina Turner
May 16, 2018
|
7-8:30 p.m.
Women make up over 51% of the voting electorate and yet men still far outnumber women in elected office in Ohio and across the country. This forum will explore options increasing the number of women who run and hold elected office, particularly in Ohio.
Video of Previous Forums: