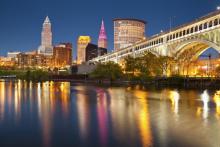 These engaging forums are held at various locations throughout the greater Cleveland area and focus on current public policy issues facing Northeast Ohio.
This series is co-sponsored by the Case Western Reserve University Siegal Lifelong Learning Program, League of Women Voters-Greater Cleveland, Northeast Ohio Media Group plus Lakewood and Cuyahoga County Library Systems. Corporate sponsor: First Interstate Properties, Ltd.
Lecturer(s):
Peter Krouse
July 10, 2018
|
7-8:30 p.m.
Moderator: Peter Krouse, Cleveland.com
Experts will discuss the history, present and future, of attempts to reduce gun violence in Northeast Ohio.
Lecturer(s):
Patrick O'Donnell
August 29, 2018
|
7-8:30 p.m.
Moderator: Patrick O'Donnell, Education Reporter, Plain Dealer
This is an open discussion about the issues facing K-12 education this year and beyond.
Video of Previous Forums: