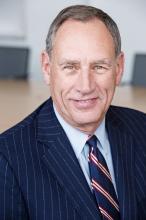 Toby Cosgrove, MD, the innovative health-care leader who extended Cleveland Clinic's reach from Abu Dhabi to London in 13 years as CEO, will address Case Western Reserve's graduates May 20 as the university's 2018 Commencement Speaker.
Cosgrove, who now serves as the hospital's executive adviser after stepping down as CEO December 31, also grew the hospital system here into the state's largest employer, with more than 50,000 caregivers. He launched Cleveland Clinic's office of patient experience, transformed a traditional departmental model into one featuring related fields in interdisciplinary institutes and focused relentlessly on improving patient outcomes.
"Toby Cosgrove's impact on patients, Cleveland Clinic and our broader community cannot be overstated," President Barbara R. Snyder said. "His experiences and achievements make him ideally suited to inspire our graduates as they embark on their own journeys."
Cosgrove will address roughly 5,000 graduates, guests and university officials during Case Western Reserve's convocation at 9:30 a.m., Sunday, May 20, in the Veale Convocation, Athletic and Recreation Center. Read more about Cosgrove. 
Cosgrove joins a long list of previous distinguished speakers, including:
Fred Gray (LAW '54, HON '92), celebrated civil rights attorney 
Mark Weinberger (LAW '87, MGT '87), EY Global Chairman and CEO
Barry Meyer (LAW '67), Retired Warner Bros. Chairman and CEO
Mohamed Ibn Chambas (LAW '84), Joint Special Representative of the African Union – United Nations Hybrid Operation in Darfur
Katie Couric, journalist and author
Peter B. Lewis, Philanthropist and former Chairman of Progressive Insurance
Julie Gerberding (WRC '77, MED '81), previous director of the Centers for Disease Control
and many other notable leaders