Virtual Open House Recording
Watch the informative dietetic internship presentation.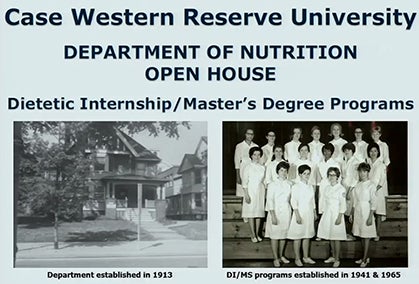 Combined Dietetic Internship/Master's Degree Program
The Combined Dietetic Internship/Master's Degree Program combines academic work with clinical practice at either of the dietetic internships at University Hospitals of Cleveland or the Louis Stokes Cleveland Department of Veterans Affairs Medical Center or Cleveland Clinic. Cleveland Clinic interns are also able to concurrently participate in their internship and the master's degree program. A minimum of 30 semester hours is required. Admission is contingent on the student's being selected and matched to one of the hospitals. Appointment to these internships follows the admission procedure outlined by the Accreditation Council for Education in Nutrition and Dietetics of the Academy of Nutrition and Dietetics.
Coursework is planned individually with the student's academic advisor. This program is a non-thesis program of study.
First Year Required Courses
| Course Number | Course Description | Fall | Spring |
| --- | --- | --- | --- |
| NTRN 516 | Seminar in Dietetics | 4 | - |
| NTRN 561 | Investigative Methods in Nutrition | 3 | - |
| NTRN 517 | Seminar in Dietetics II | - | 4 |
| NTRN 562 | Research Practicum | - | 1-4 |
| Year Total: |   | 7 | 5-8 |
Second Year Required Courses
| Course Number | Course Description | Fall | Spring |
| --- | --- | --- | --- |
| Electives | Any NTRN 400, 500 or 600 level courses and/or graduate course in basic science or social science | 15 | - |
| Year Total: |   | 15 | - |
| | |
| --- | --- |
| Total Units in Sequence: | 30 |
Contact Information
Please direct all questions to: