Learning In the Country 2019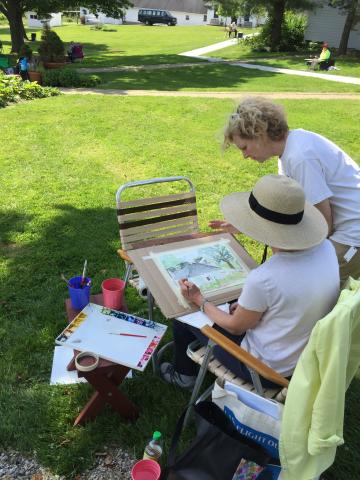 The University Farm is a beautiful 400-acre property in Hunting Valley, Ohio, that features forests, ravines, waterfalls, meadows, ponds, and a self-contained watershed. Owned by Case Western Reserve University, the farm has a number of buildings designed for educational, research, and recreational purposes.
Farm Continuing Education Program classes take advantage of the spectacular surroundings for inspiration and as a setting for learning about nature, cultivation, and the environment. Courses may include: Painting Outdoors, Dyes and Silks, Honey Bees Biology, Nature Walk and Birds and Breakfast.
2019 Course Offerings
Basics of Oyster Mushroom Production
The Farm Administration will again this year offer the basics of oyster mushroom production course.
Farm Food Program staff member, Matt Burtonshaw, who manages the daily operations of the farm's oyster mushroom production, will cover: the economics, growing requirements, equipment needed, sterilization, potential problems, packaging and harvesting in a hands on learning experience. Participants will be taught how to make a miniature mushroom bag to take home.
The three-hour course will be offered from 1 to 4 p.m. on the following Fridays
January 11, 2019
January 25, 2019
February 8, 2019
February 22, 2019
Course Fee: $50. Each class will be limited to 12 participants (5 minimum confirmed registrations to offer class). Participants must be at least 18 years old to register for the course.
To register and make course fee payment for one of the above 4 course dates, please access registration link below
Mushroom Production Course Registration
Additional questions, please email farm@case.edu or contact the office by phone 216.368.0274.
Siegal Lifelong Learning will be offering the following Summer in the Country 2019 courses. Registration will open January 2019.