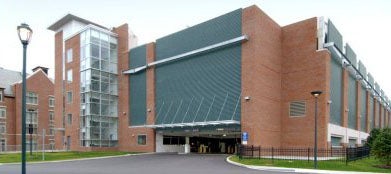 The CWRU Office of Access Services manages the University's parking program and is responsible for implementing its policies and procedures.
CWRU is a member of the Central Parking Operation (CPO) which is managed by SP Plus. We subscribe to the CPO general policies as stated in the CPO parking brochure. All applicable policies are incorporated into the University's parking policy and procedures including violations, towing, appeals, and visitor parking.
CWRU's parking philosophy is to provide parking to CWRU faculty, staff, and students on a "first come, first served" basis. The overall objective is to fulfill the parker's needs in the most equitable and convenient manner within the constraints of available resources.
Parking on CWRU campus is a privilege, not a right. Our primary interest is to foster convenience and safety for all people working and visiting the campus and to facilitate the efficient operation of the University.
Please acquaint yourself with the current parking regulations governing campus parking. It is the best way to avoid a ticket or loss of privileges. Ignorance of the regulations will only hurt you!
There are no free parking areas on campus!
All parking lots are constructed, maintained, operated, and administered through parking fees which are paid by all patrons. Parking regulations for Case Western Reserve University are published on an annual basis, both in print and on this website.
Best ways to avoid a parking ticket
Buy a parking permit
Register your vehicle
Do not park in reserved spaces
Park in your assigned area
Do not park in a service drive
Leave handicap spaces empty (unless you have a handicap placard or plate issued in your name)
If you get a ticket, pay it on time
How to avoid mobilization (booting) on campus
Do not accumulate two or more tickets
Do not park in a handicap zone
Do not park in a restricted zone or fire lane
Other Tips
You are responsible for anyone parking your vehicle or utilizing your permit on campus.
Parking permits are non – transferable.
All students, faculty, staff, temporary employees & contractors must register their vehicle and obtain a parking permit to park on campus.
You are responsible for all fines assigned to your vehicle or permit.