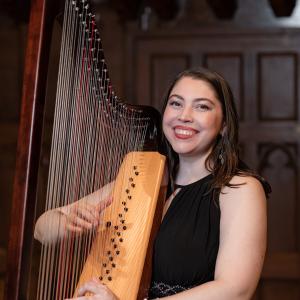 Wednesday, March 29, 2023
7:30 PM
Church of the Covenant Cleveland, OH
Free and open to the public
Livestream Channel
Paid parking is available in the church parking lot and in the Severance Hall parking garage. Metered parking is available along East Blvd. and Bellflower Rd.
Event Details/Summary
What role did women play as musicians in the Medici court? What was required of these musicians who were experts at singing, dancing, and even accompanying themselves on various instruments? Find out at Anna's final lecture recital! 
7:00 pm | A Tribute to Ellen Hargis
7:15 pm | Prelude Music for Renaissance Brass and Wind Band
7:30 pm | Lecture, followed by Recital
During the Lecture
Danced Excerpts from Laura Suave by Fabritio Caroso (ca. 1526/1535-1605/1620)
The Recital
Dale piu alte sfere from the first Intermedio of La Pellegrina by Vittoria Archilei (fl. 1582-1620)/Antonio Archilei (1543-1612)
Lungi dal vostro lume by Jacopo Peri (1561-1633)
Toccata Seconda e Ligature per l'Arpa by Giovanni Maria Trabaci (ca. 1575-1647)
Ardo infelice by Francesca Caccini (1587-1640)
Rendi alle mie speranza/Donne dal cui sembiante by Francesca Caccini (1587-1640) with new ornamentation and text setting by Anna O'Connell and Alissa Magee
O ch nuovo miracolo from the final Intermedio of La Pellegrina by Emilio de' Cavalieri (ca. 1550-1602)
The String Band
Andrew Hatfield, renaissance violin/viola
Allison Monroe, renaissance viola
Phaik Tzhi Chua, renaissance violin
Jane Leggiero, viola da gamba
Daniel Shoskes, renaissance guitar
Danur Kvilhaug, theorbo
The Wind Band
Jonathan Goya
Danur Kvilhaug
Samuel Nemeth
Xiaoyang Ni
Ryan Whitson
The Singers
Aidan Klemm 
Alissa Magee
Andréa Walker
Charlotte Newman
Courtney Becker-Howell
Ian Crane
John Marsh
Kameryn Lueng
Krista Mitchell
Michael Peters
Peter Wright
The Dancers
Elena Mullins
Phaik Tzhi Chua
The Vocal Soloists
Alissa Magee (Donne dal cui sembiante)
Andréa Walker (O che nuovo miracolo)
Kameryn Lueng (O che nuovo miracolo)
About
"Beautifully sung" and "masterfully played" (Cleveland Classical) are just some of the accolades soprano and harpist Anna O'Connell has received performing in Cleveland, Ohio, while working on her doctorate of musical arts at Case Western Reserve University. A frequent performer with Apollo's Fire Baroque Orchestra, the Cleveland Chamber Choir and Quire Cleveland, Anna has also performed internationally with the Hong Kong Early Music society and studied medieval music in Italy with the EMA Thornton Memorial Scholarship. With her various medieval, renaissance, and baroque harps, she specializes in self-accompaniment from the medieval to the baroque eras.  
---
We strongly encourage all campus visitors to be fully vaccinated—including boosters if eligible. All visitors and members of the university may choose whether to wear masks indoors on campus, unless they are in clinical settings, including the dental clinic, or have received university approval for an exception. We encourage everyone in the campus community to respect individual choices to wear a mask. Please remember that those with COVID-19 symptoms should stay home. Learn more about CWRU's COVID-19 response.