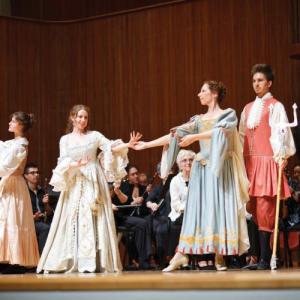 Friday, January 22, 2021 7:30 PM
Tune in Friday, January 22 at 7:30 PM (Eastern Time) as the Department of Music hosts two broadcast events featuring the Baroque Dance and String & Piano Chamber Music ensembles! Both broadcasts include performances recording during the Fall 2020 semester. 
The Baroque Dance Ensemble presents: "La Folia"
[Baroque Dance Ensemble] Watch on YouTube
Music by Arcangelo Corelli, Francesco Geminiani, Antonio Vivaldi, and Marin Marais
(arr. Guillermo Salas Suarez)
Choreography by Louis Pécour, Raoul Anger Feuillet, and Julie Andrijeski
(arr. Julie Andrijeski)
Baroque Dance Ensemble
Julie Andrijeski, director
Dance Band
Guillermo Salas Suarez, violin (leader)
Andrew Hatfield, violin
Sarah Coffman, viola de gamba
Dancers
Emily Curto
Daniel Fridley
Jonathan Goya
Mark Laseter
Jane Leggiero
Anna O'Connell
The Baroque Dance Ensemble was formed to provide an outlet for students to learn and perform 17th- and 18th-century dance. The ensemble meets collectively twice a week and performs one to three times per semester.
---
The String & Piano Chamber Music groups presents "Focus on the Classics", filmed on November 14, 2020 in Harkness Chapel, featuring students and faculty ensemble members.
[String and Piano Chamber Music] Watch on YouTube
Program
Sonata in g minor, Op. 2, #8 for Two Violins and Piano -- Georg Friedrich Handel (1685-1759)
I. Andante
Two Duos from 44 Duos for Two Violins -- Béla Bartok (1881-1945)
28. Sadness
44. Ardeliana
Two Duos for Two Violins and Piano -- Dmitri Shostakovich (1906-1945)
I. Prelude
II. Gavotte
Muayad Shahin, violin; Sherry Chen, violin; Helen Leverson, piano

Sonata in A Major for Violin and Piano -- César Franck (1822-1890)
I. Allegretto ben moderato
II. Allegretto poco mosso
Andrew Smeader, violin; Carolyn Gadiel Warner (faculty), piano

Terzetto in C Major, Op. 74 for Two Violins and Viola -- Antonín Dvořák (1841-1904)
II. Larghetto
III. Scherzo, Vivace
Andrew Smeader, violin; Sophie Kushman, violin; Lisa Boyko (faculty), viola

String Quartet in c minor, Op. 18, #4 -- Ludwig van Beethoven (1770-1827)
I. Allegro ma non tanto
Christian Wong, violin; Andrew Chan, violin; Joshua Meyer, viola; Kevin Riley, cello

Quintet in Eb Major, Op. 44 for Piano and Strings -- Robert Schumann (1810-1856)
I. Allegro brillante
Nathan Hsaio, violin; Juno Kang, violin; Lilian Velez, viola; David Ellis (faculty), cello; Karen Ji, piano

Trio in C Major, Op. 87 for Violin, Cello and Piano -- Johannes Brahms (1833-1897)
II. Andante con moto
IV. Finale: Allegro giocoso
Tim Orlando, violin; David Ellis (faculty), cello; Hudson Hu, piano