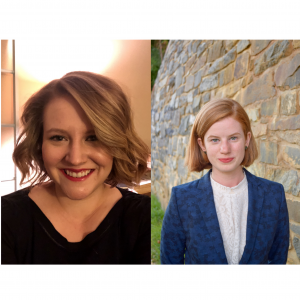 Friday, October 23, 2020, 4 p.m.
Sophie Benn (CWRU)
"Stepanov's Musical Anatomies" 

-and-

Taylor McClaskie (CWRU)
"Cultivating Ecological Consciousness: Pauline Oliveros' Deep Listening as Deep Ecology"

Music Colloquia provide a weekly forum for presentation and discussion of recent research by distinguished visitors and Case Western Reserve University faculty and graduate students in musicology, historical performance practice, and music education. All Colloquia begin at 4:00 p.m. (Eastern Time) and will be offered virtually through the Fall 2020 semester. 
Members of the CWRU and wider Cleveland community are heartily welcome, as are students and colleagues at other institutions. For Zoom links to individual presentations, please contact Francesca Brittan, fmb22@case.edu.
---
About Sophie Benn:
Sophie Benn is a fifth-year PhD candidate in musicology at CWRU, where she studies notation, music, and the body in late nineteenth- and early twentieth century aesthetics. Her research areas include theatrical and social dance, body cultures, historical anatomy, temporality, and performance practice. Sophie is the recipient of numerous awards, including a travel grant from the Antokoletz Fund of the American Musicological Society, a 2020 Adel Heinrich Award for Excellence in Musicological Research, a 2019 Eva L. Pancoast Memorial Fellowship, a 2019 Graduate Affiliateship at the Baker-Nord Center for the Humanities, and a 2017 CWRU Fellowship at the Library of Congress. She currently serves as the Chair of the Dance Studies Association's Dance and Music Working Group and on the Editorial Board of the peer-reviewed online academic journal Sonic Scope. She served as the President of CWRU's Music Graduate Student Association in the 2019-2020 academic year, and as Programming Chair for the 2018 Music Graduate Student Conference at Case.

About Sophie's talk:
This paper examines a treatise on dance notation, Vladimir Ivanovich Stepanov's Alphabet des mouvements du corps humain (1892), as a musicological, aesthetic, and medical text as well as a dancerly one. Stepanov notation looks like music notation, and has recently been employed in the creation of new productions of ballets from the Russian Imperial Theatre such as The Sleeping Beauty and Harlequinade. While its value as a reconstructive tool has been explored by scholars and practitioners including Alexei Ratmansky and Doug Fullington, the system's conceptual framework has gone largely unexamined in secondary literature. Stepanov makes little mention of Russian ballet, the style in which he was trained and worked, but instead justifies his notational system through reference to the ideas, words, and inventions of French scientists such as Étienne Jules Marey. Stepanov proposes his system as a way to record all human movement, from gymnastics to the convulsions of choreic patients. Following Marey, he also indicates that musical rhythm can express the temporal organization of bodily motion, and that music and anatomy interact in ways of which we are only dimly aware.

About Taylor McClaskie:
Taylor McClaskie is a 5th-year PhD Candidate writing a dissertation on music, sound, and eco-spirituality in 1980s North America. Taylor was a 2019 CWRU Library of Congress Fellow and is currently the Baker-Nord Center for the Humanities Graduate Affiliate. She has presented her research at national and international conferences. When Taylor is not doing musicology she is an assistant at the Kelvin Smith Library Special Collections and Archives where she works with Cleveland-based arts and performance collections. 

About Taylor's talk:
While most modern environmental movements of the late 20th century were concerned with the conservation of the natural world for human use, the deep ecology movement, spearheaded by philosopher Arne Naess, argued that the natural world has intrinsic value unto itself, independent of its human-use value. In this paper I argue that composer, performer, and creator Pauline Oliveros' practice of Deep Listening, which is based in meditation, body work, and interactive performance, is a sonic enactment of deep ecology theories. I explore the ways in which Deep Listening and deep ecology philosophies rely on heightened states of consciousness to disintegrate a human/nature binary and cultivate a connection with the natural world.