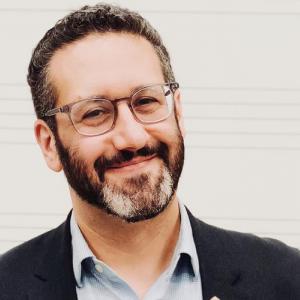 Friday, October 16, 2020, 4 p.m.
Samuel Dorf (University of Dayton)
"Amplifying Sappho: Lesbian Musicians and the Echoes of Antiquity"
Music Colloquia provide a weekly forum for presentation and discussion of recent research by distinguished visitors and Case Western Reserve University faculty and graduate students in musicology, historical performance practice, and music education. All Colloquia begin at 4:00 p.m. (Eastern Time) and will be offered virtually through the Fall 2020 semester. 
Members of the CWRU and wider Cleveland community are heartily welcome, as are students and colleagues at other institutions. For Zoom links to individual presentations, please contact Francesca Brittan, fmb22@case.edu.
---
About Dr. Dorf:
Dr. Samuel N. Dorf is Associate Professor of Music at the University of Dayton. A musicologist and dance historian, his monograph, Performing Antiquity: Ancient Greek Music and Dance from Paris to Delphi, 1890-1935 (Oxford University Press, 2019) examines the performance and reinvention of ancient Greek music and dance in fin-de-siècle Paris, and queer music reception. His research areas include intersections between musicology and dance studies, choeromusicology, reception studies, queer studies, and the history of performance practice. He is co-editing the Routledge Handbook of Choreomusicology with Simon Morrison and Helen Julia Minors due out in 2021. His current book project, Extreme! Early Music: Performing Antiquity Today studies the development of new methods and paradigms of musical authenticity and reconstruction in the work of scholar performers presenting "extreme early music" – a term adopted by some performer/practitioners to describe the reconstruction, creation and/or performance of music from before the emergence of the first musical notations in Europe (ca. 800 CE).
About Dr. Dorf's talk:
This paper looks at the dual roles of amplification as a process that makes louder and expands upon an original utterance, but also as a form of distortion. Focusing on the music and lives of two lesbian American women (Natalie Clifford Barney, 1876- 1972, a writer, musician, heiress who lived in Paris in the first half of the twentieth century; and Maxine Feldman, 1945-2007, a folk musician working in the lesbian and women's music scene from the late 1960s until her death in the early 2000s) who sought to not only make loud, these women played important roles in augmenting and increasing the power of antiquity in the worlds in which they lived. The paper examines how queer ideas of antiquity and the life and works of Sappho, get continuously amplified across time and through musical bodies.