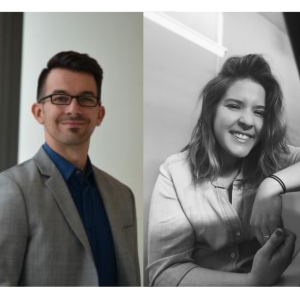 Friday, January 21, 2021, 4:00 PM
Virtual (Zoom)
"Rethinking Classroom Interactions: Teacher Perspectives on Trauma-Informed Pedagogy"

Music colloquia provide a weekly forum for presentation and discussion of recent research by distinguished visitors and CWRU faculty and graduate students in musicology, historical performance practice, and music education.
All talks happen on Fridays at 4 PM and are free and open to the public. The spring semester schedule will begin virtually. Please email Kevin Whitman at kbw29@case.edu for the Zoom meeting information. A possible return to in-person talks will be determined by University policy; please check the full schedule for updates.
About the Speakers
Adrienne Bedell (or simply, Ageh) is a PhD Candidate in Music Education at CWRU specializing in public policy. Her research interests include trauma-informed pedagogy, asset-informed pedagogy, and informal learning opportunities within school systems and nonprofit organizations. Ageh's career began in NYC where she taught instrumental and music technology courses in various nonprofit organizations that provide enrichment opportunities to children and teens within homeless shelters, alternative-to-incarceration programs, and partnering youth agencies. Since moving to Cleveland, Ageh has an established record of advocating for music engagement within the community setting in both leadership and support roles and has recently implemented trauma-informed models to music education programs for clients of HVIPs (Hospital-Based Violence Intervention Programs).
Dr. Ryan Scherber is Assistant Professor of Music Education and Director of Bands at Case Western Reserve University as well as Instructor of Tuba and Euphonium within the Joint Music Program at the Cleveland Institute of Music.  His duties include teaching music education coursework at the undergraduate and graduate level, the CWRU Tuba & Euphonium Studio and oversight of the CWRU Bands program.  In addition to his duties with CWRU, Dr. Scherber serves as Assistant Director of the Florida State University Summer Music Camps.  Scherber holds the Bachelor of Music in Music Education from the University of Cincinnati, College-Conservatory of Music as well as the Master of Music and Ph.D. in Music Education from Florida State University. Prior to his appointment at CWRU, Dr. Scherber taught music courses at the elementary, middle, and high school levels within the Southeastern Local District in South Charleston, Ohio. Dr. Scherber's research interests include pitch perception, nonverbal behaviors, and teacher effectiveness.  His publications have appeared in Research Perspectives in Music Education and the Florida Music Director and he has presented research at state, regional and national venues including the NAfME Biennial National Conference, Desert Skies Symposium on Research in Music Education, NAfME Northwest Regional Conference, Ohio Music Educators Association Conference, and the Texas Music Educators Association Conference.  Dr. Scherber has studied conducting with Terrence Milligan, Rodney Winther, Alexander Jímenez, and Richard Clary as well as tuba with Timothy Northcut, William Weikert, Raymond Stewart, and Paul Ebbers.