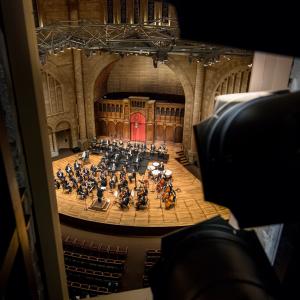 August 29 - September 1
audition requirements vary by ensemble
The Department of Music is committed to providing meaningful educational and artistic ensemble experiences. We invite all students from other academic disciplines who wish to continue their involvement in music performance to join an ensemble. Our ensembles are also open to qualified community members, alumni, faculty, and staff.
View the Participation Information page to learn more about audition details, registration requirements, and helpful resources for students participating in musical activities. Auditions take place the first week of class.
Did you know?
Most ensembles have variable credit hours between 0.00 and 1.00 units, which allows you to participate without exceeding 19 hours per semester.
Take private lessons.
All CWRU students can take applied music lessons for academic credit (MUAP 131) with affiliated CIM faculty members through our Joint Music Program. Complete the Pre-Registration Form: Secondary Applied Music Lessons by August 15. 
Go all in! 
Students can earn a degree from the College of Arts and Sciences. Combine the BA in Music with any other degree program offered at CWRU as a double major, dual degree, or secondary major. Email us at music@case.edu to schedule your post-admission audition.