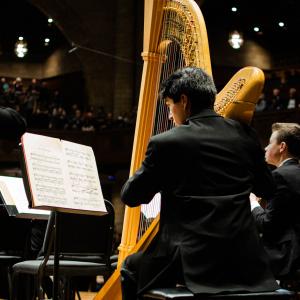 Thursday, August 25, 2022, 3:00 PM
The Department of Music offers a variety of academic ensembles open to all students and Case Western Reserve University-affiliated individuals.
This overview is designed for first-year undergraduate students interested in participating in music ensembles. Learn more about auditions and meet our ensembles directors!
Large performing ensembles include the concert choir, symphony orchestra, symphonic winds, jazz ensembles, and marching band. Students may also choose to participate in small mixed groups in traditional or popular styles, jazz combos, vocal groups, various chamber ensembles, specialized percussion or keyboard ensembles, and a variety of Baroque ensembles. Studio ensembles in flute, horn, saxophone, guitar, and brass are also available to students taking lessons.