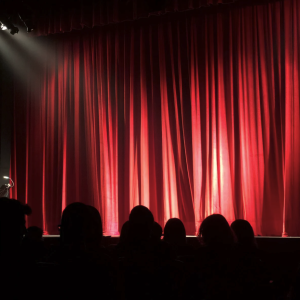 Thursday, March 30 - Saturday, April 1
Eldred Theater, 2070 Adelbert Road
Dates:
- March 30 (8:00 PM)
- March 31 (8:00 PM)
- April 1 (7:00 PM and 11:59 PM)
Tickets available at the door; students free with ID
Cast
Roxie ......................... Elizabeth Javorsky
Velma ........................ Mary Coulter
Billy ........................... Milo Cassarino
Amos ......................... Kiera Celebuski
Mary Sunshine .......... Mariah Hamburg
Fred ........................... Raaghuv Vazirani
Matron ....................... Desir'Ee Neal
Ensemble .................. Sedona Jolly, Milana Sacco, Katelyn Miller, Edie Barlin, Emily Kuntz, Clarissa Dorenbusch, Ryan Joy
Featured Dancers ..... Snow Lin, Daniela Richardson, Caroline Schafer, Sarah Brown
Musicians
Flute ................... Lavender Zhou
Clarinet ............... Emma Bentley
Saxophone ......... Austin Kunth
Clarinet .............. Tyler Zupfer
Saxophone ......... Abby Morse
Clarinet .............. Nick Taylor
Saxophone ........ Samuel Stawovy
Trumpet ............. Tim Cao, Nell Harri
Flugelhorn .......... Nell Harris
Trombone ........... Georgia Martinez, Alex Pogharian
Bass ................... Bella Montemore
Keyboard ............ Luke Giles, Cameron Celebuski
Percussion ......... Charlie Apy
Violin .................. Oscar Heft, Bryan Sun
About the Show
Chicago is a 1975 American musical with music by John Kander, lyrics by Fred Ebb, and book by Ebb and Bob Fosse. Set in Chicago in the jazz age, the musical is based on a 1926 play of the same title by reporter Maurine Dallas Watkins, about actual criminals and the crimes on which she reported. The story is a satire on corruption in the administration of criminal justice and the concept of the "celebrity criminal".
The original Broadway production opened in 1975 at the 46th Street Theatre[1] and ran for 936 performances, until 1977. Bob Fosse directed and choreographed the original production, and his style is strongly identified with the show. It debuted in the West End in 1979, where it ran for 600 performances. Chicago was revived on Broadway in 1996, and a year later in the West End.
The 1996 Broadway production holds the record as the longest-running musical revival and the longest-running American musical in Broadway history. It is the second longest-running show ever to run on Broadway, behind only The Phantom of the Opera. Chicago surpassed Cats on November 23, 2014, when it played its 7,486th performance.[2] The West End revival became the longest-running American musical in West End history. Chicago has been staged in numerous productions around the world, and has toured extensively in the United States and United Kingdom. The 2002 film adaptation of the musical won the Academy Award for Best Picture.
About Footlighters
The CWRU Footlighters is a group dedicated to bringing musical theatre to the students of Case Western Reserve University and the surrounding community. Operating under Media Board, the Footlighters perform both big-name shows (such as Legally Blonde: The Musical, Into the Woods, and Little Shop of Horrors) as well as lesser known shows (Company, Merrily We Roll Along, etc.). From directing, designing, and acting to playing in the pit, building the stage, and managing, the Footlighters is a completely and exclusively student-run and student-produced group founded in 1998.