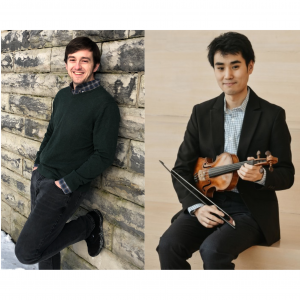 Friday, September 24, 2021 | 4:00 PM
Harkness Chapel, Classroom
Addi Liu (CWRU)
"How Early Music Became 'Crisp'"
"Crisp"' is a ubiquitous adjective in music reviews and prominently used for Baroque programs. Instrumentalists, vocalists, and conductors are praised for "crisp" articulations/textures/diction, often with "brisk" pacing/tempos. Critics also hear "crisp" performances in medieval and Classical music, with the Newberry Consort giving "lively, crisply articulated performances" of Dufay, Obrecht, and Binchois (Allan Kozinn, 2005), and the conductor Matthew Hall who "brought his own ideas of period style" in Mozart's "Jupiter" Symphony, "eliciting smooth yet crisply articulated playing at brisk tempos" (James Oestreich, 2016).
While over 100 such reviews are found in the press (e.g. New York Times, San Francisco Chronicle, Boston Globe, London's Guardian, etc.), "crisp" is not conspicuous in historical sources, which instead might instruct on topics such as rhetoric or how to execute music in good taste. If historically informed musicians are striving for rhetorical performances while critics hear it as "crisp", what is at work here? Is there a performer-critic feedback loop for "crisp" performances?
This paper will explore how "crisp" became shorthand for "good" Early Music, and contextualize current trends from new interviews conducted with performers. Dorottya Fabian (2003) noted that "[Richard] Taruskin (1988, 1995) has already argued that historically informed interpretations are successful not because they are historically or stylistically 'correct' but because they reflect current listening tastes that favour sleek, clear and crisp performances." I will consider how current tastes perhaps continue to (mis)align with practices of the past.
Samuel Nemeth (CWRU)
"Battle of the Bands: The Dawn of a New Brass Technology"
April 1845: The French Ministry of War hosted a performance contest—a "Battle of the Bands." At issue was the instrumentation of French military music ensembles, and composers including Spontini, Auber, and Halévy served on the commission as judges. Belgian inventor Adolphe Sax entered, becoming a competitor, seeking to have his novel brass instruments, the Saxhorns, installed as the basis for the military's sonic profile. Sax's ensemble achieved victory against the "traditional" model championed by Michele Carafa, director of the Gymnase de Musique Militaire, founded in 1836. While Carafa's ensemble was composed of only one-third brass instruments, Sax's band of thirty-eight contained twenty-five brass instruments, seventeen of his own design. Patrick Péronnet suggests that Sax's success was partly acoustic, seemingly solving the "open air" music problem: the darker lower register and blended sounds of the Saxhorns and other brass carried more clearly across the field than Carafa's woodwind-heavy ensemble.
But Sax's triumph went beyond the aesthetic. His instruments and their strategic combination, as I argue, represented a new alliance of military power, industry, and organological technology. They were, as John Tresch suggests, "romantic machines," and comprised an instrumental army: Sax's aim for timbral homogeneity was inextricable from the French imperialist and nationalist ambitions of the 1830s and 1840s. The Saxhorn "family" functioned as a reimagined civic future similar to that which Berlioz described in his novella, _Euphonia_, where the musical city's residents are harmoniously lodged by their instrument or voice part. But, like the despotically-ruled Euphonia, Sax's military music model demonstrated the need for sonic assimilation, a musical manifestation of French military conquest. Sax's instruments could easily be transported on the field as an armed mobile unit ever-more threatening as it approached, pistons snapping to the tune of metallic whirring. The Battle of the Bands' fusion of technology and public theatre functioned both as a "staging of musical instruments" (Newark) and a showcasing of sonic weaponry (Goodman). In Sax's ensemble, individuality served collectivism; metaphorical instrument-soldiers were parts of larger ensemble-armies. The Battle, then, was not only musical, but also political, industrial, and imperial.
---
Music Colloquium Series
Music colloquia provide a weekly forum for presentation and discussion on recent research by distinguished visitors and CWRU faculty and graduate students in musicology, historical performance practice, and music education. 
All talks take place in Harkness Chapel Classroom, Fridays at 4 PM (unless otherwise indicated). The series is free and open to the public.